BRM Capability
Business relationship management is a capability designed to stimulate, surface, and shape business demand across all functions (business units, value streams, sales, marketing, technology, HR, finance, etc.) and ensure that the potential business value from satisfying that demand is captured, optimized, and recognized. A strong BRM capability converges cross-functional teams and eliminates value-depleting organizational silos. It strengthens collaboration and drives a culture of creativity, innovation, and shared ownership across the enterprise so that holistic, innovative, and value-driven strategies are created and deliver their intended business value results.
---
Click here to learn more on: BRM Capability Defined | BRM Capability Success
---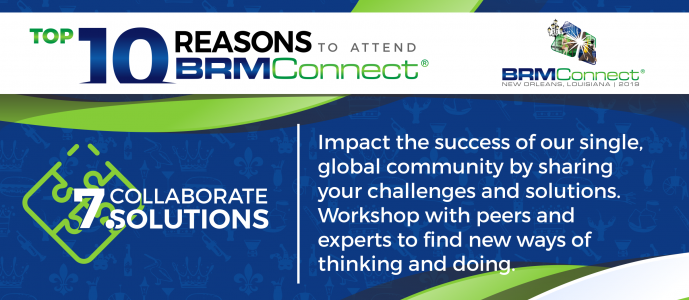 Collaborate Solutions at BRMConnect 2019
"As business leaders, we can navigate away from this egocentric mentality to help build trust amongst our teams by facilitating honest and transparent communication. Moreover, providing time for collaborative teams to get to know each other as individuals will foster the development of trust."
Meet new people, build new relationships, and workshop with peers and experts to discover new and exciting ways of thinking and doing! We invite you to share your challenges and solutions in an effort to impact the success of our single global BRM community.