Business Relationship Manager (BRM) Metrics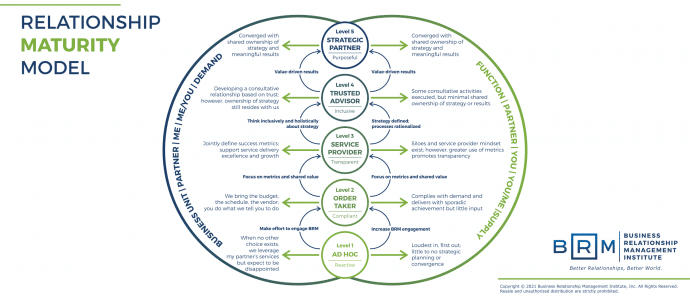 It comes as no surprise; executives frequently ask for business relationship management (BRM) metrics and the financial value added to the organization through the BRM capability. 
If you already have a well-defined process in place to measure and communicate the real value through key performance indicators (KPIs), congratulations!
But if not, don't despair—the following is an overview on how to set up both individual BRM metrics and high-level financial value reporting.
The Business Relationship Management Body of Knowledge (BRMBOK) defines the BRM role as the set of competencies required to advance the BRM capability, which is everything it takes, both visible and invisible, to nurture relationships in an organization. As a result, the BRM evolves culture, builds partnerships, and drives value, all to satisfy organizational purpose.
The first step toward doing this is to immediately establish the following seven metrics for your BRMs. Ultimately, your objective should be to maintain these metrics going forward. What's more, these metrics can be used for all relationship maturity levels: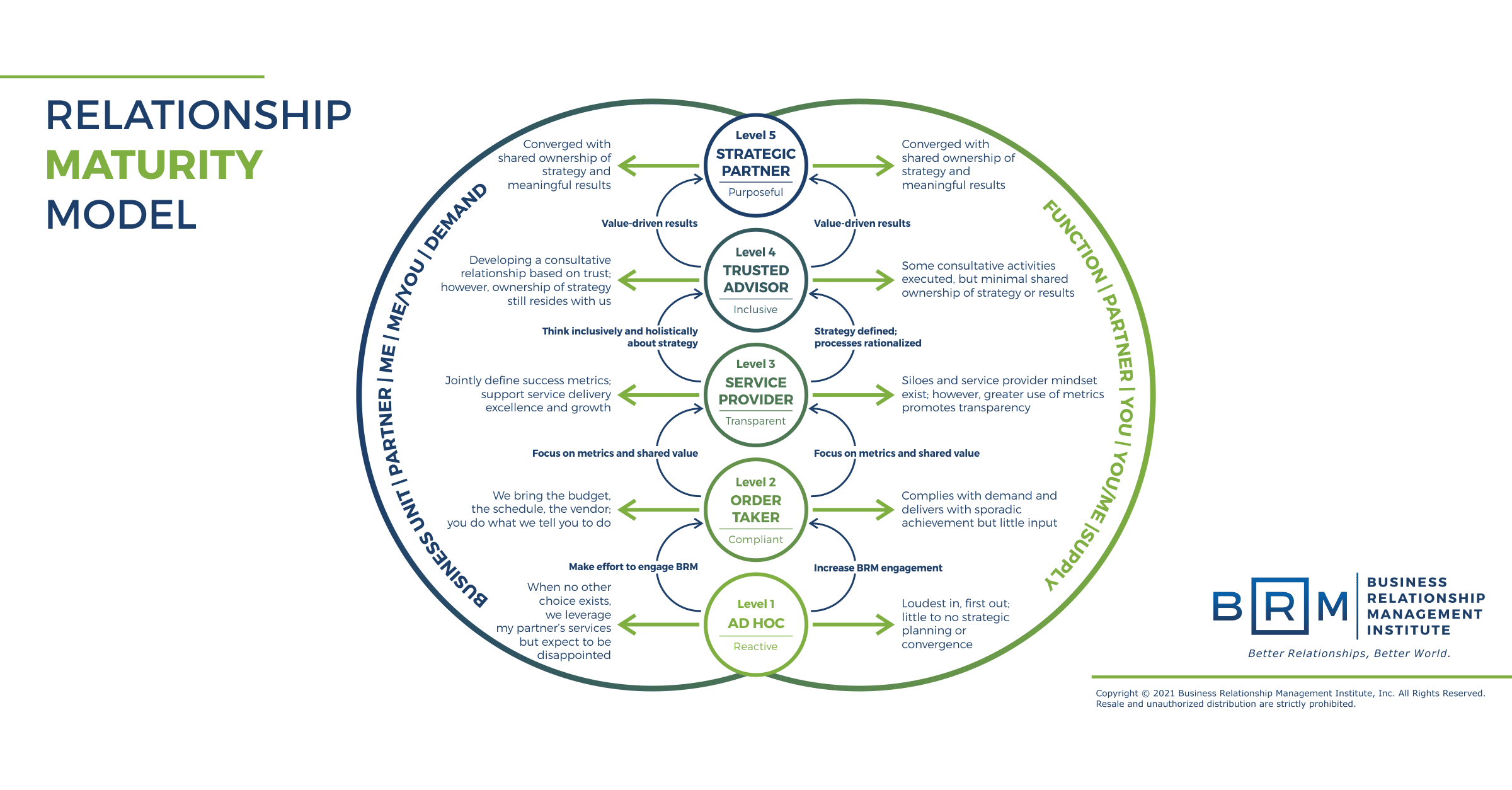 It's important to understand that business relationship management metrics are closely correlated with the following: 
The individual BRM's skill level.
The level of relationship maturity between the BRM and their strategic partners.
The maturity of the BRM's enabling function.
BRM Institute defines the five levels of relationship maturity through the Relationship Maturity Model, shown here:
The five levels are:
1. Ad Hoc
2. Order Taker
3. Service Partner
4. Trusted Advisor
5. Strategic Partner
Levels 1 and 2 – Loudest-in, first-out or frequent misrepresentations build mistrust and reactive course changes.
Low Maturity – Ad Hoc or Order Taker
If you're only just starting out with your BRM capability, typically all you have in terms of performance metrics are satisfaction surveys that assess your partners' opinions on the enabling function's service delivery. The problem is, satisfaction surveys tend to be subjective, meaning they often reflect how someone feels on a particular day than an accurate overall indicator of value added.
With that said, you can still glean useful information from surveys. As long as the results are tabulated and built into an action plan, they're still worth doing from time to time (for example, every six months or so).
Level 3 –
Routine is routine; innovation is a challenge.
Mid-Level Maturity – Service Provider
If you're at the mid-maturity level, you probably spend most of your day reporting on routine metrics (i.e., "How well do we keep the lights on and the trains running?"). While this is important, the truth is that the organization likely cares very little about this information: It's a given that you can keep the lights on and trains running.
Instead, make an effort to stop routine reporting externally, and find something of greater value to report as achievements. 
Begin reflecting on how to report the value most relevant to organizational progress and results, in order to ensure you're communicating the value of your contributions to provider areas outside your function.
Level 4 –
Build cooperation based on mutual respect and understanding.
Moving Up in Maturity – Trusted Advisor
As a trusted advisor, you are well on your way to shaping demand and partnering with the organization to decide which ideas can be turned into business cases worthy of review and approval. At this maturity level, a key metric for BRMs is the financial value of projects that were "approved to start" through the demand-shaping process (referred to as ideation).
For BRMs starting out, it's a good idea to assign goals of achieving $X financial value to the organization in "approved-to-start" projects during their initial year or two. 
This metric will get BRMs focused on building successful business cases that drive real financial value to the organization.
Note the emphasis on "approved-to-start" projects and not "delivered" projects. BRMs starting out can easily influence the projects that are brought forward to the organization through business cases, but influencing the actual delivery of these projects from the enabling function (resulting in true value realization) will come from more senior/experienced teams.
Level 5 –
Share goals for maximizing organization value; share risks and rewards.
Highest Maturity – Strategic Partner
At the strategic partner level, first ensure you have full value management in place before setting goals. Next, give your BRMs goals for the financial value (both tangible and intangible) realized by the individual function. You get here by defining the KPIs or financial value drivers with your partners for their particular function. This usually consists of three to five KPIs.
In the ideation phase, create value management plans and ensure projects that move forward truly impact the KPIs. Leverage the KPIs to say "no" to projects that fail to move the needle. Ensure that value optimization and realization occurs, as defined in the Value Management section of the BRM Interactive Body of Knowledge (BRMiBOK). BRMs can then report out on the amount of true financial value the partner realized in conjunction with the full provider.
At the strategic partner level, BRMs can also report on the financial value realized across the organization.
By summing up the individual BRM value realization reports, you now have financial value that can be shared across the organization. Your CEO and executive leadership will love this.  
Other Metrics
It's important to track the number of projects met with a "no."
BRMs must show how they shape demand, rather than being a glorified salesperson who just drums up new demand all the time. Establishing KPIs by function empowers both the organization and the BRM to truly shape demand and only move the projects forward that move the needle with respect to value realization. Capturing paused ideas is a valuable metric to report on.
For Professional BRM Institute members, leverage other metric tools listed in the BRMiBOK on the Online Campus:
How to Implement Value Tracking and BRM Metrics
The mission of BRM is to evolve culture, build partnerships, drive value, and satisfy purpose in every organization.
Every organization is made up of relationships. Therefore, every organization has an existing, active BRM capability to fulfill its mission by nurturing as many relationships as possible. By fulfilling the mission of BRM, organizations can continuously evolve to meet the demands of a rapidly changing environment.
BRM Institute's shared purpose, then, is to serve as a beacon for the BRM capability. This purpose provides context around which people build relationships and drive value. According to the theory of relationshipism, relationships founded on an authentic, shared purpose evolve culture which, in turn, becomes a limitless source of organizational energy. That energy is what forever fuels the conception of strategy and the will to engage that strategy to satisfy the purpose.
While organizational purpose and strategy serve an organization in many capacities, the two in synergy with one another promote great relationships, and BRMs masterfully harness this unification when evolving culture, building partnerships, and driving value.
BRM Institute has various yearly membership packages that can be customized to help ensure that the progress of your BRM capability thrives through the metrics above. If you're not already a member of this supportive community, consider joining to launch your career and your team to greater heights!
Want access to these BRM Metrics tools? It's just one of the many benefits members experience in the Online Campus!
Leave a Reply
You must be logged in to post a comment.