About Business Relationship Management
Introduction
Business Relationship Management stimulates, surfaces and shapes business demand for a provider's products and services and ensures that the potential business value from those products and services is captured, optimized and recognized.
Key Concepts Summary
The BRM Discipline rests on solid research-based foundations verified and enhanced over a decade of successful implementations in leading organizations across the world. Proven to be equally effective for a wide range of internal providers (business partners) including IT, Human Resources, Finance, Legal, external service providers, CRMs and others.
The Practice of Business Relationship Management embodies a set of competencies (e.g. knowledge, skills, and behaviors) to foster an effective business value-producing relationship between a provider and its business partners. These competencies can be leveraged through an organizational role, a discipline (e.g. all business partner facing provider roles should be skilled in Business Relationship Management), and an organizational capability (e.g. a provider organization should be effective in shaping and channeling demand to the highest business value opportunities).
The BRM Role is a crucial link between a provider and the business acting as a connector, orchestrator, and navigator between the  provider and one or more business units.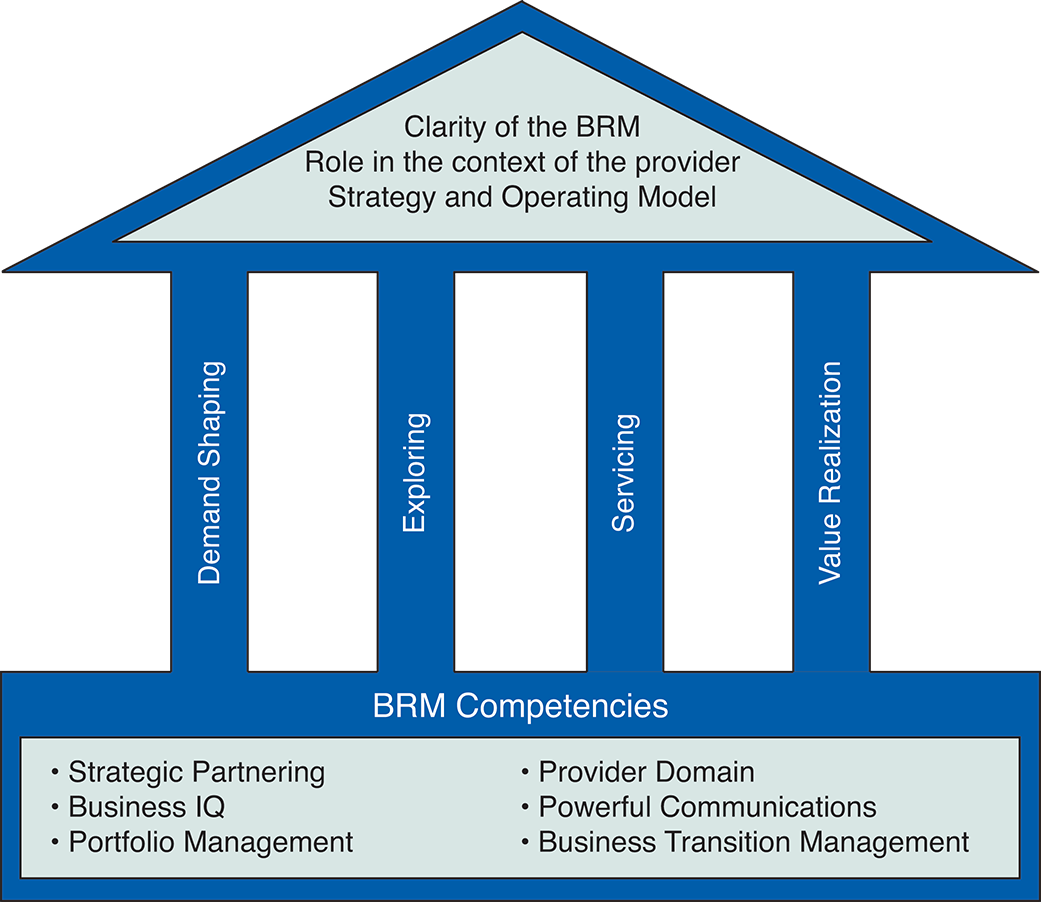 The House of BRM illustrates three key aspects of Business Relationship Management:
The "foundation" supports the BRM role and ensures it has the competencies to be effective and deliver value to both the provider organization and its business partners.
The "pillars" define the BRM space in terms of Core BRM Disciplines: Demand Shaping, Exploring, Servicing, and Value Realization.
The "roof" of the House of BRM protects Business Relationship Management as a key aspect of provider capability. It does this by ensuring clarity around the role, discipline, and organizational capability of Business Relationship Management in the context of the Provider Strategy and Operating Model.
Four Core BRM Disciplines
Demand Shaping stimulates, surfaces and shapes business demand for provider services, capabilities and products. It ensures that business strategies fully leverage provider capabilities, and that the provider service portfolio and capabilities enable business strategies. Most importantly, Demand Shaping is focused on optimizing the business value realized through provider services, capabilities and products—that low value demand is suppressed while higher value demand is stimulated.
Exploring identifies and rationalizes demand. Business Relationship Management helps sense business and technology trends to facilitate discovery and demand identification. Exploring is an iterative and ongoing process that facilitates the review of new business, industry and technology insights with potential to create value for the business environment. The key benefit of this discipline is the identification of business value initiatives that will become part of the provider portfolio of services, capabilities and products.
Servicing coordinates resources, manages Business Partner expectations, and integrates activities in accordance with the business partner-provider partnership. It ensures that business partner-provider engagement translates demand into effective supply requirements. Servicing facilitates business strategy, Business Capability Roadmapping, portfolio and program management.
Value Realization (formerly known as "Value Harvesting") ensures success of business change initiatives that result from the exploring and servicing engagements. Value realization includes activities to track and review performance, identify ways to increase the business value from business-provider initiatives and services, and initiates feedback that triggers continuous improvement cycles. This process provides stakeholders with insights into the results of business change and initiatives.
Target Audience
Any business professional or organization wishing to better stimulate, surface and shape business demand for a provider's products and services and ensure that the potential business value from those products and services is fully captured, optimized, and recognized.
Scope and Constraints
With its focus on improving relationships among business partners and maximizing business value, the principles of the art and practice of Business Relationship Management are equally relevant to anyone engaged in business—anyone from rank-and-file employees to C-level executives. If maximizing business value realization of resources spent is of any concern to you, BRM is a discipline, which will help you to achieve your objectives.
To learn more about Business Relationship Management, join BRM Institute as a member to gain access to members-only resources and benefits and check out the courses offered by our Accredited Training Organizations (ATOs) to enroll in one of our world-class professional development and certification programs today.