Business Relationship Management DNA™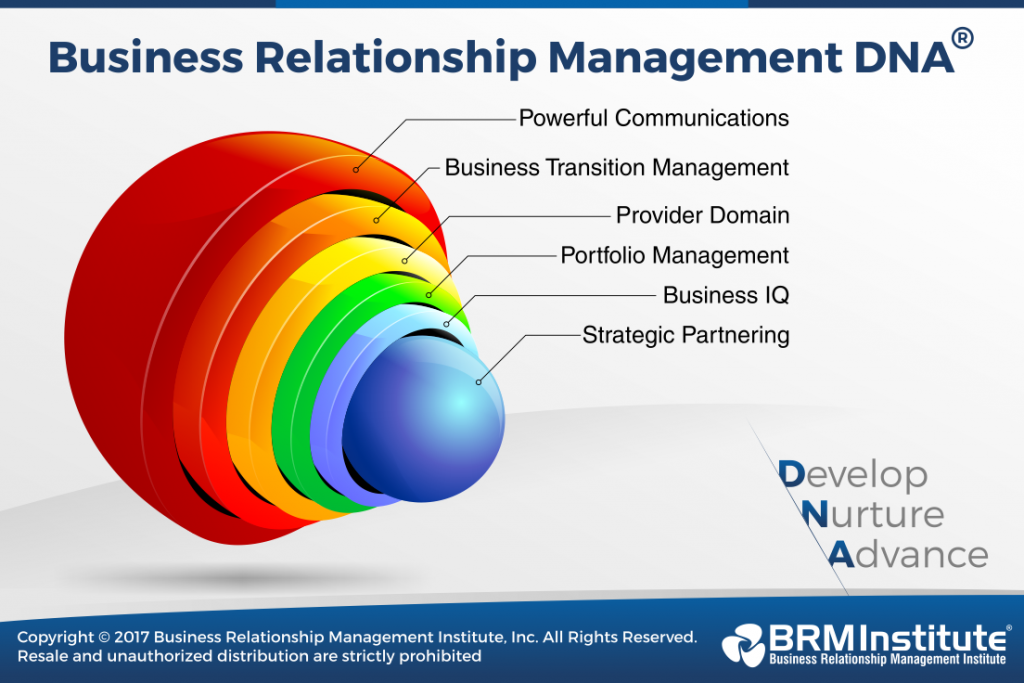 BRM DNA™ is the term for the BRM Institute competency model for the BRM role. The acronym DNA stands for Develop, Nurture and Advance – a reminder that successful BRMs constantly develop and hone their skills, nurture their business and provider relationships, and seek to advance both the business and provider agendas, thereby advancing their own value and career opportunities.
BRM DNA™ features six competency groups, each building on an inner core:
Strategic Partnering
Much more than "order takers" of business requests, successful BRMs demonstrate high competence in "demand shaping" – stimulating, surfacing and shaping business demand. They are respected contributors to the business leadership team, earning a "seat at the table" to actively engage with business leaders and discuss future plans and strategies. BRMs identify how their products and services advance business objectives.
Business IQ
Successful BRMs speak the language of business. They understand their industry, ecosystem and financial business drivers of their company. They understand P&L statements and balance sheets. Successful BRMs know how to assess the financial health of the business and use metrics for decision making and to drive value realization.
Portfolio Management
Successful BRMs are able to prioritize and align the service and product investment portfolio with business strategy. They understand the available capabilities and services and work with supply management to ensure that business needs are met in the most effective and cost-efficient manner.
Provider Domain Knowledge
Successful BRMs are well-grounded in the management disciplines of the provider they represent, be it IT, HR, Finance, etc. They communicate and defend policies and standards, and understand how the provider's services benefit the business. They manage internal partner relationships, establishing a sense of trust, team involvement/ownership and communicate urgency when needed to their provider partners. Successful BRMs understand the Service Management discipline, its processes, and standards. They coordinate and broker services and suppliers such as Enterprise Architecture, Solution Delivery, Service Management, HR specialists.
Business Transition Management
Successful BRMs are highly skilled in managing the politics and complexity associated with large-scale changes. They understand the drivers of change and the inter-dependencies among all the moving parts. They appreciate intended and unintended consequences of project and program decisions. Successful BRMs work with business leaders to flesh out the total cost of end-to-end implementation and overcome hidden costs and common obstacles to successful system deployment. Successful BRMs know when and how to engage Organizational Development professionals to assist with the major process and organizational change programs.
Powerful Communications
Successful BRMs are masters of communication, listening, persuading, influencing and shaping understanding. They communicate win-win scenarios, surface disconnects and work to resolve problems. When needed, they can say "no" by offering meaningful alternatives.
Developing Your BRM DNA™ Competencies
Through our Registered Providers (RPs) we are offering Business Relationship Management Professional (BRMP®) training and certification program, which is intended for the entry-level to intermediate Business Relationship Manager, with the training and certification designed to provide a solid baseline level of knowledge.  BRMP® training is available online or as an instructor-led class.
The intermediate-to-advanced development and certification program, the Certified Business Relationship Manager (CBRM®), is currently under development.  Our RPs can also provide custom training and development programs for our Corporate members.  Please contact the RPs directly to discuss your needs. Please also feel free to email us with any questions.