Leading CEOs Advance Existing BRM Capabilities to Satisfy Organizational Purpose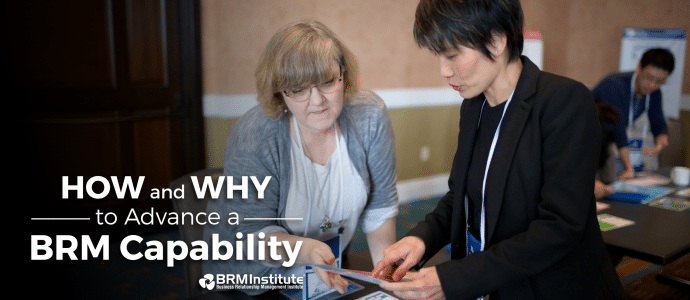 By now, the results are clear. Purpose is here to stay, and with good reason. Organizations that exist to contribute to humankind financially outperform those that don't by a factor of ten. In August of 2019, a group of 181 CEOs signed a promise that their organizations exist to drive value for all stakeholders, not just shareholders. Furthermore, 93 percent of Fortune 500 CEOs believe their organization should not mainly focus on making profits but also be guided by social goals.
"Organizations that exist to contribute to humankind financially outperform those that don't by a factor of TEN."
The mentality of organizational leadership across the globe is changing. Executives are beginning to recognize that satisfying purpose is the key to ensuring an organization's long-term sustainment. Employees want to feel that their work has meaning. Investors are massively shifting towards environmental, social, and governance (ESG) funds. Customers want to associate with organizations that support their values. Hence, the current and future business landscapes require leaders to shift their focus from a profit-driven bottom line to an evolved triple bottom line of people, purpose, and planet. Profit remains important for organizational function and exists not as the end-goal, but rather as an end-result of a satisfied purpose. But how do leaders stay relevant amidst such a drastic change?

Increasingly, leaders recognize their organizations already have an existing capability that drives this shift towards satisfying purpose: their business relationship management (BRM) capability. Advancing their organization from siloed service providers to true converged strategic partners – sharing ownership of strategy and results – BRM evolves their organization and provides the path for organizational leaders to evolve culture, build partnerships, drive value, and of course, satisfy purpose.
This article provides an in-depth analysis of why the triple bottom line is here to stay, and introduces a step-by-step approach for shifting from a profit-driven bottom line to a triple bottom line that drives meaningful results and positions your organization for infinite value.
Why is the triple bottom line so important?
Despite public corporations taking steps towards stakeholder capitalism, a rightfully critical Harvard Business Review article remarks that we have yet to see most organizations shifting their value away from solely shareholders. For example, some organizations still devalue and dehumanize their employees. Across the globe, there remains a distinct lack of diversity among leadership positions and board appointments with 38.6% of the Fortune 100 board seats held by women and minorities.
However, the metaphorical tide is shifting optimistically, with purpose as the formidable force behind this evolution. Recently, Forbes released an article compiling data that overwhelmingly supports the case for purpose. In fact, purpose-driven organizations are becoming the profitable ones as a result of increased demand. It is becoming increasingly apparent that purpose equals profit.
Specifically, investors, customers, and employees are demanding for purpose-driven organizations who pursue a more balanced triple bottom line.
Investors value purpose with untapped potential.
First, capital flows indicated investments into sustainable businesses nearly quadrupled from 2018 to 2019. With $20.6 billion invested in 2019, the prospects for 2020 remain exciting. Additionally, women, millennials, and high-net-worth individuals will lead the investor charge into sustainable, purposeful organizations. Bank of America estimates $20 trillion funneled into ESG funds over the next two decades – that's the current size of the S&P 500.
Customers want to do business with authentic organizations who know their purpose.
The 2018 Cone/Porter Novelli study demonstrated that 78% of people would tell others to purchase from a purpose-driven company. The power of word-of-mouth goes even further. Upon learning an organization proves themselves to be socially responsible, 85% are more likely to trust the brand, 84% are more likely to buy, and 82% are more likely to promote that organization to friends and family.
Previously, an organization could evangelize profit from their core, and simply boast an empty mission statement which they did not actually live out. No longer will this stand. Today, customers demand much more of organizations, and, above all, they value authenticity. If an organization hopes to build partnerships with potential customers and gain their trust, they must identify and act truthfully towards their purpose.
Employees determine which organizations will survive through purpose.
Forbes estimates that, when an organization loses an employee, they lose between tens of thousands of dollars up to 2x the employee's salary. For US-based companies, that's $160 billion annually. Luckily, there's a solution to this problem, a healthy dose of authenticity and purpose. To illustrate, turnover drops by 57% when employees feel connected to their organization's mission, purpose, and values. Thus, employees become more satisfied and engaged when they work together with a shared purpose.
Furthermore, GenZ will make up 30% of the workforce in four years which drives organizations to ask, what does my future workforce care about? Ultimately, this new generation cares about the world around them and will fearlessly work to hold employers accountable.
According to a WeSpire study, GenZ is the first generation to prioritize purpose before money. They value and respect diversity. They read mission statements and work for organizations that uphold similar values. Importantly, the newest generation in the workforce remains obsessed with authenticity, will scrutinize organizations to test authenticity, and will actively call out those who do not live out their purpose.
By now, it should be apparent that the entire business atmosphere has changed. Not only is the case for purpose compelling, but it is also necessary if an organization wants to survive long-term. Gone are the days when leaders could make decisions at the expense of stakeholders. Moreover, conscious capitalism debunks the myth that purpose sacrifices profit.
Organizations are powerful vehicles able to converge individual purpose with a greater shared purpose to generate optimal results for humanity. Consequently, the only remaining task is to confront the purpose gap that stakeholders and society demand by injecting it into the organizational DNA.
BRM Addresses the Triple Bottom Line Gap
As a leader, you know that your organization has a superpower, a value proposition that advances society in an entirely unique way. However, your potential likely remains untapped. According to McKinsey, "many executives…feel their own companies do great [Corporate Social Responsibility] CSR work but wish those efforts could extend into the core, adding meaning to the day-to-day experience of their employees and themselves."
If you had the proper tools, resources, and people to drive the evolution towards purpose, your organization could unlock your superpower.
As you work to place purpose at your core, consider the BRM your valued strategic partner who knows how to effectively communicate across all functions and levels.
Shifting from why to how through BRM
Purpose is crucial for an organization's long-term sustainment, and a BRM capability is the vehicle for weaving purpose into your organization's core. The following eight steps provide the key to help you discover your purpose (superpower) and unlock its potential value.
Purpose has a home here.
In evolving your organization towards a non-traditional triple bottom line, you will inevitably face pushback from those who have yet to identify their values or who are guided by external motivation alone. They may question your belief in purpose and ask you to back it up. Rest assured knowing that you are overwhelmingly supported by investors, customers, employees and a global community founded on trust and authenticity.
In short, a McKinsey & Company article titled "Purpose: Shifting from why to how" succinctly summarizes the work that needs to be done.
"What would it take for employees to bring enthusiasm, creativity, and collaboration to work, in addition to discipline? Connecting your people's individual purpose with organizational purpose is the critical link."
The BRM community possesses the research, knowledge, and tools to connect individual purpose to your organizational purpose. BRMs are purpose pioneers who will make your transition a reality. Empower your organization by becoming a BRM pioneer today!
Leave a Reply
You must be logged in to post a comment.