Sixth-Largest Community-Owned Electric Utility Advances BRM to Increase Organizational Success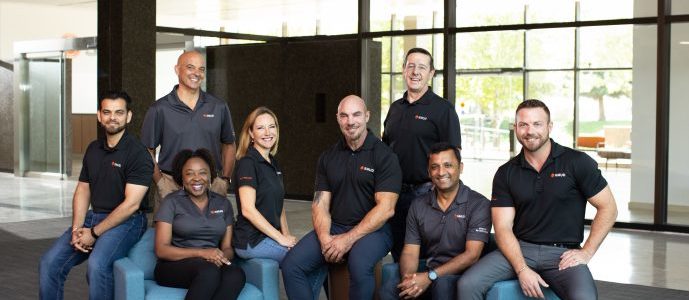 Left: Left – Sandeep Singh, IT BRM Analyst | Standing – John Aliotti, BRM Manager | Seated – Yinka Ajede, Business Tech Program Manager | Right – Crystal Allen IT BRM        
Center: Seated – Stephen Clemons, CIO | Standing – Nathan Hall, IT BRM
Right: Left – Mandar Nikmar, IT BRM | Right – Michael Fasse, IT BRM       
Challenges:

1.5 million people rely on SMUD to deliver their energy solutions reliably and cost-effectively. Organizational silos between IT and other business units prevented IT from effectively meeting unprioritized technology demand and delivering solutions in the changing utility industry.
Solution:

Through business relationship management (BRM) standardized certification offerings through BRM Institute, the BRM role and capability matured organizationally. Through BRMs becoming strategic partners with the CFO and CIO, they've aided in establishing financial spending limits to guide the entire demand planning and budgeting process and clearly communicating these parameters to the organization.
Results: 

SMUD's internal Customer Service Unit, dedicated to serving 1.5 million utility customers, has seen increased service reliability with the completion of the "automatic reconnect" initiative; effectively prioritized and implemented by the unit's lead BRM. The completion of this previously idle project means that SMUD's energy consumers are empowered to reconnect their energy services instantly once payment issues are resolved. 
BRM Transforms IT from Siloed Service Provider to Converged Strategic Partner 
Setting a standard of reliability and consistency is a crucial element for any utility company. As technological advancements grow exponentially, energy organizations now have cutting-edge tools at their fingertips to provide energy sustainability and more renewable energy options.
With a community of roughly 1.5 million relying on them to provide safe, affordable, and reliable electricity, Sacramento Municipal Utility District (SMUD) understands the importance of leveraging their IT department to deliver technology which gives people greater control of their energy choices.
SMUD employs roughly 2,500 people including 275 within the IT department, and without a framework to prioritize project initiatives requested by various business units, IT struggled to deliver solutions efficiently.
"There was a huge disconnect between our technology teams and the rest of business. Ultimately, the level of distrust between IT and our business units was detrimental to our organizational success," said Stephen Clemons, CIO with SMUD.
This relational roadblock between IT and business units stemmed from a lack of project prioritization which resulted in projects sitting idle and not completed in a timely manner. For this reason, IT was known to be unreliable in the eyes of the business units.
The Solution: Business Relationship Management
Initially, not long before Clemons joined SMUD as CIO, the majority of staff members lacked understanding as to the purpose or value the Business Relationship Manager (BRM) role could provide.  Recognizing the disconnect between IT and business, Clemons understood that BRM would act as the necessary "connector" between the two segments of SMUD once the role and capability was more fully understood.
"Without establishing our standards and practice it was just unclear what BRMs were supposed to be doing." Clemons reflected.
Prior to exploring BRM Institute's certification, training, and coaching programs, the three current BRMs within IT struggled individually to perform in their role and develop their capability to its full potential. SMUD's BRM leadership saw value in joining BRM Institute, not only for the standardized certification of BRMs, but for the invaluable support found in the single global BRM community.
Moreover, BRMs operating within SMUD now have a framework and a methodology in place. This structure allows BRMs to effectively build strategic partnerships between IT and the rest of the business units founded on trust.
Positioned for the Future
Technological advancements such as solar energy, electrification, and battery storage are changing the utility industry, making it more crucial than ever for SMUD's IT department to operate reliably as a strategic partner.
"Having worked in technology for so many years, I've seen the negative impact when IT is not a recognized business partner driving organizational strategy and value," states Clemons. "BRMs have prioritized the need to include IT in these high-level conversations."
Over the course of roughly two years, the level of trust developed between IT and its business partners has greatly increased now that BRMs are exercising value management more effectively within SMUD. Proposed projects are now categorized into prioritized tiers with expected value and defined contributions to strategic intents. 
Additionally, linking the ideas with the organizational purpose and strategy with greater visibility of value has helped shape demand. For example, in 2020's portfolio, one business unit was able to reduce the number projects from eleven to three with the help of Business Relationship Management.
The methodologies gained through standardized BRM certification have empowered SMUD's BRM practice to operate more effectively, which is now embraced and recognized across the entire organization.
"Our Business Units used to say IT was not getting any work done," Clemons said. "Since leveraging BRM capabilities, we have been able to use Agile methodologies and kick out projects so quickly, our units are now saying they can't keep up with IT.
Tech isn't my problem anymore… The problem now is figuring out how to keep up with Tech! And that is a great problem to have as we continue to add value to our end consumers through technological advances." 
Want to learn more about how Business Relationship Management as a role, capability, and philosophy can help increase your organization's success? Explore our Organization Memberships and Individual Memberships to see which path suits your needs best! 
Leave a Reply
You must be logged in to post a comment.