Transformative Organizational Success: The Nexus of BRM, Agile, and DevOps Methodologies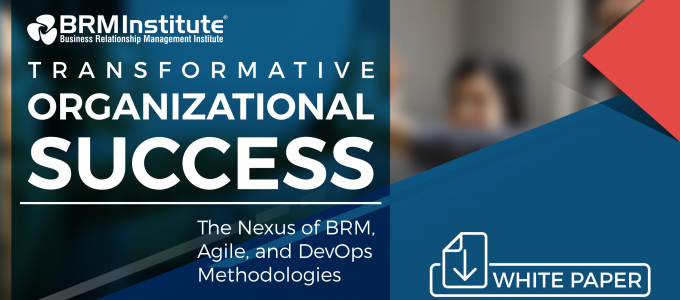 Call them methodologies, business disciplines, technology strategies, or strategic approaches. Whatever you call them, you can't buy BRM, DevOps, and Agile by the unit, the processor or by named users. You can't successfully advance or implement them without a measure of positive people and process disruption, nor can you measure them with any standard KPIs.
Integrating Multiple Methodologies for Organizational Success
Business Relationship Management, Agile, and DevOps are all rooted in relationships and communication. They require expertise to make them successful. When orchestrated correctly, these systems coexist within your organization increasing the effectiveness, efficiency, cohesiveness and success of your teams.
Not just IT, not just HR, not just Finance, but all departments and all functions to which they deliver business capabilities.
In order to best understand the value and application of these systems it's necessary to first define them. From there, a review of their interactions will expand the scope of their use and help define how they complement one another.
Download the Full-length White Paper
To read the full-length white paper, click below to download the PDF and learn how these principles truly drive organizational success.
Leave a Reply
You must be logged in to post a comment.