Business Relationship Management Professional (BRMP®)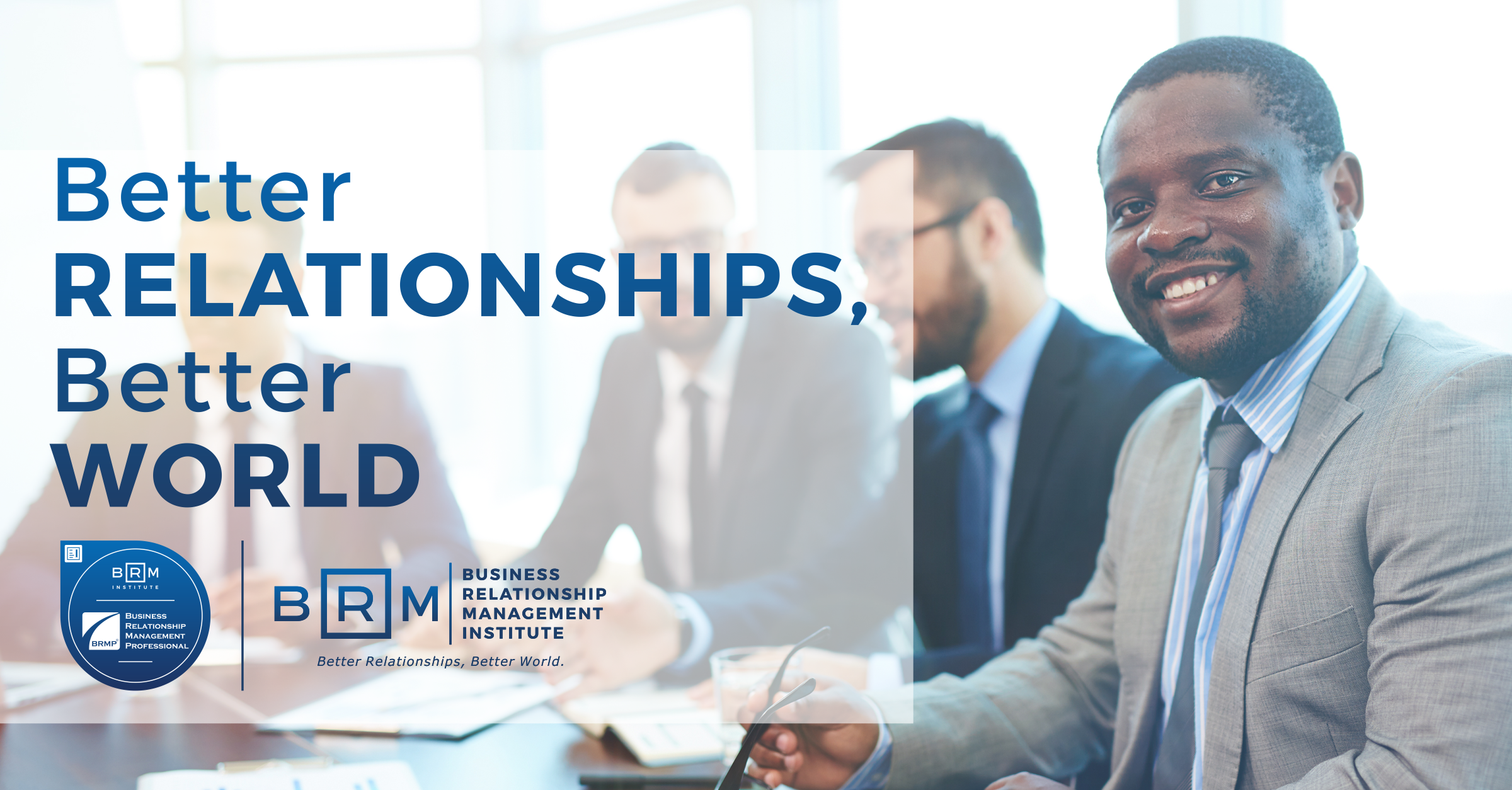 Relationships are everywhere.
Every function, department, and relationship can benefit from the BRMP® certification. Designed to teach participants the skills they need to capture the benefits of the BRM capability- a powerful game-changer that can elevate any corporation into a thriving, productive organization.
The BRMP®  has quickly become a highly sought after credential by hiring managers around the globe. It indicates a thorough knowledge of connecting relationships to results, and the mastery of  fundamental concepts and skills necessary to prepare for your future as a valued partner within your organization. Unlock your organization's ability to thrive while developing transferable skills that will help you advance your career, no matter where you are.

Upon class enrollment, a world of possibilities awaits you with a complimentary 3-month trial of the BRM Institute Professional Membership. Click to learn more about the benefits of membership.
This exclusive membership opens doors to a thriving global community of business professionals who share your passion for the BRM discipline. Engage with like-minded peers, harness valuable tools, templates, and resources, and take an active role in shaping the future of BRM. Your journey starts here where collaboration, growth, and excellence converge.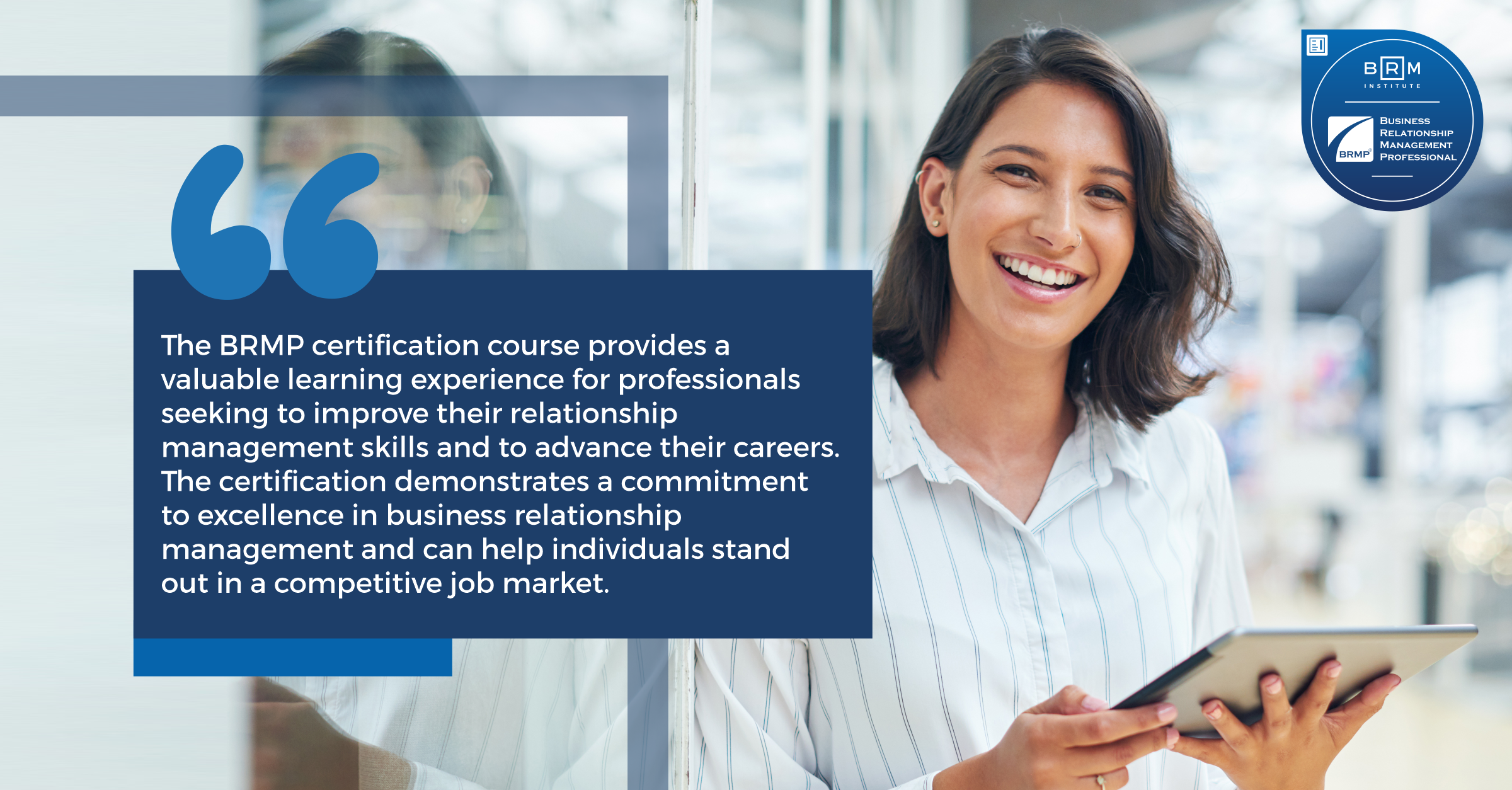 This course provides a thorough overview of essential business relationship management (BRM) concepts, and upon completion of the BRMP® course, you will be able to demonstrate your understanding of:
What BRM is and the value it provides to an organization. ​
Why an organization should move beyond profit and products to encompass people, purpose, and planet​
Why BRM should be completely integrated into every element of your organization. ​
​The contribution of the BRM role to your organization's purpose
The basic knowledge, skills, and mindsets of the BRM role. ​
The core BRM approaches, tools, and templates used to achieve results. ​
How a BRM team can advance the BRM capability to evolve culture, build partnerships, drive value, and satisfy purpose within your organization.
Upon completion of this class, you will:
Feel confident knowing you are using proven industry best practices to build effective relationships and drive value.
Be able to articulate the value and impact of BRM within your organization.
Have the necessary information to begin growing the BRM capability in your organization.
 Feel more confident in your role as a business relationship manager.
Have the information you need to prepare to take the BRMP certification exam.

Course Outline
BRM Introduction – The Bigger Picture
· Why BRM? Why Now?
· Relationship-Centered Organization
· Theory of Relationshipism
· Triple Bottom Line
· BRM Defined
· Capability
· Discipline
· Role
· Activity Domains
· BRM Challenges
· Tools included: BRM Role Competency Model
BRM Capability
· BRM Capability Framework
· Organizational Purpose and Strategy
· Organizational Factors
· Core Values
· Now-to-New
· Evolve Culture
· Build Partnerships
· Drive Value
· Satisfy Purpose
· Limitless Growth and Improvement
· Tools included: BRM Capability workbook, BRM Capability Impact Report workbook, Strategic Relationship Plan
BRM Capability: Evolve Culture
· Evolve Culture Framework
· Purposeful Narrative
· Desired Behaviors/Shared Ownership, Leadership-as-Practice
· Influential Relationships
· Personal Growth/Growth Mindset
· Tools included: Storytelling, Language Matters, Relationship Network Directory
BRM Capability: Build Partnerships
· Build Partnerships Framework
· BRM Role Competency Model
· Relationship Maturity and Quality
· Partnering Mindsets
· Relationship Discovery
· Relationship Nurturing
· Tools included: Relationship Maturity Model (RMM), Relationship Strategy on a Page (RSOAP)
BRM Capability: Drive Value
· What is Value?
· Types of Value
· Sources of Value
· Drive Value Framework
· BRM Role Competency Model
· Value Discovery
· Value Realization
· Value Results
· Tools included: Idea Document, Value Plan, Value Optimization Report
BRM Capability: Satisfy Purpose
· Satisfy Purpose Framework
· BRM Role Competency Model
· Through the BRM Capability
· Through the Triple Bottom Line
· Social Value
BRM Role
· Our Purpose and What We Believe
· Role Clarity
· Single Point of Focus
· BRM Code of Ethics
· BRM Role Competency Model
· BRM Mindset
· Scope of BRM Role
· BRM Role with Organizational Factors
BRM Team
· Our Purpose and What We Believe
· BRM Team Definition
· BRM Team Purpose, Mission, and Vision
· Assessing the Value of a BRM Team
· Organizing a BRM Team
· Leading a BRM Team
· Transition Management
· Coaching BRMs
BRM Key Learnings
· A review of the key concepts from each of the preceding modules.
Course Wrap-Up
· What to do in the next 30/60/90/365 days
· Digital badge
· After passing the exam
· Recap Learning Objectives
· Review Learning Objectives
· Review Expectations
· Course Feedback