Moving the Needle on Culture Evolution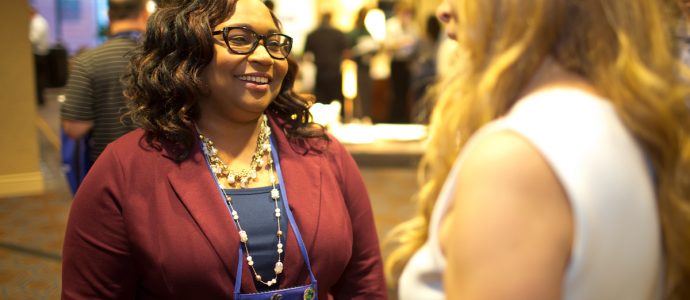 This past October, Terri Mayes, IT Relationship & Customer Experience Manager with Honda, took to the stage on day two of the 2019 World BRMConnect conference to talk about the importance of driving culture evolution.
"I have been a relationship manager all my life. I just didn't know it!" – Terri Mayes
What is culture? Culture is symbolic communication. It represents a way of life for a group of people with shared behaviors, beliefs, values, and symbols. As BRMs, we manage a delicate balance between optimizing business value and evolving culture towards shared partnerships.
"Your purpose is the key to unlocking the highest value add to your organization, family, and ultimately the world around you." – Terri Mayes
Fundamentally, culture change starts with YOU. The foundation of this change lies with discovering and embracing your personal purpose. Purpose is that place where you thrive and encompasses the following:
Passion – a strong feeling of enthusiasm or excitement for something or about doing something
Mission – a specific task with which a person or a group is charged
Profession – a paid occupation, especially one that involves prolonged training and a formal qualification
Vocation – a strong feeling of suitability for a particular career or occupation
Discover Personal Purpose
Realizing and discovering your purpose is much easier said than done. Terri posed some powerful questions that we can ask ourselves when reflecting on what our true purpose is in life:
What aspects of your life make you come alive?
What unique skills do you have that come most naturally to you? What talents have you cultivated and what do you excel at even when you aren't trying?
What breaks your heart or pulls at your gut? What change would you most love to create in the world? For what would you give your life?
What service, value or offering do you or could you bring, that delivers real value to others? What is something people need and are happy to pay for or share some value in exchange?
Societal Impact
"Honda strives to be a company that society wants to exist. We believe we have a responsibility to apply our innovation, influence and initiative to making our communities and the world better places to live and work. The cornerstone to our philosophy is Respect for the Individual." – Terri Mayes
Honda's economic impact is undeniable when we reflect on these data points from Alabama's 2018 Economic Impact Survey:
$12B Annual Economic Impact
45K Total Jobs in Alabama
4% of the Total Alabama GDP
Lessons Learned
As Terri's presentation drew to a close, she shared valuable insights on the most important lesson learned throughout her BRM journey:
It is imperative to have the full support of your leadership when implementing BRM
Establish a meeting cadence with high-level leaders
Business Relationship Management is not just a role. It has to be a discipline and a capability that is infused in how we do business.
Evolve Your Culture
Want to find out more about the importance of discovering personal and organizational purpose?
Register now for the next World BRMConnect 2020 conferences to be held in Boston and Amsterdam and get pre-early bird discount for a savings of up to $800.
Share the knowledge by bringing your team to BRMConnect! We reward groups of 5 or more who attend together with 10% off! Group registration CAN be used in addition to pre-early bird as well as membership discounts. Hurry! NOW is the optimal time to get your team registered with the ultimate discount option as pre-early bird pricing ends on December 31!
Leave a Reply
You must be logged in to post a comment.