Witness an Evolution at BRMConnect Virtual 2020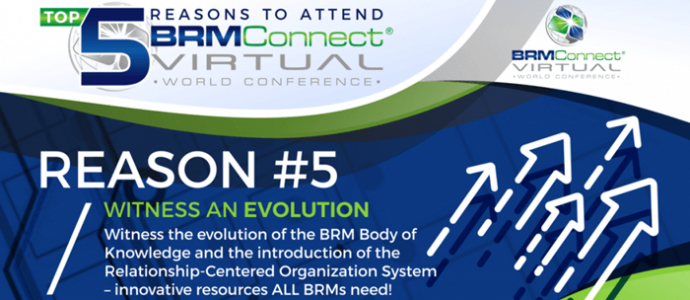 The future of work is evolving drastically and business relationship management (BRM) is the driving force behind this change.
Why?
In a word, relationships.
Organization systems of the industrial ages, which value efficiency above all things, are on the brink of extinction. Not far behind, are the profit-driven organizations operating in silos born from a people-as-resources culture.
The evolution and integration of BRM is turning the traditional organizational system on its head to create infinite value.
How?
By increasing effective relationships and creating a limitless energy source for all organizations around the world.
At BRMConnect Virtual 2020, witness firsthand the BRM Body of Knowledge Evolution which aims to equip individuals, teams and organizations to purposefully advance their BRM capability.
Be the FIRST to witness the future of BRM and the invaluable knowledge offerings every organization needs!
If you haven't seen the previous top five reasons to attend BRMConnect Virtual 2020, check them out below to see what you're missing!
At BRMConnect Virtual, the week of August 24-28, you'll have the opportunity to hear from the BRMP®/CBRM® Evolution Team as they share their efforts in evolving the BRM Body of Knowledge (BRMBOK) giving organizations practical approaches to satisfy the triple bottom line.
These are just some of the topics you'll hear and learn about as an attendee of the first-ever virtual BRMConnect event:
Expanding BRM and integrating BRM Teams into all functions of the organization to create a converged environment
Increasing efforts in developing, nurturing, and advancing relationship-building skills and traits
Advancing and measuring tangible and intangible value in organizations instead of focusing on cost and benefits
Take a closer look at the entire track designated to this evolution and what you can expect to take away from this experience!
Additionally, the BRMBOK Evolution promises all-new content and resources for BRMs and all varieties of professionals to leverage.
Last week marked the global introduction of the Relationship-Centered Organization System, which turns the traditional system on its head. Instead of viewing the product as the core focus, relationship-centered organizations place purposeful relationships at the center, knowing the product will come in massive quantity and higher quality as the proportion of quality relationships increases.
Ultimately, Relationship-Centered Organizations advance your business relationship management capability and are focused on people, purpose, and planet, not just for benevolent reasons, but because it is in their best interest: It is the only way to position your organization to access infinite value.
Are you and your organization effectively harnessing the unlimited supply of energy to propel you into the future?
Leave a Reply
You must be logged in to post a comment.