Improve Your BRM Maturity at BRMConnect Virtual 2020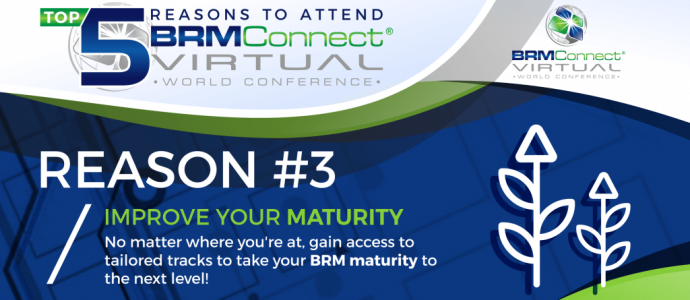 Have you found yourself feeling unmotivated or a little less than inspired lately?
BRMConnect Virtual has strategies to help you get from one level to the next. Connect and engage with the people who are currently "doing" BRM, not just those in dedicated BRM roles!
Construct a plan to educate your BRM team and leaders on the current state of BRM, where you are headed, and how they all can participate in getting business relationship management to the next level.
BRMConnect Virtual offers you ultimate convenience and access to high-demand BRM knowledge offerings to improve your BRM maturity.
Experience powerful networking and coaching opportunities combined with innovative BRM knowledge and certifications!
At BRMConnect Virtual, collaboration, problem-solving, and creativity spring out of every meeting. Participants don't just chat, they actively engage with others to solve pertinent questions and opportunities unique to BRM.
After all, the heart of BRM is relationships!
Through networking with peers, you will learn how others have already solved current challenges you have today along with new ideas that you can immediately bring back work the workplace. Connect with #BRMLegends for specific coaching where you can review your BRM Journey map or current state, and devise a plan to advance your BRM capability and BRM skills.
Over the next several weeks, we're sharing with you the top five reasons you cannot miss BRMConnect Virtual.
Reason #3: Improve Your BRM Maturity
When BRMs from around the globe unite together (even virtually), incredible things happen!
As an attendee, you'll not only have five days' worth of live and on-demand BRM content, but also your choice of tailored tracks specific to your needs and catered to your BRM maturity.
Enjoy live and on-demand sessions during the week of August 24 – August 28 which you'll access anytime you want through September 30, 2020.
Here's a sneak peek at just some of the options that you'll have at your fingertips to improve your BRM maturity:
Will you connect with others from the single, global BRM community to improve your BRM maturity?
Leave a Reply
You must be logged in to post a comment.