Upgrade Your BRM Resources at BRMConnect Virtual 2020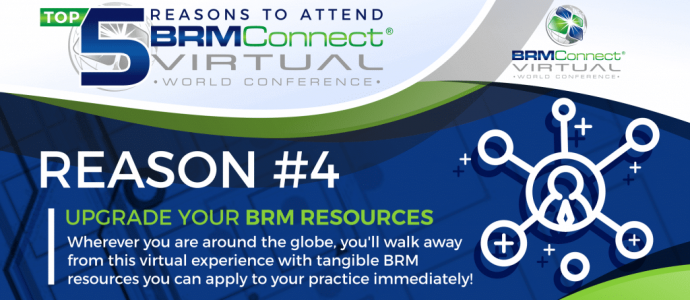 Business Relationship Management (BRM) is not a final destination for you or your organization. Advancing your BRM capability is a constant evolutional process. For that reason, it's invaluable to have relevant BRM resources at every stage you find yourself in!
At BRMConnect Virtual, gain access to critical BRM resources to help you achieve your greatest goals no matter where you are in your BRM journey.
Uncover tangible BRM tools to help solve your most pressing issues!
Wherever you are around the globe, you'll come away from this virtual experience with resources you can apply to your profession immediately.
Not only that, you'll hear stories and examples of how other BRMs applied the most powerful BRM resources individually and organizationally to achieve greater results.
Over the next several weeks, we're sharing with you the top five reasons you cannot miss BRMConnect Virtual.
Reason #4: Upgrade Your BRM Resources
At BRMConnect Virtual, passionate, experienced industry professionals from a variety of BRM journeys gather to share their stories with you. Immerse yourself in the lessons learned and greatest achievements of other BRM professionals who have blazed a trail before you or may be walking right alongside you.
As an attendee, enjoy live and on-demand sessions during the week of August 24 – August 28, as well as access anytime you want through September 30, 2020.
BRM Coaches and storytellers aim to tell you not only the what and the why behind their strategies, but the how. This means you'll gain the resources you need most and practical methods to apply them in your role.
Here's a glimpse of just a few BRM resources you could apply in your BRM role, team, and organization:
• Different assessments to further your personal and professional development

• Full end-to-end value management process to articulate the business value coming from your relationships

• Idea Documents and the platforms that house them

• Immersion methodologies to develop and evolve your BRM program to not only meet business partner needs, but become an indispensable partner

• A practical tool for gaining clarity on any initiative

• A proven approach to preparing, managing and reinforcing change within your organization

• Hands-on experience with a capability map to see how it can become a capability roadmap that puts you on the path to convergence!
Attending a virtual conference has never been more impactful! Gain access to the invaluable resources created by BRMs, for BRMS.
All sessions are available on-demand through September 30th. 
Leave a Reply
You must be logged in to post a comment.