Be Part of the Future at BRMConnect Virtual 2020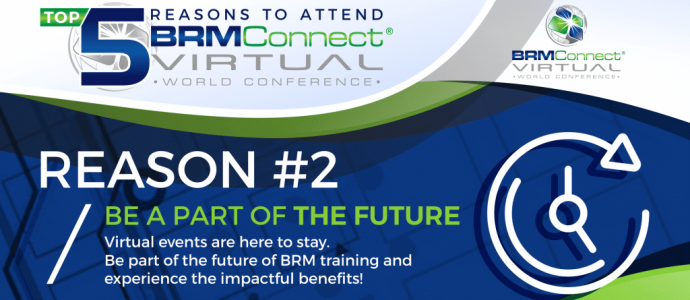 It's no secret. Virtual events are here to stay, not to replace in-person events, but rather to supplement them in the best way possible.
Perhaps you're thinking, "Aren't virtual events impersonal and full of fluff?"
Not BRMConnect Virtual!
BRMConnect Virtual is THE place for relationship-driven innovation!
As an attendee, you'll gain live and on-demand access to over 40 unique and relevant sessions (zero fluff). Not only that, but you'll also network and learn from the BRM trailblazers leading the single, global BRM community into the future. You might be surprised to find they have stories and experiences just like yours!
Over the next several weeks, we'll be sharing with you the top five reasons you cannot miss BRMConnect Virtual.
Reason #2: Be Part of the Future – Virtual Events are Here to Stay
The overwhelming benefits virtual events offer solidifies them in the future of the way people do things. The World BRMConnect Conference is no exception. Take a peek at just a few key differences between past BRMConnect events and BRMConnect Virtual 2020: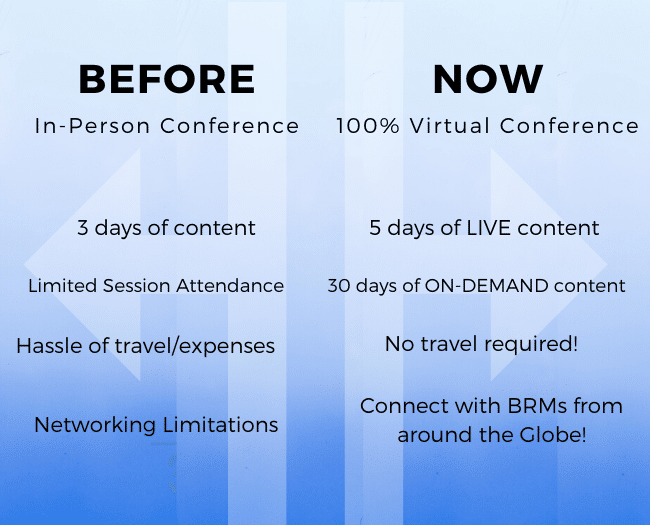 BRMConnect Virtual is an event you do not want to miss out on. Be part of a worldwide movement the week of August 24 – August 28 where you will connect, learn, have fun, and grow–personally and professionally–all from the comfort of your chosen location! And that isn't the only benefit you'll experience. BRMConnect Virtual is: 
More inclusive
Safer for everyone
Economically sustainable
More convenient and flexible for attendees
Environmentally responsible
Less stressful
BRMs don't just stay in their roles, they advance them. BRMs help build loyalty and stability in every organization. In a landscape of increased turnover and job dissatisfaction, join other professionals from around the globe virtually and discover why!
All session are available on-demand through September 30th. 
Leave a Reply
You must be logged in to post a comment.