Did You Miss the World BRMConnect 2019 Gathering?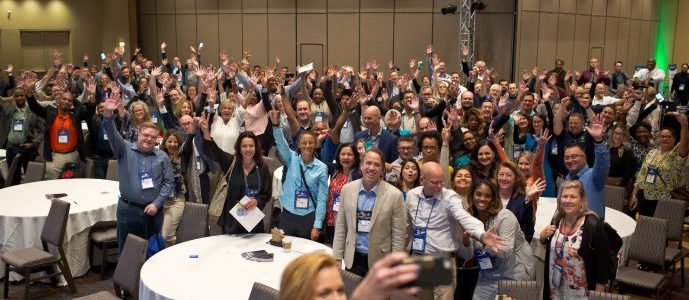 It's certainly possible that no three days were more jam-packed with knowledge offerings, mentorship opportunities, and new connections than BRMConnect 2019 in NOLA.
The huge success of our latest conference is largely due to the engagement and involvement from our single global BRM community!
We want to sincerely thank our sponsors, the attendees, volunteer working groups, members, storytellers, keynote speakers, and everyone behind the scenes that made this come to life in such a beautiful way. Check out #BRMConnect on social media to share in the experiences and takeaways from this year's conference.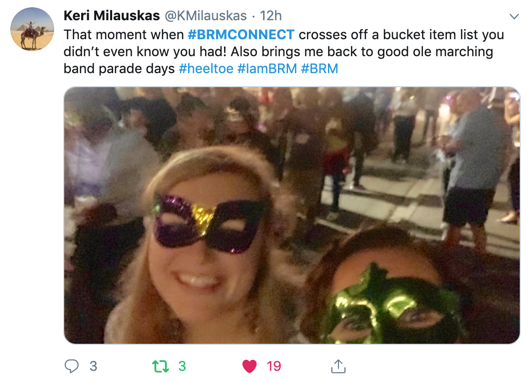 Here is just a taste of some of the amazing things you had to say about BRMConnect 2019 NOLA…
"…I am blown away by the warmth and kindness of people here. I have been to many IT conferences, I mean MANY. When you put a group of people in a room who has the word "relationship" in their title, and relationship is at the heart of their purpose, can you imagine how much energy and ease there is with this group?! Cannot wait to come back and share Enterprise Holdings BRM success story."
"Energy and collaboration was amazing. People want to help. It's a community with a shared purpose."
"I meet a lot of fellow BRMs and received great feedback from coaches. I have a lot of knowledge and foundation to take back to my team."
"BRMConnect offered easy networking and I loved the research-based keynotes. I also loved COI on Mondays, especially the interactive component."
"Exceptional, enlightening, and a lot of good knowledge to take back with me – especially BRM Philosophy."
If you missed any of the conference, or sadly couldn't attend at all, check out our Recent News & Articles to catch up on the valuable teachings from our 2019 Storytellers.
Here's a quick highlights reel showcasing what this year's annual 2019 global BRM gathering had to offer.
BRMConnect 2019 Highlights
Livestream Keynote Sessions
Be sure to watch the livestream replays from our Keynote speakers, Danielle Hellebrand (presented by Danielle Dizes), Marshall Berkin, and Liz Schellenger. You don't want to miss out on these powerful and impactful presentations!
Unveiling of Relationshipism
The announcement and introduction of Relationshipism to the world kicked off our three-day World BRMConnect conference.
"Relationshipism is the theory of being relationship-centered in all aspects of life and especially in organizations. It promotes trusted teams, a mindful focus on authentic relationships, increased personal power and fearless creativity. Relationshipism, being built on principles of cognitive science and social intelligence, provides infinite value as it expands the focus of society from shareholder value to the satisfaction of personal purpose, organizational purpose, and societal impact."
2019 Global BRM Community Excellence Awards
Each year, the global BRM community recognizes individual and organizational commitment to the BRM role, discipline, capability, and philosophy through our Global BRM Community Excellence Awards. Fellow members of the global BRM community nominated this year's winners.
Experience NOLA!
Each and every BRMConnect conference has a unique experience offered to attendees. On the second night of this year's conference, attendees took to the streets of New Orleans for the Second Line Parade, equipped with The Roots of Music marching band, a non-profit dedicated to supporting, teaching, promoting, and protecting at-risk youth through music education.
Second Line is a tradition in brass band parades in NOLA. The "main line", or first line, is the main section of the parade. Those who follow the band simply to enjoy the music and participate are called the "second line". 
Video credit: Sandra Balboni, BRM Institute Professional Member
Coming out of an exhilarating conference experience, it can be easy to lose momentum over time. Now is the time to strategically build on the momentum created from BRMConnect and set new goals to accomplish throughout your BRM journey over the next year!
Mark your calendars so you don't miss out on BRMConnect 2020! We have so much to offer at these global BRM gatherings we're hosting two locations next year; Boston and Amsterdam! Registration will open soon! 
Looking for a new way to challenge yourself as a BRM leader this year? We're currently looking for BRMConnect Storytellers for 2020! Keep an eye for more information from us in the coming weeks! 
Leave a Reply
You must be logged in to post a comment.