The Rebirth of HR through Business Relationship Management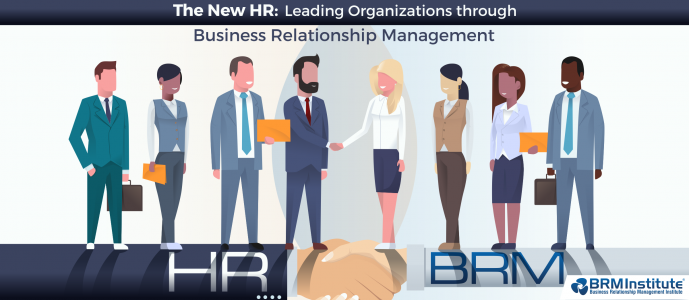 Foreword…
Future-forward organizations will thrive in a global economy, exceed strategic goals, operate with agility, and achieve the highest level of partner brand loyalty in the 21st Century.
Ultimately, these organizations will offer an employee value proposition that attracts, develops, and retains the best talent with the most robust competencies, skills, and experiences. In the end, this drives new capabilities, products, and business opportunities to existing and new partners.
Human Resources (HR) will lie at the center of an organization's future success because, simply, humans are the heart of every organization.
To properly support people is to drive strategic value.
From Startups to Shared Strategy
The startup community  was the first to recognize it. They were early adopters of Chief People Officers (CPOs), and as with many referenceable startup successes, large-scale enterprises are beginning to follow suit. The transition from Chief Human Resource Officer (CHRO) to Chief People Officer is the industry's reaction to thinking differently, recognizing people as their greatest asset, and driving business in a new direction.
Legacy leadership, leveraging old practices, and methodologies limit organizations to yesteryears, making it easier for new entrants to disrupt their organization and business models. Additionally, old vocabulary, dated success metrics, and legacy systems will no longer cut it. What remains unchanged is that HR's success is contingent upon the needs of partners the organization serves, strategies to win over talent, and co-creation of strategy to drive a people-first business.
Thus, this makes business relationship management (BRM) a perfect fit for the future-forward HR function. CEOs need more than a trusted advisor. They need HR to be a strategic partner that brings innovative, people-centered ideas to the table. They're looking for fearless leaders unafraid of disrupting themselves, and hungry to learn what will give the organization strategic competitive advantage in the current and future marketplace.
Paradigm Shift: A Focus on People
As the Chief People Officer builds a dynamic, progressive, and agile HR function, new cultural practices will arise. HR partners will provide an indispensable relationship grounded in trust and confidence to develop people strategies. Ultimately, they will bring balance to inclusion and diversity that's fully integrated into the business strategy.
While this sounds like nirvana to some, we still hear, "Why not remain with the status quo? We've been successful so far by sticking to what we've done in the past."
Simply stated, turnover for the right talent remains higher than it's worth when you assess the cost of replacement and on-boarding. A reputation for NOT being the best place to work will attract sub-par talent. While that may be okay for cash-rich organizations, it remains wasteful when you regard other people's time and expectations for being a world-class organization.
For the forward-looking leader ready to take charge and drive the organization's triple bottom line with people at the forefront, the benefits will be substantial. Business Partners become empowered to uncover new opportunities, as business drivers are linked closely with HR. Adapting to change will be seamless as organizations remain readily adaptable to new and promising opportunities. Resilient team structures and individual convergence with initiatives will strengthen business continuity.
Lastly, organizations will see the positive effects on society through a workforce that has embraced the organization's vision and mission.
Bringing HR to the Strategic Discussion – Use Case
An Undervalued HR
As a seasoned expert in the HR field, you just accepted a job offer to join a top tier FinTech Company. Excitingly, the organization is undergoing a Human Resource Transformation, which will enable HR to be more agile, keep up with the pace of change of the Business, and optimize its workforce to achieve competitive advantage.
The new HR Operating Model consists of creating Strategic HR Business Partner (HRBP) roles and Communities of Expertise (COE)s. With your experience in other dynamic and progressive HR Organizations, you are excited by the opportunity to be part of a team that will positively impact the strategic goals of the Organization.
This is your job description, effective immediately:
HRBP Job Description
The HR business partner (HRBP) position is responsible for converging business objectives with human capital strategies, and will also:
Serve as a consultant to management on human resource-related issues.
Act as an employee champion and change agent.
Assess and anticipate the needs of the business based on the business unit's financial position, its strategic plans, culture and competition.
Formulate partnerships across the HR function to deliver value-added service to management and employees that reflects the organization purpose.
Through this job description, your manager and clients expect performance that will drive value at the strategic level. Unfortunately, three months into the role, you discover that HR-related stakeholders hold competing priorities and expectations.
Ultimately, these expectations have led to you "wearing multiple hats" with responsibility over programs and processes that do not converge with your role.
Moreover, while HR is operating in its new model, you've become bogged down with transactional and operational activities without the opportunity to demonstrate strategic value to the business.
Additionally, within the HR organization itself, you lack the proper tools and resources to look at the organization holistically and develop integrated solutions.
You are no longer engaged. Leadership will not properly address your concerns. Most of all, you're frustrated because you know HR can drive strategic value when properly enabled, but don't know how to get leadership to listen.
As HR evolves from a focus on humans as resources to a true focus on humans as people, this evolution moves the function label from HR to simply…People.
The People function is moving beyond their 20th century Order Taker/Service Provider processes by advancing their existing BRM capabilities. Ultimately, the goal is to move the entire People function to become converged strategic business partners, sharing ownership of business strategy and results.
Business Relationship Management Institute Inc. defines an advanced BRM capability as:
"a capability designed to stimulate, surface, and shape demand across all functions (business units, sales, marketing, technology, human, finance, etc.) and ensure that the potential value from that demand is captured, optimized, and recognized."
A strong BRM capability converges cross-functional teams and eliminates value-depleting organizational silos. It strengthens collaboration and drives a culture of creativity, innovation, and shared ownership across the enterprise. In turn, holistic, innovative, and value-driven strategies are created and deliver their intended business value results.
Explore the strategies below to learn how to evolve your HR role through BRM!
Speak the Same Language (unify Business and HR language)
Technical jargon exists in every company and creates communication barriers between functions. Thus, HR and all business functions must speak the same language to drive effective communication. A BRM-enabled HR function will utilize consistent language within the organization by discovering and understanding the value expectations of the Business.
Based on input from strategy, BRM achieves this through different techniques where expectations are being clarified and clearly communicated to all parties. This will improve relationships and get all parties to understand what success looks like. Additionally, it will empower business groups to understand the implicit demand for their own capabilities. Before long, a BRM-enabled HR role will quickly advance from transactional Order Taker to become a valued Strategic Partner. 
Communicate the HR Strategic Value Drivers
HR can use the Business Provider Maturity Model* to understand the implicit demand for its own capabilities. Then, it can leverage that knowledge during strategic discussions to demonstrate to the Business why it can rely upon HR.
Furthermore, BRM can address the communication/relationship barriers HR encounters by leveraging other foundational competencies that we tend to forget. This includes the art of body language, active listening skills, influencing and persuasion, and importantly, emotional intelligence.
Find the Right Technology
Technology is rapidly changing the business of HR. Per a recent HR Technology Strategy and Selection article by Gartner, CEOs and employees expect HR to become more digital. Nearly 80% of employees don't have the digital technology they need to do their jobs, despite a focus on implementing digital workplace programs.
With access to global technology knowledge and resources, a BRM capability can equip HR with the right technology to save time, money, and effort. Thus, with a focus on people, process, and technology, BRM can modernize and digitize HR to become a strategic change-driver.
*The Business Partner Maturity Model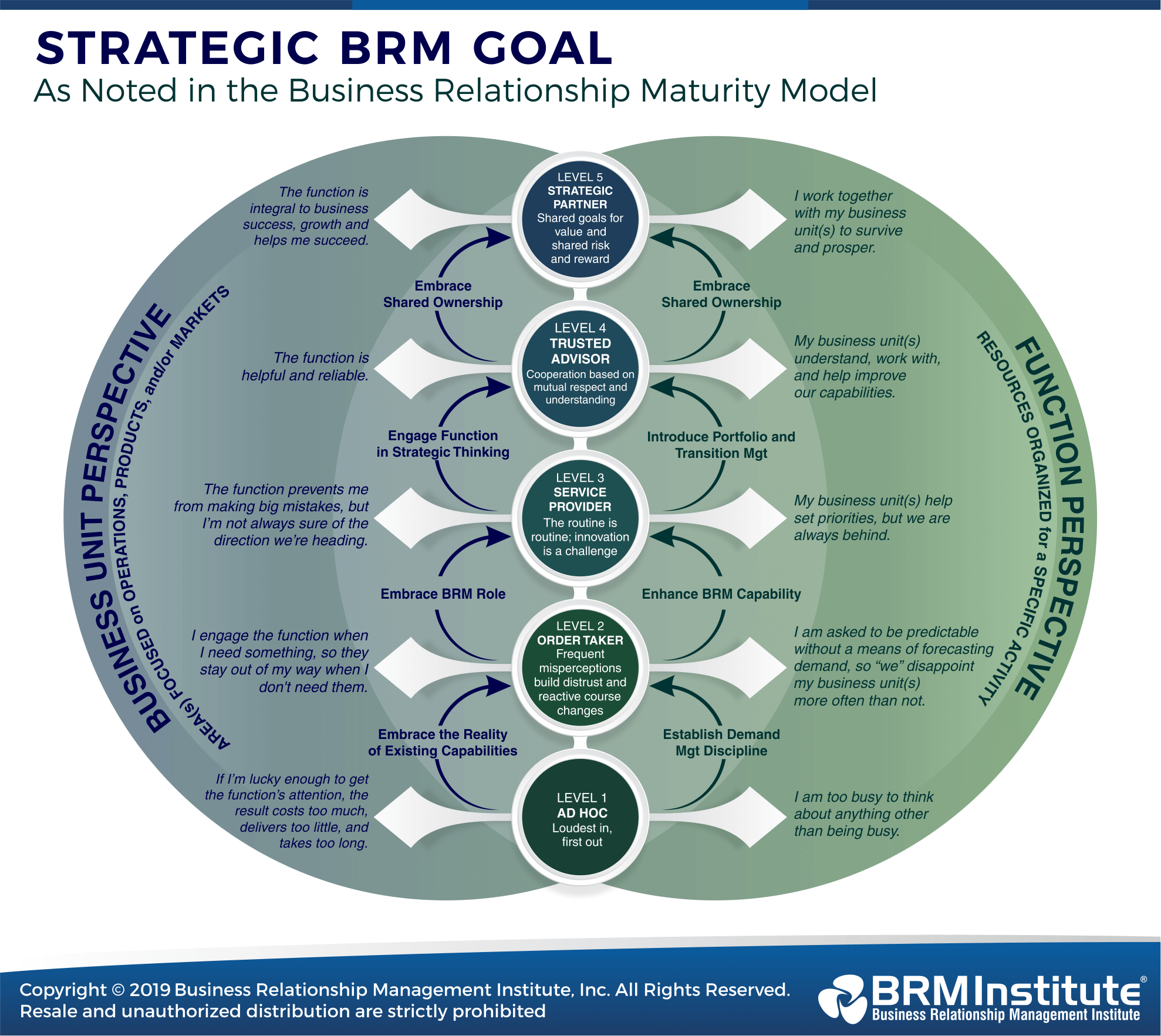 BRM and HR Converge Through Synergy
The role of Human Resources is perfectly positioned to drive value through the human factor, but often lacks the support. Thus, an empowered BRM serves as that support to empower people, drive satisfaction, and cultivate an individual's purpose. Learn how the BRM drives value through relationships via The Role of a BRM.
Since tomorrow's business world will be molded by relationships among coworkers, naturally HR will play a key strategic role in shaping this evolution.
Empower Yourself to Bring HR to the Strategic Discussion
We've determined that organizations often underappreciate the strategic value of the HR role—now the People function. In comparison, trends indicate that the power skills practiced by People, like communication and creativity, have become the most important employee traits. If ever there were a time for the People function to shine, that time is now.
As a true People professional, you hold the power within yourself to drive this change. Ultimately, push for this systematic change across your organization by leveraging a BRM capability. Empower yourself with BRM tools like the BRM Knowledge Path to Success to become your own BRM expert!
If you're ready to get started right away, then join us at The 2019 World BRMConnect Conference, where you will be immersed in the transformative world of BRM.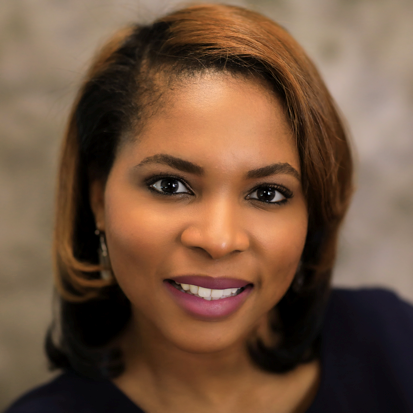 Tamara McGriff, EMBA, SHRM-SCP
President – McGriff Coaching & Consulting Services
HR Consultant | Executive & Career Coach | EQ-I & EQ 360 Certified | SHRM Learning System Adjunct Instructor
About Tamara
For nearly 20 years, Tamara McGriff has worked at the intersection of business transformation, organizational culture, and talent management as a Human Resource Leader, supporting client groups in the areas of information technology, insurance, and financial services.
Tamara is currently President of McGriff Coaching & Consulting Services, where she is responsible for providing Strategic HR Consulting and Executive Coaching Services to organizations focused on achieving their strategic goals through the acquisition and development of talent.
Prior to launching her own business, Tamara was Vice President – HR Business Partner at BNY Mellon.  In her role, Tamara was responsible for developing and driving the strategic talent agenda for BNY Mellon's Corporate Technology teams of 13,000 full-time employees and contingent professionals.  As a Diversity & Inclusion thought leader to the business and HR teams, Tamara was a member of BNY Mellon's Corporate Technology Global Mentoring Advisory Board, a Steering Committee member for DiverseTech and Women in Technology (WIT), a Business and Employee Resource Group chartered to  sustain the acquisition, retention, and advancement of women and multicultural professionals in Technology.
Prior to BNY Mellon, Tamara joined Broadridge Financial Solutions as an HR Business Partner.  Her work at Broadridge was championed by the company's C-suite as she worked alongside the Chief Technology Officer to implement human resource solutions aligned to technology transformation initiatives. Most notably, Tamara launched the Broadridge Women's Leadership forum in support of Diversity & Inclusion for women in the corporate headquarters, and served as a key member of the implementation team to create a Global IT Career Framework to maximize effective use of employee capabilities and opportunities for career progression across the organization. While at Broadridge, Tamara developed her reputation as a results-oriented human resource leader who leads with authenticity. Creativity and innovation are the hallmarks of her work – a rare gem in the HR industry.
Recognized as a change agent, Tamara started her career in Human Resources at Citigroup – Traveler's Insurance and later, The Conti Group.
Tamara is passionate about advancing the careers of women and multicultural professionals in STEM, specifically in the areas of career advancement, diverse representation, leadership, retention, programming, and mentoring.
Tamara holds an Executive MBA from Howard University, M.S. in Human Resource Management & Labor Relations from NYIT, and obtained her undergraduate degree in Business from Monroe College. She is a member of SHRM, ITSMF (Information Technology Senior Management Forum), and the International Coaching Federation. Tamara is certified in Emotional Intelligence, Executive, Leadership, Career, and Life Coaching.
Leave a Reply
You must be logged in to post a comment.