Advancing the External BRM Capability: A BRM Institute Community of Interest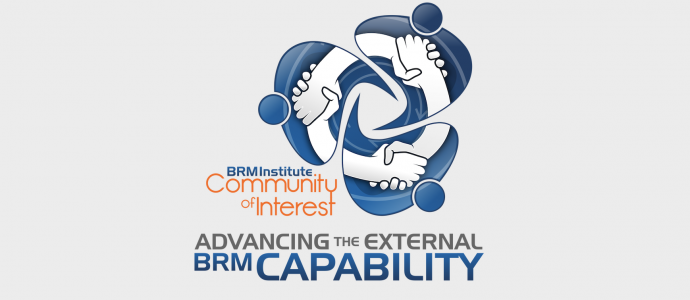 Should you be thinking about applying the BRM capability, framework and role externally, and why?
Does retaining partnerships, achieving optimized value and gaining loyalty and competitive advantage sound nice to you?
Does the thought of applying an external capability pique your interest?
Are you looking to increase business maturity with your external partners?
In today's business world, organizations are being disrupted and finding themselves in a market with new competitors they didn't necessarily have before. Strategic partnerships and trustworthy relationships drive business and society forward. Furthermore, we can achieve wild success as we move away from a solely internal model to one that includes the entire relationship lifecycle.  
External BRM Capability Advancement
We are a group of passionate BRMs on a journey of advancing the BRM capability externally. We are looking to build friendships, share experiences, innovate and pioneer with other passionate BRMs to further develop the BRM capability.
This resonates so deeply with us, and for that reason we are pleased to introduce you to the newest BRM Institute's Community of Interest, "Advancing the External BRM Capability", recently formed at the World BRMConnect 2019 conference in NOLA. If this sounds enticing to you, please join our community today!
*Please note: only professional members can officially join the community. Be on the lookout on our events calendar and social media for upcoming events!
If you were unable to join us at BRMConnect in NOLA as our leader, Marshall Berkin, delivered his Keynote, "Making the Future Friendly, One Relationship at a Time", watch the livestream replay here!
Make partnerships the hallmark of your organization and watch your business thrive!
Introducing our Community Leaders:
Sarah Ozahioglu, Senior Strategy Manager
"Purposeful Pioneer – I like to live my life with purpose and this is a practise that I have learned through the BRM Institute. Purpose is one's responsibility; it's not just divinely assigned."
Evgeny Sheryaev, Senior Client Relationship Manager
"Relationship Builder, Business Value Miner, Happiness Explorer"
Nelson Gonzales, Senior Client Relationship Manager
"Evolving relationships through collaboration and integrity – I strive for 'win-win' results through relationships built on trust."
Shawn Moreau, Client Relationship Manager
"Walk a mile together – The foundational steps towards building lasting relationships are worth the invested time, effort, strength and dedication through a continuous journey achieving ultimate success."
Monica Konaszenko, Senior Client Relationship Manager
"Building Relationships One Handshake at a Time – I enjoy establishing personal and professional partnerships through building trust, being authentic and making connections."
Mike McCarthy, Senior Client Relationship Manager
"I don't want to be your vendor, I want to be your partner. I thrive on building genuine partnerships by understanding business needs and drivers."
Randy Billinghurst, Senior Client Relationship Manager
"Delivering 'win-win' outcomes – Collaboratively determining demand, assessing provider capability and converging the two via leveraging business relationship management best practices."
This past October at BRMConnect 2019, professionals from all levels experienced the industry-leading knowledge offerings and professional development opportunities catered specifically to BRMs. Business leaders from organizations such as PepsiCo and TELUS shared invaluable insights and knowledge revealing the key to their organizational BRM progression and achievements. 
For this reason, we're excited to share with you that registration is open for BRMConnect 2020! We will be hosting not one, but two global BRMConnect events at the following locations:
These World BRMConnect conferences cultivate the largest gathering of Business Relationship Managers (BRMs) across geography and industry in a fun, momentum-building environment designed to foster creativity and networking.
Seize the opportunity to gather with fellow BRM enthusiasts for a wide variety of educational sessions, dedicated face-to-face coaching and mentorship, collaborative breakout sessions, and premier industry thought-leadership.
Register now and join us in Boston or Amsterdam to learn, network, and celebrate with our single, global BRM community! 
Leave a Reply
You must be logged in to post a comment.