BRM Institute Announces South Africa Chapter Launch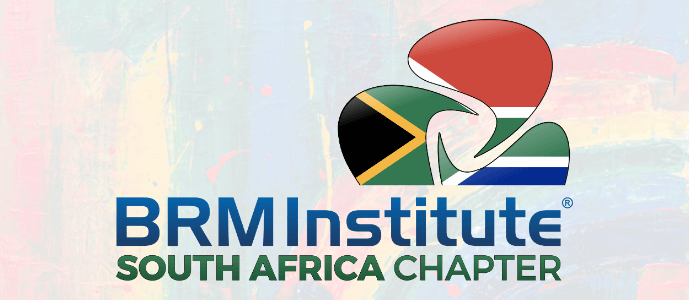 We are excited to announce the formation of the BRM Institute South Africa Chapter which will be operational beginning May 18, 2020. As the first BRM Chapter, this marks a significant milestone of the Institute's strategy to grow the global BRM community and strengthen BRM across a variety of regions.
Membership has grown in South Africa and, thanks to the hard work of local volunteers over the last year, the formation of this Chapter was made possible. The Chapter will help to better establish the BRM Institute identity locally, promote membership, and streamline processes to fund and organize local events.
The Chapter Board of Directors has been formed from the initial team of volunteers, however, future Board Directors will be elected by the local members. Any member can be nominated to serve and all members are encouraged to help as the Chapter is entirely based on volunteer support. 
This marks a very exciting landmark in the evolution of BRM Institute and the global community. South Africa Chapter is very proud to be taking the first step!
Keep reading for more detailed information on the purpose behind the South Africa Chapter:
Chapter Vision
To be recognized as the professional home and leading information source for Business Relationship Management and Business Partner professionals in South Africa.
Chapter Mission Statement
To serve the professional interests of chapter members by providing an environment that enables the expansion of professional networks, advancement of career, and improvement of organizational success.
Chapter Purpose  
The primary purpose of the Chapter is to promote the education of individuals for the improvement and development of their capabilities relating to Business Relationship Management.
Chapter Objectives
Align with BRM Institute's global strategies to advance its purpose and promise
Promote the education of and help expand the knowledge and skills of its members and their related organizations in the interrelated fields of business relationship management
Encourage an open exchange of information related to business relationship management techniques, approaches, and problem solving by its members and their related organizations
Promote adequate communication to keep members abreast of current events in business relationship management that can be of benefit to members and their related organizations
Communicate the importance of establishing an advanced business relationship management capability
Engage with other related organizations, including BRM Institute and other chapters, to further BRM Institute's purpose and promise
Promote awareness and recognition of the BRM profession
Develop rich, lasting and rewarding professional relationships among chapter members, the BRM Institute and other strategic alliance partners
Encourage and support the education, development and certification of its members in the BRM profession
Provide a forum for knowledge sharing, discussions, individual volunteerism and contributions within the BRM community
Promote globally recognized standards and best practices to enhance the business relationship management profession
Promote adequate communication to keep chapter members abreast of current events and research in business relationship management fields that can be of benefit to them and their employers
Communicate to corporate institutions, professionals and to academic institutions the importance of business relationship management
Promote the BRM Institute's professional development offerings and certifications
In response to the current global crisis, BRM Institute provides a Declared Hardship Six-Month Membership at no cost to those who have experienced a recent, major financial disruption. The Hardship Membership provides all the benefits of a Professional Membership. If you were recently furloughed or lost your job, please describe your circumstances in an email to us. Your request will be reviewed promptly and if approved, your six-month membership will be provisioned shortly thereafter.
The BRM Community is better with you in it!
Leave a Reply
You must be logged in to post a comment.