Inspiring the World Through BRM: Chris McCluskey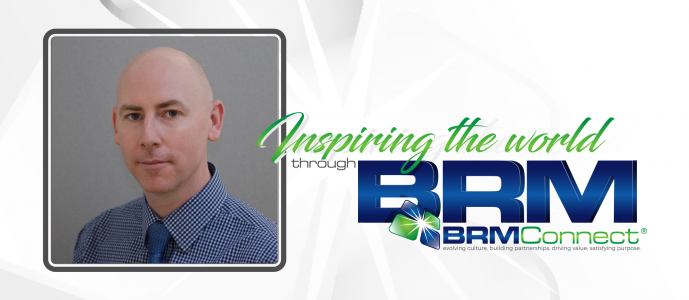 BRMs look to BRMConnect as a rewarding, educational event to share experience, knowledge, and expertise with their peers. As a way of preparing for the 2019 BRMConnect Conference in New Orleans, we look to standout BRMs from across the globe to share how they've successfully leveraged a BRM capability to drive value and shared ownership.
This week, we aim the spotlight on Chris McCluskey, CBRM®. Chris drives value as a Sr. Business Support Analyst/Business Relationship Manager for The Regional Municipality of York in Canada.
Business Results Through Collaboration and Open Communication
Over the past year, Chris leveraged his CBRM® knowledge and BRM excellence to build and develop solid partnerships, both existing and new, with his business colleagues and peers. Through dedicated work (which achieved transformational results to boot), Chris established the BRM role as a valued asset and Trusted Advisor.
To evolve culture, Leadership has formalized a Digital Leadership Team across the corporation to ignite and transform Regional programs and services. In support, Chris is building strong business relationships utilizing BRM tools and resources.
These partnerships evolved into collaborative, helpful relationships with administrative teams and Enterprise Architecture. Ultimately, this collaboration brought a unique Initiatives Intake Process to the IT leadership team to drive more effective decision-making. Building partnerships across functions is continuing to evolve The Regional Municipality of York to a culture of collaboration, communication, and efficient business interaction tracking.
Shared Ownership – A Guiding BRM Discipline
A main objective of BRM is to reflect shared ownership of strategy and results across, and beyond, an entire organization. To reach this objective, Chris provided his business partners with a resource to go to when the team doesn't know how to engage IT. Moreover, he strives to achieve the following in his organization:
Reducing silos and converging cross-team resources
Focusing resources on value-driving initiatives
Promoting shared planning of initiatives
Driving shared ownership of successes and failures
Ensuring that initiatives are always linked to a strategic plan
Chris highlights that, to reach a perfect reflection of shared ownership, a BRM's best resources lie in BRM Institute Professional Membership and the pivotal BRMConnect Conference.
Drive Value and Evolve Culture through BRMConnect
Attending BRMConnect helped Chris network and find a home in the global BRM Community. When attending BRMConnect Banff, Chris stated learning from experienced leaders through educational events and classes was a truly inspirational experience.
After the event, Chris leveraged the relationships built with peers to tap into the benefits of BRM Professional Membership.
The openness of the BRM community and its willingness to work together towards a mutual purpose gave Chris an invaluable resource in advancing his BRM role. By leveraging the experience from other members, he was able to apply that knowledge to his role in evolving culture at The Regional Municipality of York.
Now, as a CBRM®, Chris looks back on his BRMConnect experience as one that proved crucial to his success as a BRM. To start your personal journey, or to further enable your BRM capability, register for BRMConnect New Orleans this October 7-9.
Ready to Make a Difference?
Leave a Reply
You must be logged in to post a comment.