BRM Institute's Top 10 Most-Read Articles of 2017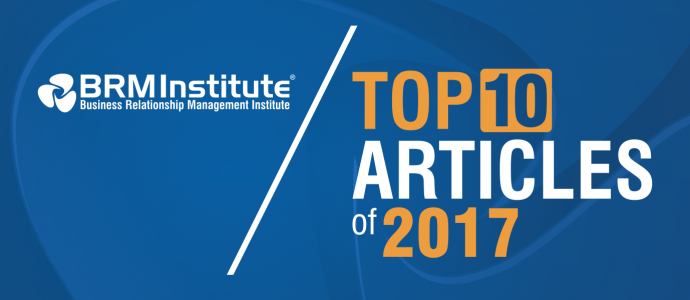 2017
WHAT YOU READ, WHAT YOU LOVED, & WHAT YOU MISSED.
2017 was a big year.
We hosted multiple BRMConnect Forums across the world. You attended—and what's more, you learned how to develop a journey map for BRM success within your team.
Our third annual World BRMConnect Conference was a resounding success. You actively participated in your own professional success and journey to strategic partnership.
We expanded professional networking and engagement opportunities for all of our members. You earned your BRMP® and CBRM® certifications, collaborated with one another on our Online Campus, published articles as part of our BRM Contributor Network, led and joined our global Communities of Interest, continuously added value to your own organizations, and earned awards for doing so. 
And over the course of the year, we published white papers, articles, reports, and announcements that changed the professional lives of thousands of BRMs worldwide.
You read. You commented. You downloaded. You shared.
But—if it wasn't obvious already—you've been busy. We get it.
Maybe you're looking for that one article you read back in July, but never found again. Maybe you want to catch up on what you missed when you were neck-deep in budget season. Or maybe you're just looking for a good read during the holidays.
We got you.
The Top 10 Most-Read of 2017
The next time your business executives ask for metrics of success and the business value added through a BRM capability, look no further than this article.
As one of the only available summaries of global compensation trends for BRMs, the annual BRM Salary Report has proven integral to the success and advancement of BRM teams worldwide.
The terms "strategic BRM" and "tactical BRM" are often confused. So what is the difference between the two? How can you move from being a tactical BRM to a successful strategic BRM?
Do organizations really need both BRM and Agile? In our latest white paper, expert BRM and Agile practitioners discuss the answer to this persistent question, along with how a strategic union of the two capabilities provides industry-leading results.
President and CEO of BRM Institute Aaron Barnes shares a valuable and popular tool for any BRM hoping to think strategically.
The ease of digital communication or the personal touch of face-to-face conversations? Learn how to balance the two in today's interconnected world.
What challenges do organizations face before implementing the BRM capability? How does the BRM capability add value? Lee Reiff of the BRM Contributor Network sat down with his CIO and two business partners to discuss the impact of BRM on their organization so far.
In addition to the wealth of knowledge available in the BRMIBoK, BRMs can augment their professional and personal growth with the help of this reading list.
The first in our newest article series, "The Power of Three: Tips for Success for BRMs, by BRMs," Will Stratton discusses three ways he maximizes value in his relationships with business partners.
Instead of using BRMs as a single point of contact, combining the BRM role with other roles, and working in silos, organizations looking to build or rebuild the BRM capability should follow these tips.