Your BRM Role is Essential: Remain Forward-Thinking Through Uncertain Times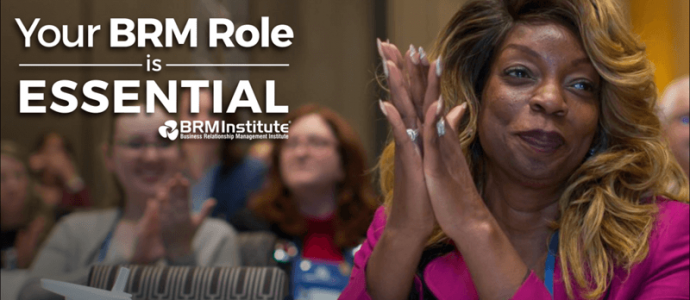 Much has changed in the world in the last several months. Personal and professional lives have been shaken through the ripple effect of world events.
However, the BRM role hasn't changed and is needed now more than ever.
The job is still the same, it's just being executed through different means of communication. Teams and entire organizations thrust into remote working need connectors. Leaders and decision-makers need orchestrators and navigators for this new world.
Understand, even in remote working conditions, every organization still has a business relationship management capability. The need for BRM is made more evident during times of crisis, upheaval, and disruption. As a result, organizations are leveraging and advancing their BRM capability more fervently. Why? Well, because BRM is the glue that unites and drives organizations forward.
As a BRM, you evolve culture, build partnerships, and drive value through shared ownership of ensuring results and satisfying organizational purpose. Now is a good time to evaluate what you are doing to ensure those results and your organization's purpose is being satisfied.
To ensure clarity of direction, here are a few concrete steps you can take to be most effective in your role.
Communicate, communicate, and then communicate some more.
The BRM owns the pulse of the organization. Ensure the right information is communicated to the right people at the right time. You may be asking, "How do you bring everyone together when you're not face-to-face?" Drive collaborative efforts by connecting the right people.
Facilitate routine meetings (virtually if necessary) with your peers and strategic partners. For teams and partners local to you, coordinate in-person meetings by going on walks or park your cars next to one another and share lunch. Your efforts to ensure communication isn't disrupted will not only help sustain your organization, it also creates the environment for problem-solving innovation.
Understand and contribute to your organization's goals.
Connect with your strategic partners to evaluate organizational goals and make sure they are still valid in this new environment. Start with identifying immediate needs and ask yourself, "Did the organization's needs change with the new world situation? If they didn't change, should they change?"
As a result, you'll be prepared for your strategic meetings, educated on existing problems and prepared to offer relevant solutions and ideas.
Furthermore, steer ongoing conversations with specific initiatives in mind to demonstrate you understand your partners' needs and are able to add value.
Value-driving questions include, "What are we doing well that we can do more of?" and, "What opportunities do we have to improve?" 
Strong BRMs orchestrate conversations with the right questions. As a BRM, the value management framework is the number one area where you can make an immediate impact with your partners.
By taking these steps, you can set new or adjust existing goals and drive greater value across your organization.
Add value in every interaction.
The resources BRMs use to add value to your partners and teams are still at your disposal. Leverage them as you navigate, orchestrate and connect.
BRM Playbook: This powerful resource equips all BRMs with actionable "plays" to establish as well as maintain value-driving relationships with your strategic partners. Add the BRM Playbook as one of your go-to resources!
BRM SWOT Analysis: BRMs routinely perform a SWOT analysis (strengths, weaknesses, opportunities, and threats) to drive organizational value to strategic partners. The result? Continued agility and value results within your organization.
Ideation: Ideation is a strategic decision-making approach for managing the progression of an initial idea to realized value. This could be a proposed solution to an organizational problem, a new opportunity, or innovation.
"SWOTs are not one-and-done. The landscape is always changing, and as a result of this constant change, BRMs are encouraged to learn by doing and continuously monitoring the environment."

– Aaron Barnes, CEO and co-founder, BRM Institute
Ultimately, as a BRM you know you need to add value in every interaction and that you possess the necessary means to do so. Ask yourself, "What does my partner need to know?" Continue holding meetings, show up with ideas, and have those crucial conversations. It is as simple as asking, "What do you need?"
You have support during these challenging times to continue developing your core BRM skills. Knowledge Practitioners (KPs) are holding virtual trainings to evolve both yourself and your organization.
Leave a Reply
You must be logged in to post a comment.