A relationship management cadence keeps BRMs in sync with strategy.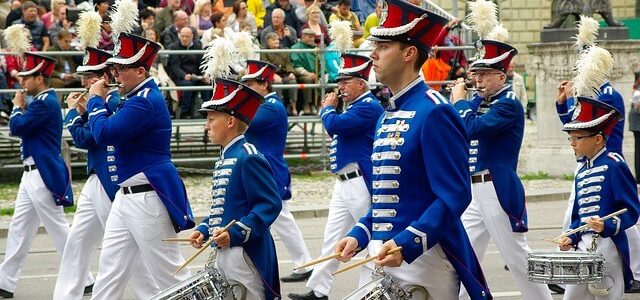 As business relationship managers, we depend on relationships with other business functions to be successful. We act as leaders, connectors, orchestrators, and navigators between business functions to help ensure convergence and the delivery of business strategy, business value, priorities, timely escalations, and powerful communications.
That said, the BRM role can often feel like a fire drill with little structure or process to help move us up the value chain or BRM Maturity Model from ad hoc provider to strategic partner. It can be easy to fall out of sync with business strategy and struggle to get the right type of information out of your function.
To get ahead of these issues, we must put BRM approaches in place that eliminate value-depleting siloes and converge business functions. In essence, we need a "relationship management cadence" to keep everyone in step.
Dictionary.com defines cadence as "the flow or rhythm of events, especially the pattern in which something is experienced." The right cadence involves implementing the right tools at the right time—and in the right sequence—to deliver positive results. For the cadence to work, we must ensure that we:
Get in the right formation
Take the first step with business partners
Choose the right tempo
Match downbeats
Let's take a look at the ingredients for composing a successful cadence.
Get in the right formation.
BRMs are like the drum line in a traditional "block band formation," which is used for parade marching and section order in which the entire band lines up. Similarly to how the drum line is centered between the brass and the woodwinds, the BRM is often positioned between business and other functions within the organization.
If the drum line is positioned in the back of the band, the brass can easily fall out of step. Too far towards the front, and the woodwinds wouldn't be able to hear the drum line queues. In the same way, BRMs must be positioned correctly.
How would you answer the questions below?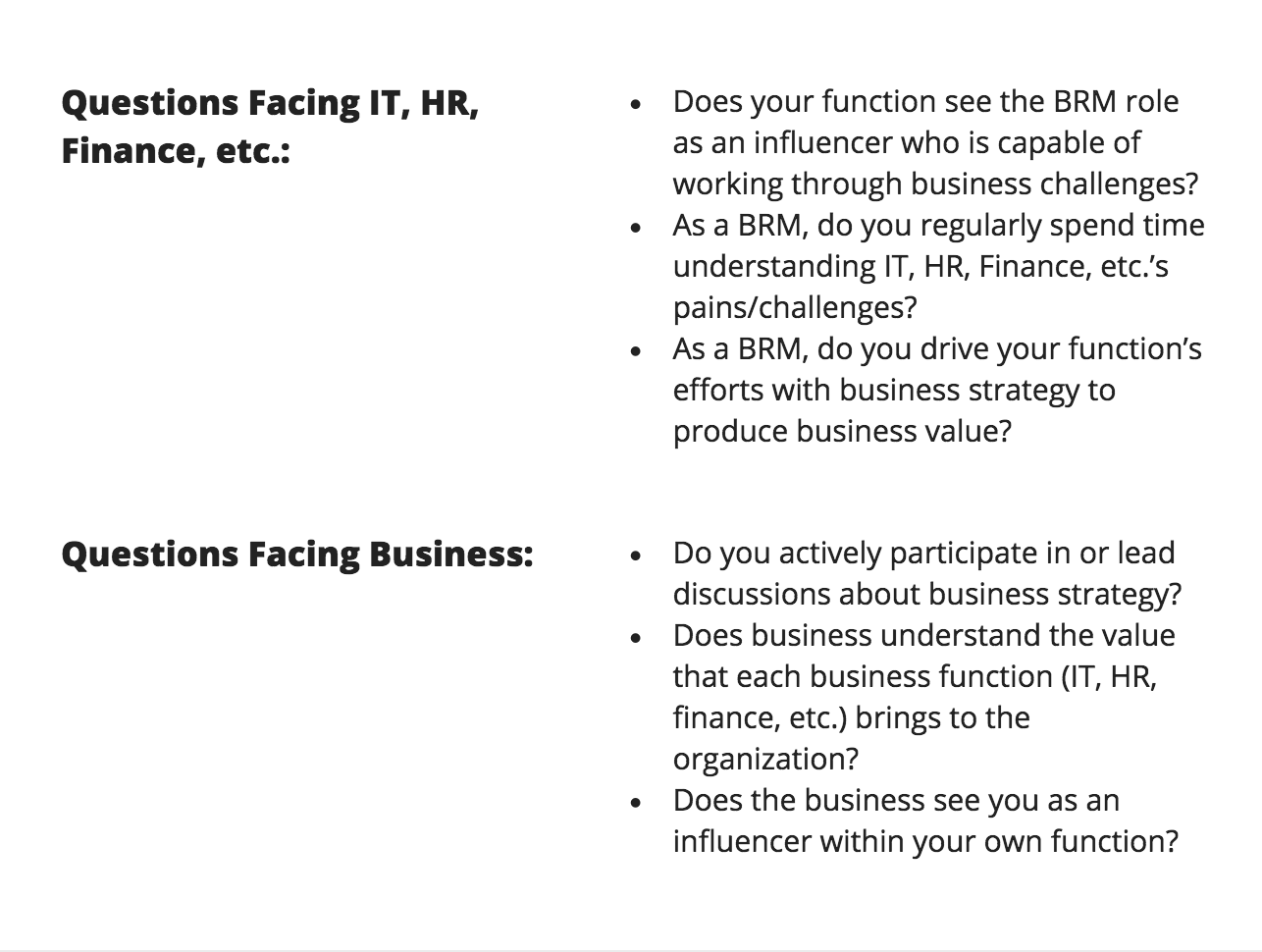 To be positioned correctly, both organizations must be able to bridge each other's needs—and as BRMs, it's critical that we keep everyone in step. 

The first step: conduct a BRM SWOT
The first step to engaging can be the toughest. Do you do an assessment of strengths, weaknesses, opportunities, and threats (BRM SWOTs) with your business partners? Perhaps you have open questions that are keeping you from scheduling. What type of content do we provide? Who should be included? How long should it be? Would business see it as valuable?
As you begin to engage more and more, the opportunity will arise to identify business value drivers that are either failing or succeeding in meeting business needs and fulfilling business strategy.
Let me challenge you to put BRM SWOTs in every BRM's objectives. As the BRM, you should feel empowered to own the agenda based on the specific needs of each particular business function.
Be honest—let business know that the first BRM SWOT is a rehearsal for everyone involved. Use it as a way to discuss what they want to see in the future, and as you begin to engage more and more, the opportunity will arise to identify business value drivers that are either failing or succeeding in meeting business needs and fulfilling business strategy.
In addition to the BRM SWOT, it's equally important to ensure that the collection of information from your function is setting you up for success. Often completed a few weeks before the BRM SWOT, the Business Value Readout is a chance for your function to demonstrate and highlight the value of its efforts in business terms. The focus should be on business measurements and value recognized—some examples might include increased market share, increased profitability, higher customer satisfaction, or improved DSO.
Continue to work on improving the tools/processes leading up to the BRM SWOT. You should include key areas like business value reports, portfolio management, and strategic projects. As you can see in the Downbeats section below, everything you do during the quarter serves as a crescendo up to the BRM SWOT.
The start of any drum cadence typically begins with four stick taps so that everyone knows when the first down tap should occur. Without something to set the tempo, no one knows when to begin.
Likewise, many organizations are guilty of moving too slow and not communicating enough. Establishing the right tools to leverage as a BRM is just the first part—you must then identify how often you should meet with business partners. If you move too fast, your business partners could get overloaded with information, but if you don't connect enough, they may feel as if you're not communicating enough.
All business functions  have to know when their next output is and how it will be used. For example, you may only have a certain period of time after a BRM SWOT to show improvement in a business capability, so it's critical that there is a plan of action and steps for improvement in place by the time the next BRM SWOT is performed.
Conversely, all business functions should understand the timing of the business strategy and how each business partner will leverage it for their roadmaps.
Discuss the tempo of deliverables with your business partners. Start slow and build up pace as you get better and better.
Without a unified style and stride, bands can't stay in step, let alone march uniformly in a parade block. In this context, downbeats are clear artifacts that serve distinct purposes, yet feed into each other in proper sequencing.
If you are CBRM®-certified, you probably already have a grasp of the various tools at your disposal to help facilitate a strong relationship between business functions. This is foundational to building out the BRM capability for any organization. It's very similar to learning how to read music—we can't compose music without first understanding the difference between a quarter note and sixteenth notes, and once we start to understand the various notes, we can begin putting them together to write music.
In the same way, once we understand the tools and frameworks of BRM, we can start to think more seriously about "how" and "when" we implement them within our organization.
As a critical part of business, we share ownership for a single business strategy to share with all  functions, which subsequently leads to a business capability roadmap that meets business objectives.
We need downbeats to aid in the "handoff" between business function. By defining these handoffs and transitions with a process, it increases our ability to match the expectations of all stakeholders.
As a critical part of business, we share ownership for a single business strategy to share with all  functions, which subsequently leads to a business capability roadmap that meets business objectives. We work with and ensure that functions generate business capability metrics that demonstrate how we operate against defined value goals .
Each group understands their next cue—and if one cue is missed, the whole organization can fall out-of-step.
ARTIFACT
DESCRIPTION
A
BRM SWOT
A BRM SWOT should be part of your strategic discussions with each business function. The kinds of topics that are appropriate for a BRM SWOT might include:

Business value delivered from the partnership between business and the business function
Portfolio review
Potential new business capability offerings and service improvement update(s)
Financial update
Major roadblocks or obstacles to success (and how to get back on track)

B
SWOT Executive Summary
In the case where multiple business functions exist, this is an executive summary of the feedback and results of the collective set of SWOTs. This deliverable will be shared with the business function's senior management to be used when preparing for the Business Value Readout (D).
C
Relationship Strategy on a Page (RSOAP)
The Relationship Strategy on a Page deliverable will include the business function's key strategies (i.e. run, grow, transform, etc.) and facilitate discussions on how fiscal year goals are achieved.
D
Business Value Readout
Business Value Readouts will involve updates for each major area. Updates should include roadmaps, marketing highlights, financial trending, and metrics related to performance/business value.
E
Business Value Improvement Plans
As a result of the SWOTs, it's possible that opportunities will need improvement in certain areas. The BRM will facilitate an improvement discussion with business functions and business partners, which needs to happen as soon as possible after SWOTs are performed so that the next SWOT includes an update.
F
Voice of the Customer
Describes your customer's feedback about their experiences and expectations for business area's products or services.
G
Business Value Marketing Package
This deliverable will contain highlights of enterprise initiatives. Updates will include business value, status, impact, and budget implications.
H
Quarterly Function Estimate
This is a quarterly refresher of capital/expense project work.
I
Fiscal Year Planning
Fiscal year planning with business.
Cory Shouse is a vice president of IT and Relationship Management for one of the largest pharmaceutical sourcing and distribution companies in the world. He brings more than 20 years of experience to this role and is responsible for technology business strategy, while ensuring that technology investments provide maximum return on investment. Cory has a bachelor's degree in business administration from Texas Tech University.
Leave a Reply
You must be logged in to post a comment.