Registration is OPEN for BRMConnect 2020: Boston and Amsterdam!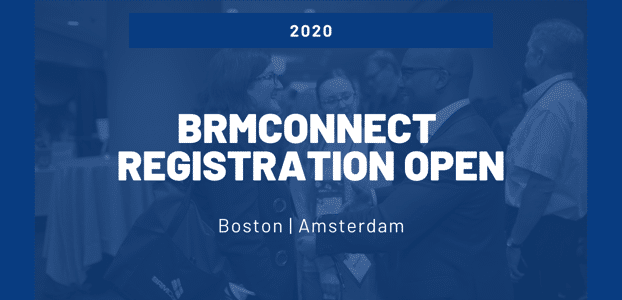 We're excited to share with our single, global BRM Community that registration is open for the World BRMConnect 2020 conferences! A conference with no equal, this high-energy annual event shapes tomorrow's leaders by teaching them about infinite value driven by relationships. Attendees leave the conference feeling inspired with lifelong connections and practical tools to bring their role to the next level.
Additionally, we will be hosting not one, but two global BRMConnect events at the following locations:
These World BRMConnect conferences cultivate the largest gathering of Business Relationship Managers (BRMs) across geography and industry in a fun, momentum-building environment designed to foster creativity and networking. Establish your organization as a leader in the relationship-driven world of tomorrow, equipped with an array of tracks tailored to your personal and team goals that empower you to take BRM to the next level. After this stimulating three-day event, attendees will leave better prepared to influence a value-driven culture of shared ownership. 
"…I am blown away by the warmth and kindness of people here. I have been to many IT conferences, I mean MANY. When you put a group of people in a room who has the word "relationship" in their title, and relationship is at the heart of their purpose, can you imagine how much energy and ease there is with this group?! Cannot wait to come back and share Enterprise Holdings BRM success story."
Check out our downloadable business case on the value of this professional development event! 
This past October at BRMConnect 2019, professionals from all levels experienced the industry-leading knowledge offerings and professional development opportunities catered specifically to BRMs. Business leaders from organizations such as PepsiCo and TELUS shared invaluable insights and knowledge revealing the key to their organizational BRM progression and achievements. Additionally, we were proud to have offered livestreaming of 2019's Keynote sessions, inviting a global virtual audience to participate in this can't-miss event. 
"Truly great leaders inherently create great leaders in everyone around them."
It is this understanding which drives our focus for 2020's World BRMConnect conferences; to foster a perpetual learning environment which produces the leaders of tomorrow.
In 2020, we want to share with the world how BRMs are evolving with purpose! Business Relationship Management is literally and figuratively centered on relationships and relationships are built on people! The happiest and most successful people are those with a clear understanding of purpose; individually, organizationally and socially.
We need champions and storytellers to share the knowledge, practical skills, behavior and mindsets driving the progress of the BRM role, capability, discipline and philosophy. As BRMs, we know that value is both tangible and intangible and that understanding value ultimately drives success. So, please, help us evolve our single, global community with purpose!
Please apply if you are a human who can share any of the following with our single, global BRM community:
Knowledge: Specifically, we're looking for people to share what they know about BRM as a Philosophy, Capability, Discipline and/or Role.
Utility: We need people willing to share what practical tools, exercises, methodologies or techniques (metric tools, assessment tools, mindfulness techniques or creative exercises) help you and/or your organization achieve success.
Behavior: Our community will benefit from thought- leaders sharing what you've experienced, learned or unlearned about the importance of mindset and perception as it pertains to success as a BRM.
Information: If you have information that will benefit the growth and progression of the single, global BRM community then we want you to share it!
Lastly, we are currently looking for BRMConnect 2020 sponsors to support the growing global BRM community. If interested in sponsoring these events, please contact BRM Institute for more information.
Seize the opportunity to gather with fellow BRM enthusiasts for a wide variety of educational sessions, dedicated face-to-face coaching and mentorship, collaborative breakout sessions, and premier industry thought-leadership.
Join us in Boston or Amsterdam to learn, network, and celebrate with us. This is a can't-miss event! Claim your spot at #BRMConnect, our biggest and best conferences to date.
Leave a Reply
You must be logged in to post a comment.