BRMConnect Storytellers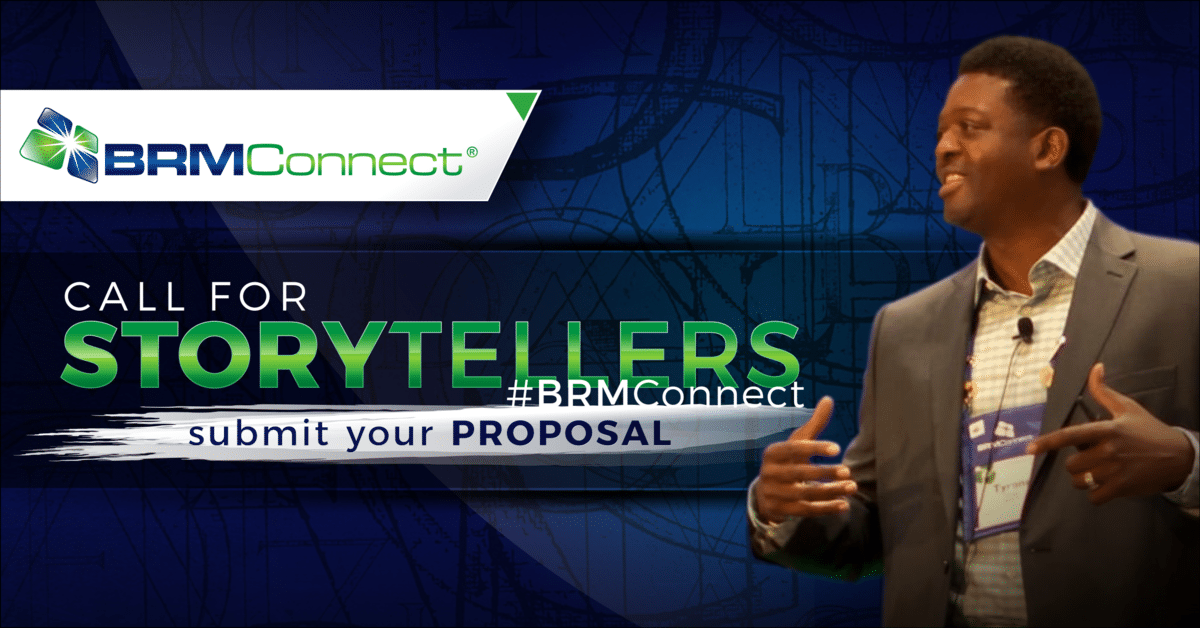 In 2020, BRM Institute wants to share with the world how BRMs are evolving with purpose. Business Relationship Management is literally and figuratively centered on relationships, and relationships only exist when people feel safe, heard and respected. The BRM community needs Storytellers to share the knowledge, practical skills, behavior and mindsets driving their progress at the next World BRMConnect 2020 conferences.
Apply to be a BRMConnect 2020 Storyteller: Share your insight and help advance our single, global BRM community.
For your convenience, here is a list of suggested topics within each track that will be offered at BRMConnect. Look at this list as a tool to start the brainstorming process—you are not limited to presenting only these topics!
Knowledge: What you know about BRM as a Philosophy, Capability, Discipline and/or Role.
BRM Metrics: Establish the seven-core metrics for BRM performance today and review the bigger list of metrics for BRM performance over time
Relationship Strategy on a Page (RSOAP): The RSOAP addresses the strategy a BRM will create for developing the relationship with his or her Business Partner. It is a variation on the Strategy on a Page.
Value Management/Plan: Value Management is a holistic and comprehensive approach to Ideation, Value Planning, Portfolio Management, and the Business Case. It allows organizations to capture, optimize, and communicate the business value of Provider investments and capabilities.
Utility: Practical tools, exercises, or techniques (metric tools, assessment tools, mindfulness techniques or creative exercises) help them and/or their organization achieve success.
BRM Competency Assessment: Review the BRM competency assessment, learn where your BRM capability sits and how to improve immediately.
Ideation / Idea Document: Ideation is a strategic decision-making approach which manages the progress of new ideas from conception to recognized business value. Ideation / Idea Documentation may be used for any of the following: a potential solution to a business problem, a new opportunity for the organization, or an innovation to an existing product or process.
Communication Plans: Let's get clear! Define exactly what and when information needs to be communicated from a BRM and/or a BRM team to the executive level.
Behavior: Share what you've experienced, learned or unlearned about the importance of mindset and perception as it pertains to success as a BRM.
Become a Trusted Advisor in 1 Hour: A successful business partner meeting will transition the individual BRM from an outside function to a trusted advisor in just 1 hour. During this hour BRMs must demonstrate that they exist to ensure the success of the business partner.
Strategic Relationship Plan: Business partners must articulate the vision, current status, and value coming out of converged relationships. They must maintain a simple, historical perspective of the business unit or value stream. A strategic relationship plan provides the framework for these deliverables.
Demand Shaping: Demand Shaping as a set of competencies, tools, and governance mechanisms designed to surface, stimulate, and shape demand for products and services in balance with supply constraints.
An Executive's Guide to Advancing BRM: As an executive, what do you need to know to drive and support BRM inside your organization
Information: Information that will benefit the growth and progression of the single, global BRM community.
Relationships: As the heart of BRM, relationships drive new means of value creation and move organizations from command and control to connect and collaborate.
Product Management and BRM: Organizations are moving from a focus of internal service providers to products and capabilities. As products and capabilities are leveraged across an organization, the focal point of accomplishments is the value coming out of the relationships utilizing the product or capabilities. Learn what product management is, what the product manager role is/does, and how BRMs and Product Managers work together to drive great results.
Shared Ownership: Converging teams creates a partnership among various business functions. It empowers different functions to share ownership for creating, delivering, and capturing both business and community (people) value.
Creativity / Innovation Center: Creativity drives innovation. Review an approach to foster a culture of innovation inside your organization
If you would like more topic suggestions, please contact us with a description of the direction you would like to take.
If you have any questions apart from topic suggestions, please let us know your concerns.
Agenda Format*:  The specific topics above will be shared in a General Session format followed by 3 Breakout Sessions
*The topics, agenda, and format are subject to change*
Deadline of March 1st, 2020
NOTE: Please understand failure to adhere to expectations and deadlines will be deemed as a breach in commitment at any point in the process.  If this occurs, your session will be removed from the agenda and replaced accordingly.
Storyteller Expectations
General
1. Meet all deadlines.
2. Attend all mandatory meetings.
3. Provide audio/visual and material requirements by deadline.
Breakout Session
Each breakout session is 45 minutes in duration.

Talking time should be no more than 20 minutes.
The remaining time is dedicated to interactive elements

You may format your presentation to give your talk first and then spent the remainder of the time on interactive components 
Note: All information does not have to be presented continuously for 20 minutes
You're encouraged to break up the information into pieces if you can, with interactive components interspersed throughout

The slide deck cannot exceed 15 slides.
Attendance will be based on room capacity (breakouts rooms will hold 80-120 people).
Presentation Development
We challenge you to use only images to convey your message in your PowerPoint slide deck.
We will not be doing any proofreading or grammar editing.
Interactive Element Development
Interactive elements foster creativity, networking, and collaboration.
Types of interactive elements: panel and/or table discussions, activity w/out handouts
Documentation will need to be provided to show how the interactive element will be integrated into the presentation.
Content Development
Agree to use Language Evolution for messaging consistency.
Slide Deck Format will be provided
Choose larger font sizes
More images, less text
Place images on the left and text on the right, if possible
Images of people ideally should face inward toward the slide, rather than facing out toward the edge
Proofread your slide deck for grammar, punctuation, spelling, and consistency in advance
We will conduct a final pass for consistent messaging only.
We encourage the use of a fun theme or pattern to share your information!
Storyteller Attendance Requirements
Attend Mandatory Storyteller Meeting.
Public conference prep webinar for any/all attendees.
The first hour of every scheduled conference after-hours event as attendees want to interact with the storytellers.
Mandatory Storyteller Meeting at conference TBD
Next Steps and Deadlines
If you agree to comply with all the stated expectations and deadlines, submit your submission form.
No submissions will be accepted after the deadline. March 1st, 2020.
Submission confirmation will be sent.
The Content Review Committee will meet in March to review submissions.
Approval, rejection or clarification status will be sent after the Content Review Committee meeting.
When approved, the following will need to be completed by the designated deadlines
Register for the World BRMConnect Conference.
Book your hotel room accommodations.
Submit draft and final Presentations.