BRMConnect Speaking Opportunities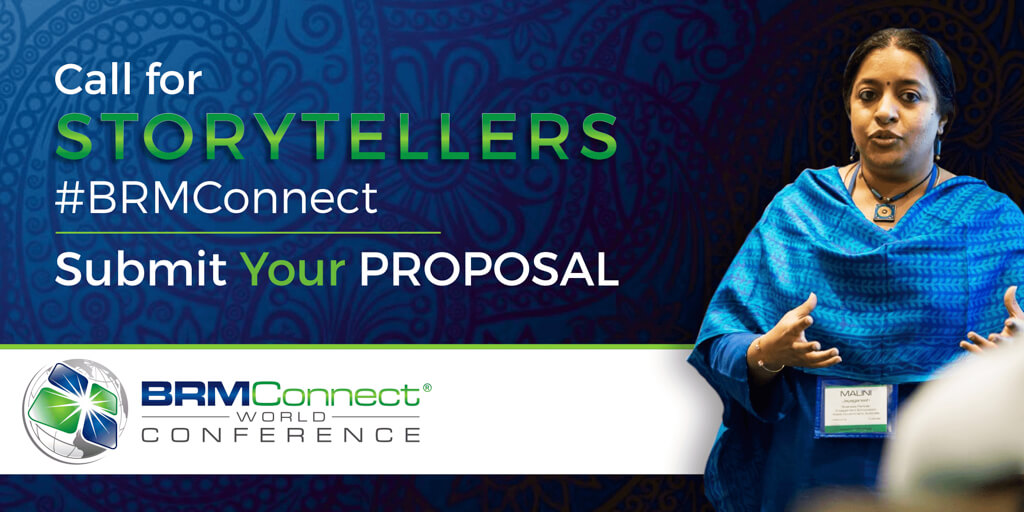 Submissions for 2019 BRMConnect Storytellers are now closed. We will open submissions for the 2020 BRMConnect conference soon.
________________________________________
Thank you for your interest in speaking at BRMConnect. In order to help us facilitate your request to be a #BRMLegend Storyteller, please complete and submit the following form. If you have any questions please contact us at [email protected].
In 2019, we will have 2 keynotes, 5 general sessions, panel discussions and breakout sessions based on the topics below:
Creativity: It's no longer enough to simply reward creativity. In order to keep up with the rapid pace of development, creativity in organizations must be fostered from the top down. Join us for an exploration of how BRMs can bring creativity to their role in any organization.
Recognizing Value: It's important to Identify value as it relates to both purpose and business. While business will always be business and purpose varies between organization; the BRM can bridge the culture gap between the two. In this always "on" world, values shift much more quickly and regionally and organizations must be able to respond to this without destroying the security of their teams. Come hear how BRMs can identify and apply value for optimal results.
Full Circle From Strategy to Value Recognition: Other systems don't close the loop between creation of strategy, it's implementation and value recognition. BRM is the only capability that focuses on creativity, evolving culture, building partnerships and driving value. BRM ensures strategy exists at a business unit level, works to drive cross-functional solutions to achieve that strategy and then ensures value optimization and recognition.
Thought Leadership: The best leaders know that we must change our thinking to change our structure, to change the world. How do you start the chain of change though? One of the most powerful ways is by believing in your purpose and motivating others to realize theirs. This topic will discuss how mindfulness at work and at home builds the foundation for revolutionary leadership.
New Generation: Move over Millennials, Gen Z has arrived! For the first time in history, the incoming workforce is just as, if not more, motivated by intangible value than a paycheck. New BRMs are not coming from traditional corporate paths or education systems and they're bringing new ideas and perspectives with them.
Agenda Format:  The specific topics above will be shared in a General Session format followed by 3 Breakout Sessions geared toward 1) leadership, 2) skills/tools/processes, and 3) real-life experience/journey.
*The topics, agenda, and format are subject to change
Please read the following to ensure all expectations are communicated prior to submitting your Storyteller Submission Form.
————————————————————– 
NOTE: Please understand failure to adhere to expectations and deadlines will be deemed as a breach in commitment at any point in the process.  If this occurs, your session will be removed from the agenda and replaced accordingly.
————————————————————– 
Storyteller Expectations
General

Meet all deadlines.
Attend all mandatory meetings.
Provide audio/visual and material requirements by deadline .

Breakout Session


Each breakout session is 45 minutes in duration.

Talking time should be no more than 20 minutes.
The remaining time is dedicated to an interactive element (see below).

The slide deck cannot exceed 15 slides.
Attendance will be based on room capacity (breakouts rooms will hold 80-120 people).

Presentation Development 

We challenge you to use only images to convey your message in your PowerPoint slide deck.
We will not be doing any proofreading or grammar editing.

Interactive Element Development

Interactive elements foster creativity, networking, and collaboration.
Types of interactive elements; panel and/or table discussions, activity w/out handouts
Documentation will need to be provided to show how the interactive element will be integrated into the presentation.

Content Development

Agree to use Glossary of Terms for messaging consistency.

Slide Deck Format

Choose larger font sizes
More images, less text
Place images on the left and text on the right, if possible
Images should ideally be facing the slide, rather than facing out
Proofread your slide deck for grammar, punctuation, spelling, and consistency in advance
We will conduct a final pass for consistent messaging only.
We encourage the use of a fun theme or pattern to share your information!
Storyteller Attendance Requirements
Attend Mandatory Storyteller Meeting on July 24, 2019.
Public conference prep webinar for any/all attendees on September 18, 2019.
The first hour of every scheduled conference after-hours event as attendees want to interact with the storytellers.
Mandatory Storyteller Meeting the morning of your session (7:15 AM-7: 45 AM).
Next Steps and Deadlines
If you agree to comply with all the stated expectations and deadlines, submit your #BRMLegend Storyteller Form, below, by April 30, 2019.

No submissions will be accepted after the deadline.
Submission confirmation will be sent.
The Content Review Committee meets monthly to review submissions.
Approval, rejection or clarification status will be sent after the Content Review Committee meeting.

When approved, the following will need to be completed by the deadlines noted below:

Sign the Storyteller Agreement by June 28, 2019.

This will be sent from BRM Institute Legal via EchoSign, our electronic signature system.

Register for the World BRMConnect Conference by July 31, 2019.

Enter the coupon code provided in your confirmation email to receive the $1,700 discounted storyteller rate.

Book your hotel room accommodations by July 31, 2019.
Submit Presentations via Dropbox:

Draft Presentation by July 31, 2019.
Final Presentation by September 2, 2019.