New CBRM® and BRMP® Digital Badges Now Available!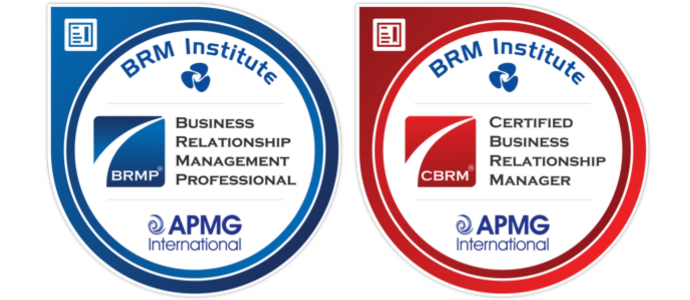 APMG International, the Examination Institute for Business Relationship Management (BRM) Institute's training programs, launched digital badges for members who achieve their Certified Business Relationship Manager (CBRM)®and Business Relationship Management Professional (BRMP)®certifications. Digital badges allow members to easily showcase these achievements on social media, their email signature and other digital platforms.
The two training programs represented with these digital badges showcase the best practice training available through BRM Institute.
The BRMP is intended as a comprehensive foundation for Business Relationship Managers at every experience level, with the training and certification designed to provide a solid baseline level of knowledge. The CBRM is intended for the intermediate-to-advanced Business Relationship Manager, it focuses on advancing to the role of Strategic Business Relationship Manager.
BRM Institute looks forward to seeing the accomplishments of our members proudly displayed on LinkedIn, Twitter and other social media sites. Both the CBRM and BRMP are badges of honor and symbols of the deep commitment necessary to become a top BRM.
How to Claim Your Digital Badge:
Once you've been notified that you've passed your exam – you will have the option to create a digital badge in APMG's Candidate Portal.
Visit APMG's Candidate Portal https://candidateportal.apmg-international.com and login to view your exam results.
Select 'Create Badge'.
This takes you to the Acclaim website where the digital badges are hosted. You will be guided through the Acclaim account creation process.
Once you have created an account with Acclaim – login into the account and accept your pending badge.
Share your success on your social media channels and embed on your email signature
Any questions about badges should be directed to APMG directly.
Leave a Reply
You must be logged in to post a comment.