Combine Your Business Methodologies for a Targeted Growth Strategy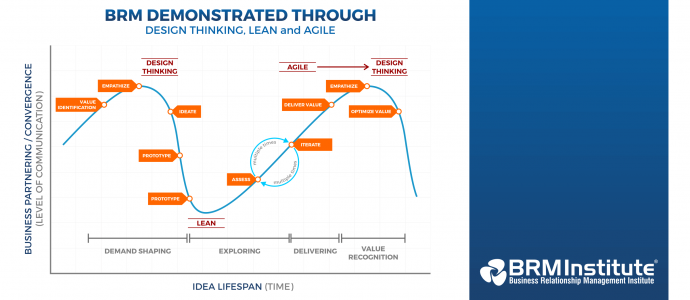 Being in the throes of a startup initiative, campaign, or company can be a volatile and unpredictable environment. When heavy collaboration and evaluation across multiple departments of an organization are required, business value delivery may suffer without a reliable system and processes.
Thus, many organizations adopt methodologies such as Design Thinking, Lean, or Agile to facilitate purposeful product development and organizational growth.
Which Methodology Is Right for my Business?
Along with product or service development, the growth of an organization will demand other needs such as hiring additional staff, Human Resources teams, Accounting, and more.
Unfortunately, the traditional "silo" departments and teams don't cut it anymore. They do not promote the all-important aspect of effective collaboration, nor a shared strategy within organizations.
On the contrary, the modern development of business methodologies such as Design Thinking, Lean, and Agile has helped optimize the entire product creation lifecycle.
Instead of asking the question, "Which methodology is right for my business?"…
We should be thinking about how to incorporate aspects of each methodology to deliver the right value.
To begin to understand how these methodologies fit in with the BRM Philosophy, we look to define and understand them.
Combine Methodologies to Optimize Value Delivery
Design Thinking
Design Thinking is a process that brings ideas to life based on empathizing with how real users think, feel, and behave to deliver products that will ultimately serve those users. The full process cycle includes the following stages, but may not always be strictly sequential:
Empathizing
Defining
Ideating
Pretotyping
Prototyping
Lean
Lean takes an incremental, adaptive approach and continuous reassessment during product development. Given, the purpose of Lean eliminates long stretches of uncertainty during product development and market testing, which drives value through efficiency. At its core, Lean focuses on these principles:
Eliminate uncertainty
Work smarter, not harder
Develop an MVP
Validate learning
Agile
Agile was born out of the software industry, but its principles work with numerous types of product development. We'll focus on the four values of Agile Development, which include:
Valuing individuals and interactions over processes and tools
Working software over comprehensive documentation
External partner collaboration over contract negotiation
Responding to change over following a plan
The underlying similarity of these approaches to startup businesses and new product development is that each process takes the end user into account, thus adopting crucial flexibility into the system.
However, operating a successful organization that delivers an effective, well-received product is not just about focusing on external relationships (i.e. your end user). Just as important are the internal relationships and strategic partnerships within your organization, which can become more complex as your organization grows.
Here, Business Relationship Management (BRM) comes in.
In eternal pursuit of value delivery, the BRM ties the methodologies of Design Thinking, Lean, and Agile together. Incorporating BRM into your organization's foundational operations promotes collaboration and shared strategy by purposefully weaving the methodologies together to evolve a truly value-driven business.
BRM – Bringing Harmony to Blended Methodologies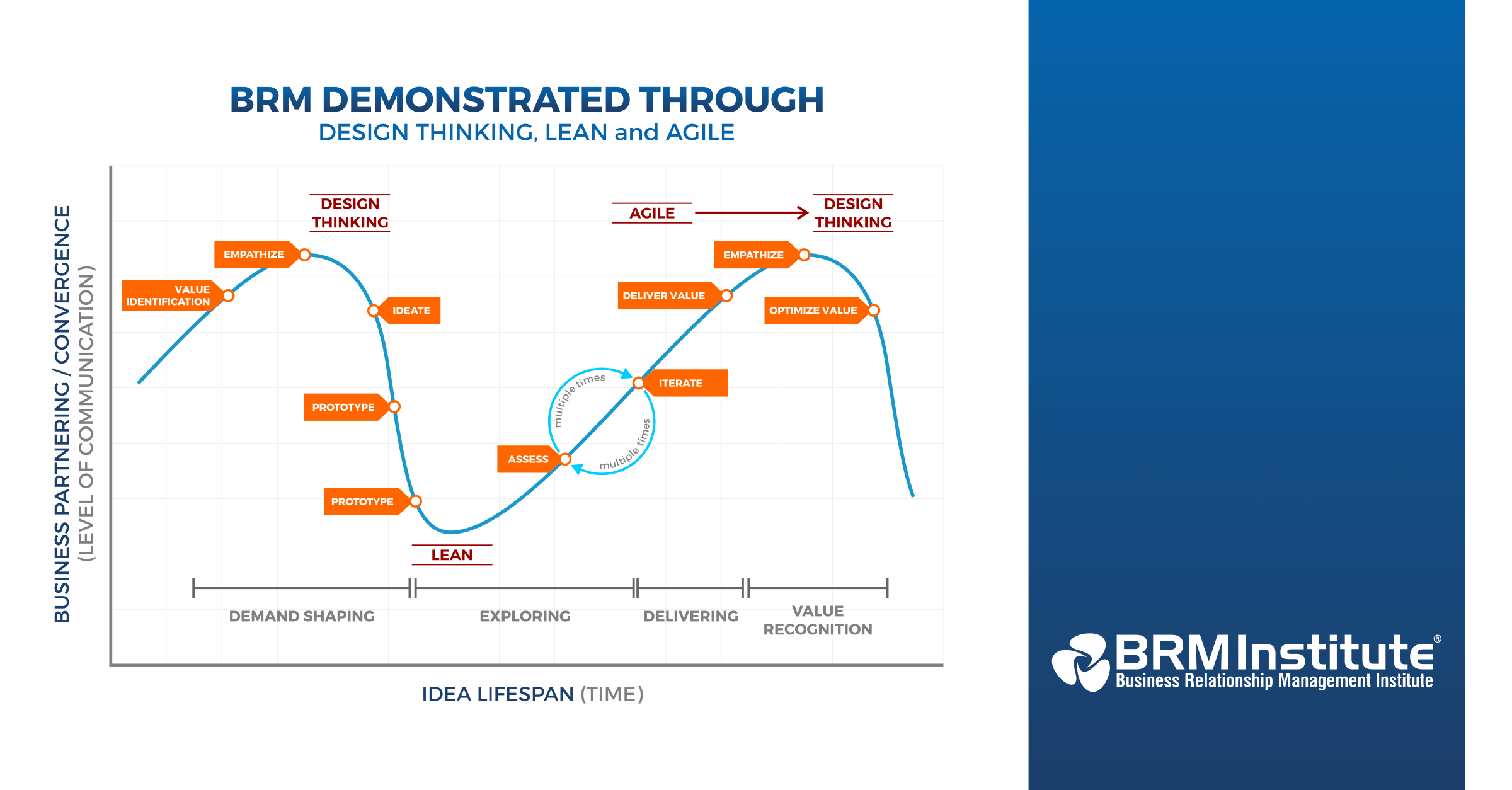 Ultimately, an effective BRM capability incorporates the ideologies of Design Thinking, Lean, and Agile to optimize the impact of relationship-driven value. The graphic below demonstrates how the Four Core BRM Disciplines interact with these concepts to holistically optimize the results of a BRM capability.
An idea will start its life under the Demand Shaping pillar by incorporating the Design Thinking methodologies of identifying value contribution, empathizing with the Business Partner, ideating, and prototyping.
Lean, which exemplifies the Exploring pillar, takes over at the prototyping stage to focus on continuous assessment and iteration for further improvement.
The Core Principle of Delivering continues the iteration process while communicating with and receiving constant feedback from the Business Partner while moving into the Agile phase.
Finally, when all parties are satisfied with the potential value delivery, they fully implement and execute the project using Agile methodologies to ensure the idea delivers optimal value.
After implementation, an effective BRM moves into Value Recognition to realize achieved value and may even repeat this cycle to iterate and further improve upon the value offering.
The Four Core BRM Disciplines
As described above, The Four Core BRM Disciplines are a key part of the foundational values that are redefining how business organizations operate and the relationships that drive them.
Demand Shaping — stimulates, surfaces, and shapes business demand for the services, capabilities, and products of business partners by ensuring that business strategy fully leverages business partner capabilities, while business partner capabilities enable business strategy. Most importantly, demand shaping focuses on optimizing business value, meaning that low-value demand is suppressed while higher-value demand is stimulated.
Exploring — identifies and rationalizes demand. Business relationship management helps sense business and technology trends to facilitate discovery and demand identification. Exploring is an iterative and ongoing process that facilitates the review of new business, industry, and technology insights with potential to create value for the business environment. The key benefit of this discipline is the identification of business value initiatives that will become part of business partners' portfolio of services, capabilities, and products."
Delivering — coordinates resources, manages business partner expectations, and integrates activities in accordance with the partnership between business and its business partners. It ensures that engagement between business and its business partners translates demand into effective supply requirements. Delivering facilitates business strategy, business capability roadmapping, and portfolio and program management."
Value Realization — formerly referred to as "value harvesting," ensures the success of business change initiatives that result from exploring and delivering engagements. Value realization includes activities needed to track and review performance, identify ways of increasing value from strategic partnership between business and its business functions, and initiates feedback that triggers continuous improvement cycles. This process provides stakeholders with insights into the results of business change and initiatives.
Incorporating BRM's Core Principles of Demand Shaping, Exploring, Delivering, and Value Realization into your business development will establish a solid foundation to grow your business in a manageable way. Moreover, the BRM drives business value by appropriately applying these disciplines to the methodologies which drive value creation.
Ultimately, BRM will give you the capability to manage your internal and external business partner relationships effectively. In turn, your organization will be empowered to evolve into the relationship-driven business dictated by tomorrow's world.
If you're considering taking your organization to the next level of Business Relationship Management, your journey begins with the BRM Executive Brief!
Leave a Reply
You must be logged in to post a comment.