Coming Full Circle with BRM as a Philosophy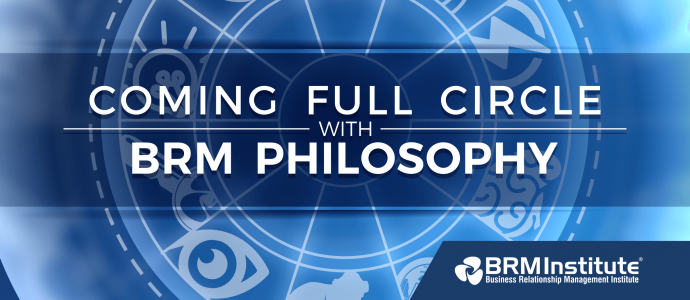 The landscape of the business world is changing again, and Business Relationship Management is leading the way…
Out with the Old
The Technological Revolution at the beginning of the 20th century shifted the focus of business from industry to increased production, worker efficiency, and growing the bottom line. As a result, it saw the rise of management theories like Fordism and Taylorism. These theories addressed relationships in a Newtonian fashion, considering them just another cog in the machine.
Thus, such an off-hand approach to Humanism and relationship-building created assembly lines, cubicles, ice-breakers, and the culture of mandatory fun at work.
And in with the New – Redefining Value
Luckily, the dawn of the 21st century shed its rosy glow on a new way of thinking. Workers began to realize that killing themselves for shareholders they'd never meet and a bottom line they'd never see just didn't make sense. The term "value" began to take on a different meaning. Notably, value expanded from tangible goods and money to include intangibles such as happiness, health, vacation-time, and purpose.
Business leaders around the world began to utilize relationship and networking skills to get ahead. Additionally, young people started learning soft skills and trades instead of following the traditional education system of the generations before. Hence, companies like Google, Apple, and Amazon re-designed their offices and headquarters to include amenities that foster creativity and host a myriad of non-traditional benefits.
Suddenly, cubicles were out and working in open spaces where you could move around and interact with your co-workers was in!
Evolving Culture through Shared Ownership
This shift may be surprising or scary for some executives and organizations. After all, it seems slightly counterintuitive that focusing on the relationships and cultures of shared ownership would lead to lasting organizational profit.
And yet, that's exactly what we see.
"Our research shows that the number-one predictive element of an individual's success is the number, the quality, and the depth of social capital—the personal relationships among those that they do business with."
Coming Full Circle with BRM as a Philosophy
The Coming Full Circle with BRM as a Philosophy webinar series highlights the components of the BRM discipline, capability, and role that are already answering this shift in business culture. The series widens the lens on BRM and demonstrates that the strategic and tactical skills of BRMs have a broader use in the world at large.
Notably, everything from breaking down silos to convergence of ideas can be applied in a bigger, philosophical sense. Ultimately, BRM focuses on the building and fostering of relationships to satisfy personal and organizational purpose.
Engage global BRM to expand the focus of society from shareholder value to satisfying personal and organizational purpose.
Join us to see why BRMs will quickly become the most sought-after role in any organization.
Register for BRMConnect now to grow your understanding of BRM from a discipline, capability, and role to that of a philosophy. This truly unique experience will facilitate the building and fostering of relationships while you learn to satisfy personal and organizational purpose for the greatest impact on society.
Also, register for these upcoming webinars in the links below.
Coming Full Circle with BRM Philosophy Webinar Series:
"Recognizing Value" | March 20, 2019, at 12:00 PM EDT
It's important to identify value as it relates to both purpose and business. While business will always be business and purpose vary between organization; the BRM can bridge the culture gap between the two. In this always "on" world, values shift much more quickly and regionally, and organizations must be able to respond to this without destroying the security of their teams. Join us with Mark Polane, BRM, Telecommunications Officer, UN Regional Service Centre Entebbe, Uganda to learn how BRMs can identify and apply value for optimal results.
"Full Circle from Strategy to Value Recognition" | Apr 24, 2019, at 12:00 PM EDT
Other systems don't close the loop between creation of strategy, it's implementation and value recognition. BRM is the only capability that focuses on creativity, evolving culture, building partnerships and driving value. BRM ensures strategy exists at a business unit level, works to drive cross-functional solutions to achieve that strategy and then ensures value optimization and recognition. Want to know more? Join us with Maureen Jesuthasan, Senior Manager, West Monroe Partners for this essential webinar.
"Thought Leadership" | May 22, 2019, at 12:00 PM EDT
The best leaders know that we must change our thinking to change our structure, to change the world. How do you start the chain of change though? One of the most powerful ways is by believing in your purpose and motivating others to realize theirs. Join us with Jim Brusnahan — Global Director IT, Johnson Controls — for this webinar will discuss how mindfulness at work and at home builds the foundation for revolutionary leadership.
"Creativity" | Jun 19, 2019, at 12:00 PM EDT
It's no longer enough to simply reward creativity. In order to keep up with the rapid pace of development, creativity in organizations must be fostered from the top down. Join us for an exploration of how BRMs can bring creativity to their role in any organization.
"New Generation" | Jul 24, 2019, at 12:00 PM EDT
Move over Millennials, Gen Z has arrived! For the first time in history, the incoming workforce is just as, if not more, motivated by intangible value than a paycheck. New BRMs are not coming from traditional corporate paths or education systems and they're bringing new ideas and perspectives with them. Join us with Tyrone Green, IT Senior Director, PepsiCo for this webinar!
"BRM Philosophy" | August 21, 2019, at 12:00 PM EDT
BRM has always been a Philosophy. Join us for a look at what makes a Philosophy, and why that matters for BRM.
Leave a Reply
You must be logged in to post a comment.