#BRMChat, a Twitter hashtag for networking with your peers and strengthening your BRM capability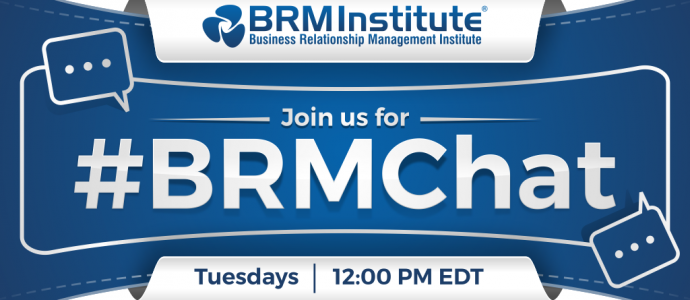 To better recognize the driving forces behind a successful BRM capability, we turn to the newly created #BRMChat thread on Twitter. Here, industry leaders are posed with stimulating questions to engage in dialogue that adds value to the BRM community.
Combining BRM strategy with organizational culture
A CIO may be ready to implement a BRM capability after recognizing the need, but the organization may not be. As Gerry Robinson writes, one top global consumer goods company incorporated BRM without assessing their current cultural environment. The result? A failed launch and a negative perception of BRM within that organization.
The first step for your organization must be to conduct an assessment that determines its cultural readiness for a BRM capability, best encompassed in the practice of business transition management (BTM). One contributor to the #BRMchat stated that, "A BRM capability works to create a culture of shared ownership for both strategy and results." In full, the purpose of a BRM capability is to eliminate value-depleting organizational siloes and strengthen collaboration and shared ownership across the enterprise, so that holistic, innovative, and value-driven strategies deliver their intended business value results.
A contributor to the #BRMChat used the phrase, "Culture eats strategy for breakfast," implying that without a shift in culture, any new or unfamiliar business strategy will struggle to succeed. When decision makers have a common understanding of the changes needed to build a BRM capability, the end goal becomes clearer, collaboration and productivity increase, and culture has a safe space in which to thrive.
When culture thrives, innovation takes off and improves upon strategy. From there, BRMs can begin the journey towards being viewed as critical to strategic success.
Once an organization defines the culture they want, they must place the BRM role at the correct level to lead with business as business and begin the journey towards strategic partnership.
Once an organization defines the culture they want, they must place the BRM role at the correct level to lead with business as business and begin the journey towards strategic partnership. One participant in the #BRMChat asserted that you must first ask questions with the end goal in mind: "What are we trying to achieve? Who are the decision makers? How can we influence them?"
Trust is earned, not given. Therefore, the BRM will start out towards the bottom of the BRM Maturity Model to build that trust.
BRMs and their business functions begin as order takers and slowly gain credibility with business partners. More and more, the business will see the value generated through a BRM capability and will transition their work from tactical to strategic.
A BRM capability seeks to optimize value in an organization. One contributor maintains that the question BRM answers is how, not why—how can a BRM be utilized to create the most value for your organization? By understanding the strategic goal, who the decision makers are, and how they can be influenced over time, a clearer picture will develop and you will see where the missing piece fits best.
Can anyone be a business relationship manager?
In response to the question, "Is a BRM born or made?" most contributors to the conversation agreed that BRMs are born, as certain traits are required for the position, such as seeing the big picture and unifying others with distinctly different roles and capabilities. One contributor stated, "We used to have similar discussions recruiting service desk staff—employ for personality and teach skills."
This is exactly right. The recommendation is to hire BRMs for their innate personality characteristics, then utilize strategic discussions and hands-on experience to teach BRM competencies such as leadership and business function acumen.
The end goal for BRMs is to influence higher-level strategy and ensure business value results.  Early on, BRMs must drive awareness and define interactions with business relationship management and other disciplines within the organization.
When influencing without power, BRMs prove they can ensure delivery of strategy, business value, and business capabilities, and as they generate stronger relationships, they move past the trusted advisor role and ultimately earn the role of strategic partner.
Be sure to join the conversation every Tuesday at 12 PM EDT on Twitter by following hashtag #BRMChat
Tom Kruse is a recent graduate from the Kelley School of Business at Indiana University where he majored in Marketing and Sales with a minor in Spanish. He is currently traveling the world, teaching English, and writing for BRM Institute. In his free time, Tom enjoys playing soccer, learning about new cultures, and writing for his blog as The Meandering Maverick.