BRM Institute Indiana Community of Interest Inaugural Gathering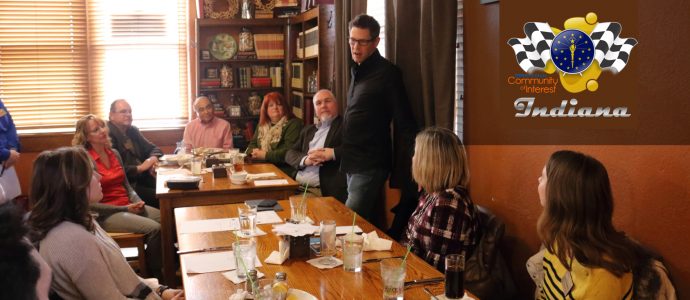 Recently, the BRM Institute Indiana Community of Interest (CoI) hosted its inaugural networking event. Fourteen attendees from six different companies gathered at Woody's Library Restaurant in Carmel, Indiana, representing a wide range of experience levels and diverse backgrounds spanning various industries. Amongst all of the diversity common themes could be overheard during the networking conversations, including value optimization, demand shaping, shared ownership and business capabilities.
The highlight of the event was a presentation and hands-on exercise delivered by Eva Lyford, Business Relationship Manager at Allison Transmission and fellow member of the BRM Institute Indiana CoI. "Getting to WOW with Your Business Partners" gave participants insights on how to build dynamic relationships with business partners and how to use perspective to shape demand, ultimately driving toward value realization.
"Attending Indiana BRM CoI connects me with 'my tribe' – professionals who understand the pressures of being a BRM, a change agent, and the responsibility to ensure evolve culture, build strategic partnerships, and drive business value for the organization. It is important to network with trusted leaders in the BRM community for tips on facing current challenges, and to hone your skills as a strategic thought leader." said Lyford.
Attendees participated in an interactive exercise demonstrating how to build a business partner value hierarchy, while understanding key expectations, and getting to "WOW" with their business partners. "Eva was able to bring great discussion and really get us thinking with her story and interactions", said Keri Milauskas, Business Relationship Manager at Protective Insurance.
"What a stimulating event! Something powerful occurs when people with like goals, but of diverse backgrounds, come together to discuss, share and strategize.  It is energizing and imperative.  I know of nothing more important to extracting ever-increasing value from the IT investment than advancing our ability do BRM ever more effectively. ", said Patrick Smoker, Director and Department Head, College of Agriculture Information Technology at Purdue University.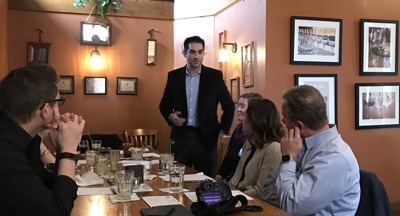 Milauskas added, "The inaugural Indiana BRM Community of Interest gathering was a blast! It was great to reconnect with those I first met at the 2017 BRMConnect conference as well as get to know other BRMs in the Indiana region. Already looking forward to our next get together!"
The Indiana Community of Interest will be hosting events quarterly and partnering with the Great Lakes Community of Interest on an annual event. The next event will occur in late April. The exact date and location will be posted in the BRM Institute Indiana Community of Interest space as details are finalized.
Indiana Community of Interest
The BRM Institute Indiana Community of Interest is led by Crystal Dombkowski, Business Relationship Manager at Purdue University. Professional members of BRM Institute can join this CoI in the Online Campus here.
Looking to join a CoI in your region or industry?
Looking to start a CoI in your region or industry?