BRM Courses and Workshops at BRMConnect 2019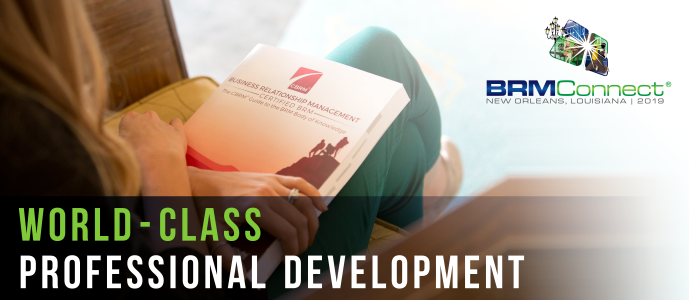 We are excited to announce the Registered Providers (RPs) that are facilitating BRMP® and CBRM® courses, as well as BRM Fundamentals, Strategic Partnering Approach, and Value-Focused Organization workshops at BRMConnect 2019.
BRMP® Course:
Friday, October 4 – Sunday, October 6, 2019
The Business Relationship Management Professional (BRMP) course is a 3 day course that immerses the student in the principles of Business Relationship Management.
The BRMP training and certification program is intended for Business Relationship Managers, with the training and certification designed to provide a solid baseline level of knowledge.
Strategic Partnering Approach Workshop:
Saturday, October 5 – Sunday, October 6, 2019
Workshop participants can expect interactive and lively two-day session, with a deep dive into the most common obstacles experienced by organizations working to evolve their BRM capability. Among these topics are Strategy, Culture, Convergence, Making It Personal, Team, and Measurement.
BRM Fundamentals Workshop:
Sunday, October 6, 2019
The BRM Fundamentals workshop is an introduction to Business Relationship Management as a capability, role, and discipline. This workshop provides a primary basis of BRM understanding to ensure a successful journey through the KPTS. This workshop is designed for anyone looking to understand BRM and its fundamentals, open to everyone, at any level, and in any role that wants to learn more about interacting with and/or how to achieve success through BRM.
CBRM® Course:
Thursday, October 10, 2019 (at the conference venue)
Days 2-5 (online): Monday, October 21 – Thursday, October 24, 2019
The Certified Business Relationship Manager (CBRM) Practitioner Qualification is a 4.5-day classroom or online Course that is intended for the intermediate to advanced Business Relationship Manager and focuses on performing the role of Strategic Business Relationship Manager.
The CBRM training and certification program is intended for Business Relationship Managers, with the training and certification designed to provide an intermediate level of knowledge.
Becoming a Value-Focused Organization Workshop:
Thursday, October 10 – Friday, October 11, 2019
This workshop guides participants through a value approach consisting of a full-cycle value optimization framework that works across business functions to ensure that the organization drives towards business success. The value optimization approach and framework are designed to empower business professionals to share ownership of business value by engaging business partners/peers in idea generation (ideation), value planning, and ensuring business value results through value measuring, optimizing, and communication.
Any organization looking to optimize and ensure business value through a BRM capability will benefit from this workshop.
Bundling the Conference with your training and certification is ideal, giving you the perfect opportunity and environment for you to invest in your career.
When we get right down to it, organizations have very few expenses. Instead, they have an enormous portfolio of investments that live somewhere in the "expense budget." When it comes to your career, be the investment. When you do so and use BRM tools to manage value, you'll find that getting training approved isn't a problem at all.
Leave a Reply
You must be logged in to post a comment.