[White Paper] The Human Experience in the Digital Age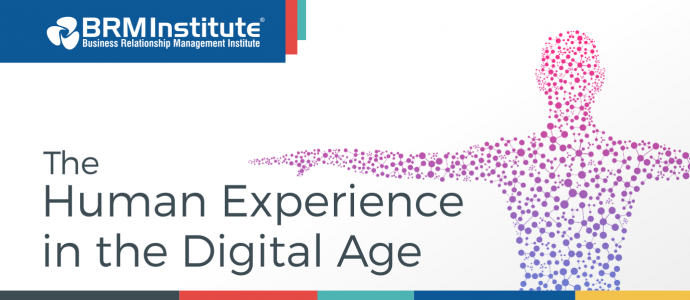 As we move away from the Industrial Age, people worldwide are able to be human again with the help of digital capabilities, purpose-based social systems, and the rise of business relationship management.
In a culture newly dominated by digital capabilities, the way we interact is changing. No longer are humans viewed as automatons—instead, cross-functional collaboration holds the key to eliminating siloes and uniting people with shared purpose and accountability.
Published by BRM Institute, Steve Plante's latest white paper, "The Human Experience in the Digital Age," discusses the need for 'humanized firms' or 'firms of endearment,' in which people come first, as do mutually beneficial relationships built on shared purpose and passion. Steve also discusses the rise of business relationship management as a critical enterprise capability, "orchestrating the formation, sustainability, and expansion of synergistic human networks, in sync with the strategic shaping of the ecosystem."
In a culture that emphasizes trust, relationship-building, and employee engagement over numbers and resources, innovation and partnerships flourish, among other success factors.
Steve Plante is a BRM Institute Professional Member and the CEO of PeopleProductive Institute, an organization dedicated to helping organizations flourish in the digital age by mastering the human side of business. He has over four decades of experience navigating the intersection of business and technology, with the goal of achieving and sustaining successful outcomes via high performance culture.
Leave a Reply
You must be logged in to post a comment.