Volunteering can help Improve Your Health & Career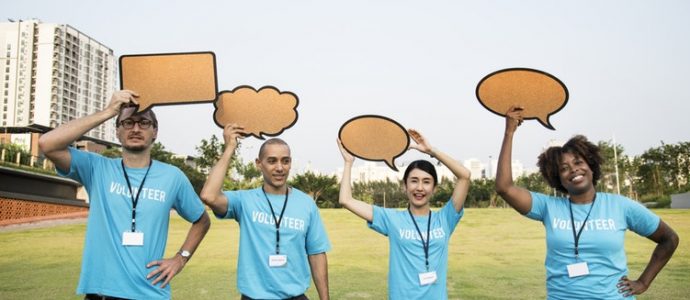 What's your impact?
Today's theme for BRMWeek is about volunteering.
But let's take it a step further, and focus on our potential to impact others based on our unique experiences, stories, abilities, and passions. Often times, people find that through volunteering, yet we can make an impact on a daily basis.
The way we see it, we each have a unique ability to:
Help others
Enrich lives
Inspire
Educate
Mentor
Advocate
Create connections
And so much more!
Did you know?
Research shows that volunteering can help boost your mood, employment prospects, and career progression – all the while, reducing your stress as you impact others!
We believe volunteers are true leaders with the unique ability to influence their community when they run after their passions, and to help others drive a shared vision forward.
But you didn't just hear it from us…
Volunteering has always been about giving-and-receiving. It's asking … how can I give of my time and skills to help move a piece forward? That's the impact of volunteerism. If we work together, those individual pieces can become something bigger; creating the potential for enormous impact.  
Volunteerism has had an impact on my entire life. Growing up, I was active in 4-H, a community youth program, where volunteer work of parents and others ensured that youth (including myself) had access to many life skill development opportunities.
 Fast forward to BRM Institute … I immediately recognized an environment that provides rich opportunities for volunteering. The question wasn't about 'if' I would volunteer, but where and how.
At the end of the day, I have been receiving dividends. It's been about stretching myself, tackling new challenges, creating a network and being a part of something bigger that is creating an impact.
Volunteering for something that I have great interest in is so rewarding.
Specifically, volunteering with BRM Institute has led me to many new professional contacts that I now can collaborate with on various topics. It's easy to reach out to my connections for advice, brainstorming or questions. It's of great value to learn more about how other companies are working with BRM disciplines. 
If you have a chance to get involved – take the plunge. You will be surrounded and supported by a group of fantastic people that are genuinely interested in your experiences and together you will figure out how you can contribute in the best way. It's a win-win!
Take the leap
Today, take some time to think through what you want your personal impact to be. Then, find  ways to get involved with your community as an individual, alongside your BRM team, and with your family!
Looking for ways to get connected with the BRM Community? Check out our list of available BRM Institute volunteer opportunities here, or email us at [email protected], and get involved today!