Inspiring the World Through BRM: Cindy Heath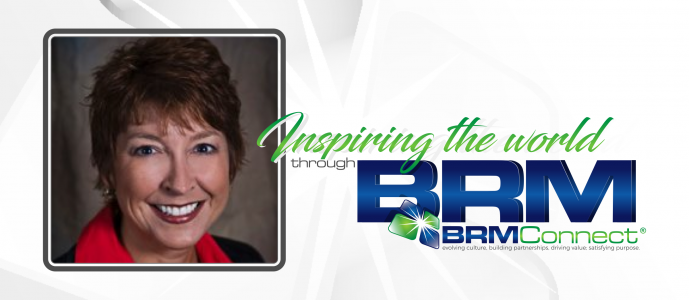 The 2019 World BRMConnect Conference is coming up fast! Already, we've learned from inspired BRMs about the importance of this conference for shaping meaningful relationships.
Expanding the theme, this week's spotlight BRM inspires the world by highlighting trust, collaboration, and the astounding impact of face-to-face communication. Three things found and developed in abundance at BRMConnect.
This week, we're excited to share the story of Cindy Heath, CBRM®! As one of four Business Relationship Managers at TECO Energy, Inc, Cindy achieved organization-wide success and cohesion between Business and IT. We caught up with her and she shared a few of her most successful strategies with us.
Using Trust to Drive Shared Ownership
First and foremost, Cindy works with the business at all levels (including the Executive level) to define key strategies for their technology needs. Two collaborative monthly meetings bring IT architects, executives, Finance, and HR together; Cindy leads the monthly call between IT senior leadership and Business senior leadership. Here, the team collaborates to track projects, support business strategy, and develop technology roadmaps.
Trust, which Cindy cites as the foundation of these relationships, drives the efficient progress of her team. She very respectfully holds both the business and IT accountable for deliverables.
What are the results of such high levels of trust?
Convergence of Business and IT strategy.
Development of a Grid Modernization technology strategy.
Transition towards automated platforms for internal and external partners.
The Secret to a Truly Converged Team
Cindy leverages the trust that she's earned over years of relationship-building to cultivate an organizational unit that spans functions and levels. Furthermore, her secret to achieving shared ownership lies in collaboration.
Business grows more reliant on technology every day. Thus, IT holds much more strategic value than it did in the past. Therefore, it's through those collaborative and mutually trusting relationships that organizations can truly achieve success.
"I think the key is working collaboratively. Having those advanced relationships and trust are key to fulfilling our business strategies, which enable us to provide better service to our utility customers."
How to Converge IT and Business
When used effectively, the results of trust and collaboration speak for themselves. Thus, Cindy identifies a few steps any BRM can use to drive shared ownership for themselves!
How to Drive BRM Convergence
Educate.

Educate the business teams about the current capabilities that IT can provide.

Explore.

Constantly look for new technologies in the industry and work with the IT and business teams to explore those technologies.

Empower.

Keep IT engaged as to what goals and strategies the business teams are focusing on and how they merge together.

Engage.

Keep the business teams engaged as to what goals and strategies IT is working on and how they merge.
Not Just a Job Title
Cindy is a supportive advocate of the BRM capability. Accordingly, she believes that the BRM role isn't just a job title. It's a profession.
She supports this argument with a nod to BRM Institute. Through BRM Institute professional membership, a global network of colleagues comes together to share ideas, tools, resources, and relationships that support the important work of individuals.
Cindy highlights BRMConnect as the ultimate resource for BRMs. She notes that business is all about relationships.
Simply stated, we humans best cultivate meaningful relationships when interacting face-to-face.
"You can certainly ask questions of others online, but having that face-to-face interaction is more beneficial to help build the relationship."
~Cindy Heath, CBRM
Cindy exemplifies an inspiration to us all through her ability to not only drive partnership between IT and the business unit, but also through her strength in driving collaboration across all functions.
We're looking forward to seeing Cindy promote trust and collaboration in-person at BRMConnect 2019 in New Orleans!
Ready to Empower Your BRM Capability?
Leave a Reply
You must be logged in to post a comment.