The Solution? Creative Problem Solving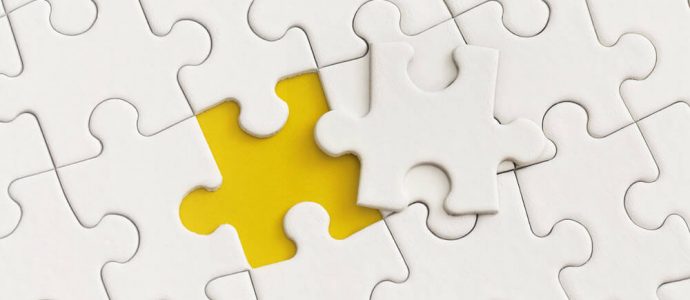 Are you tired of spinning your wheels and getting nowhere? 
In today's world, where it is imperative for BRMs to stay relevant and innovate, it's time to check out Innovative Business Problem Solving (IBPS). This course is designed to strengthen creative and strategic thinking for BRMs and people in similar roles.
Who is this course designed for?
The concepts are for anyone wishing to ignite the hidden creativity and ingenuity inside themselves and their teams. Innovative thinking is a life source for a resilient future-focused organization.
This course is fine-tuned for BRMs and people in similar roles looking to elevate their strategic impact.
ALL potential agents of change who are "bridge-builders" between centers of excellence within an organization (e.g., Technology, Transformation, Strategy, People, Lean, Innovation, etc..) and enabling partners.
BRMs and similar roles have a unique and often untapped potential for making an impact. Imagine if everyone across all disciplines were anchored in a shared understanding of BOTH relationship management AND inventive collaborative problem-solving. They could be leaders of breakthroughs and catalysts for new ways of working and creating value!
What will students take away from the IBPS course?
This course will help you better navigate the tensions between execution and strategy.
You'll learn how to manage the human dynamics of bringing people together to invent shared breakthroughs and new value around key organizational challenges.
You'll get hands-on tools and methods to be more innovative, more open-minded, and more collaborative in solving the big aspirations in front of you and the everyday challenges at work and in life. You'll also learn how to guide and help others do so together.
Three areas of focus. 1. Nourishing Climate 2. Sparking Creative Thinking 3. Driving Action
This course is hands-on. You will bring real challenges that you face in your organization and experiment with the 3 KEY PROBLEM-SOLVING ROLES essential for getting to shared breakthroughs.
You'll be guided by your own portfolio of impact opportunities and explore situationally the mindsets and skills you'll want to leverage for each – namely, that of a Connector, Creator, Explorer, and Strategic Innovator (with natural linkages to the BRM mindsets of Connector, Cultivator, Explorer, and Investor).

 

Lastly, you'll identify and take away a plan for applying the skills you've learned in everyday interactions and in the bigger, more focused projects on your agenda.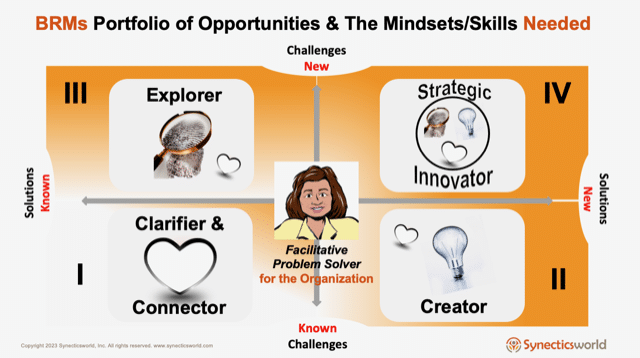 What difference will IBPS make in my role?
You'll be more sought after to help create a "new solution" or carve a new needed path.
Your influence grows as you bring out the best in others' thinking rather than just your own.
You'll be less hampered by a lack of positional power because you have a way of igniting others toward shared breakthroughs.
You'll have tools and techniques that empower you to confront, challenge, and mitigate concerns in a positive and respectful way.
You'll move from BRM theory to practice with methods to bring into the heart and hands many of the concepts you've been exposed to in the BRM body of knowledge.
How has the IBPS course improved organizations?
Increased employee engagement:

 

After completing the course, a 500-person Technology organization within a health company. Over 18 months, employee engagement scores rose 10%, and there was immediate activation on solving real business challenges.
Seized strategic opportunities:

 

For Australia's largest rail company, their teams develop ways to eliminate collisions at level-crossings, make trackside accidents impossible, and create a new shared employee value proposition. A major shipping line unlocked $46 Million in cost savings and improved asset management to reimagine shipping. A leading HR consultancy trained 200 "rising" HR consultants/business partners in Synectics methods, resulting in surpassed client expectations and incremental revenue generation.
Built innovative cultures:

 

For a leading global restaurant, after completing the course, teams and facilitators for the roll-out of their new product development process globally, enabling innovation in regional teams around the world and millions of incremental revenues.
What is Creative Problem-Solving?
It's a way to bring together enormous talents with the defiant opportunities (problems) people face daily. It's about igniting the ingenuity within all of us, individually, to innovate collaboratively.
Beyond new solutions, Creative Problem-Solving helps people interact differently, more openly, and compassionately and with a greater sense of possibility in all aspects of their lives. BRMs are in a unique spot for being such catalysts in the world.
With a hands-on and real-world approach, there is nothing left to chance. Bring your problems, curiosity for learning, and desire to resolve real business problems.
If you think it's time to have innovative and realistic solutions to difficult business situations, IBPS is the course for you!
BRM Institute Members save an extra 20% on virtual courses when you register by March 28, 2023.
This course is facilitated by
Synecticsworld®
2023 courses run:
March 28-31
June 5-8
Oct 7-8 at BRMConnect
December 4-7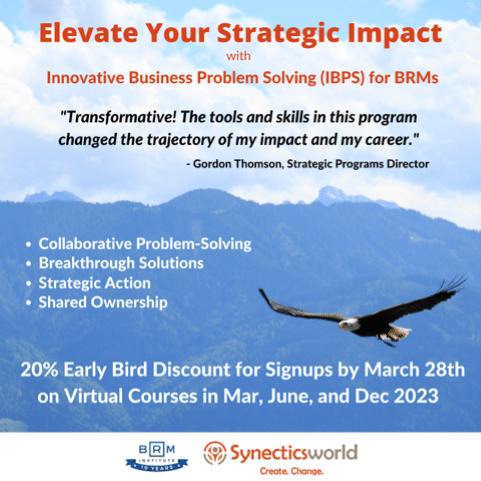 Leave a Reply
You must be logged in to post a comment.