Business Partnering through a BRM Capability
by Leigh Ann Thomas
As a regulated water utility and an industry not typically known for rapid technological change, you might be surprised by the emphasis on Business Relationship Management within American Water's Information Technology Services [ITS] department. As of 2015, we have a Business Partner Engagement organization that consists of a team of BRMs, Business Analysts and Solution Architects, all of whom are entirely dedicated to improving the business value of the ITS organization. This group has been up and running for just over six months, and has been increasingly adopted by both business and IT teams. You may ask how we built a foundation for such a group to flourish so quickly, especially as relationships tend not to develop well when rushed! The key was establishing an ITS Partner Program in 2012, which provided the basis for recruiting and cultivating a strong BRM organization.
In order to shift our reputation from that of a service provider 'who keeps the lights on' to that of a strategic partner, the ITS Partner Program employed a 5-phase model. We knew we must first understand our core business and the true needs of our business partners. This was the Prepare phase, in which we engaged in an extensive 'listening tour' across our functional departments and geographic regions. In a non-defensive manner we initiated casual conversations in order to understand enterprise perceptions of our ITS department, while also learning from our business partners and building relationships for the future.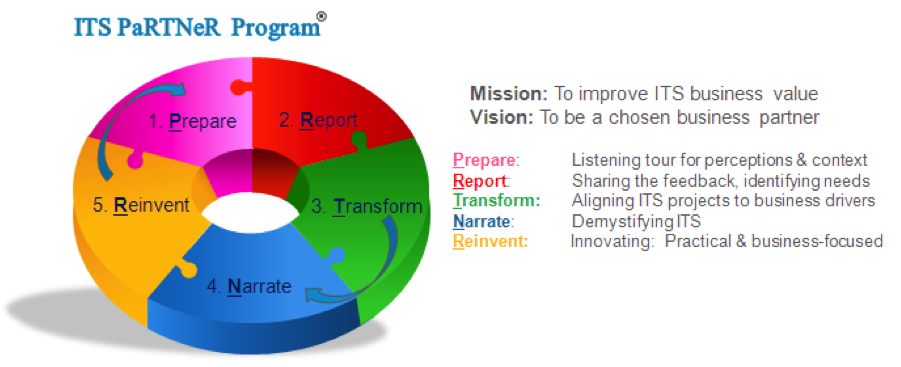 During the Report phase, we circulated this feedback within ITS and among our end users to begin an open dialogue for business partnership. This phase grew to be essential in identifying future ITS Business Relationship Managers. Here, we saw IT leaders emerge when they absorbed feedback without offense and stepped forward as listeners and educators seeking opportunities to advise our business partners on technology solutions.
In the third and fourth phases of the model, we worked to align our ITS projects to business drivers and operationalize a business-owned governing body to guide ITS investment. This council provided a new forum for IT leaders to present ideas in conjunction with their business counterparts, and teams developed a common language with regards to capital project priority and selection. The Transform phase helped to build new credibility and trust with our business partners, which later proved to be invaluable, as we proposed the idea of a department entirely dedicated to these same activities. Throughout these efforts, we placed a new emphasis on how important it was to Narrate our energies in order to demystify the 'black box' of IT. We created new outreach programs to discuss IT costs, so that our business partners could make more informed decisions. Additionally, we increased the presence of ITS staff at a variety of levels in our state locations, again providing the underpinning for future BRM listening tours and conversations.
The final phase of the model, Reinvent, was the innovation mindset we needed to weave throughout our business partnership efforts. To that end, we initiated an ITS innovation program with Systematic Inventive Thinking (S.I.T) in order to "think differently" about our traditional ITS approaches. Our future IT leaders needed to be poised to leverage new resources in innovative ways, both quickly and with flexibility. Rather than innovation for innovation's sake, however, S.I.T provided an entirely new way of thinking that enabled us to break down silos both internally and externally. Here, we once again began to soften the barriers to business and ITS partnership.
Our progression through the five phases of the Partner Program model soon led us to BRM Institute, where we found a host of resources, templates, and guidance to support our new team. The BRM Institute network of thought leaders was and continues to be instrumental in aiding us through the transition from Partner Program to formal BRM competency. In January of 2015, we announced the development of a department entirely dedicated to ongoing listening tour feedback, business and IT convergence, and the demystification of the IT world, and we are happy to report that the announcement was met with open arms. We can attribute our success to the ready pool of resources available to our BRM team, which allowed for a more natural integration across internal ITS teams. We also benefited from working with business partners who were already familiar with the value offered by a BRM organization, stated in their own business language.
Leave a Reply
You must be logged in to post a comment.