Allies in Strategic Purpose: Celebrating Differences and Converging Similarities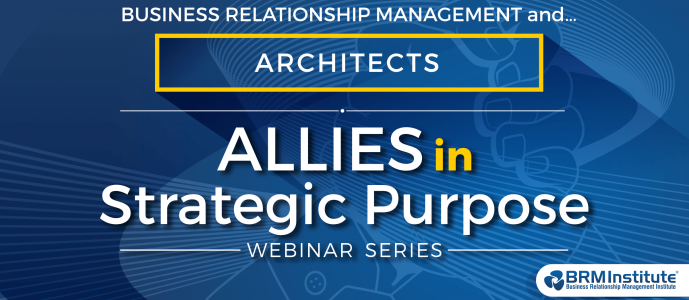 Across the world, from the UK to the US, organizations of all varieties and structures are breaking down departmental silos and revolutionizing the way humans do business.
As the digital age pervades our lives, Business Architects play a vital role providing knowledge and research to shape IT demands within its organization.
Correspondingly, we cannot neglect the key relationship skills that Business Relationship Managers (BRMs) provide in fostering organizational success and longevity.
BRMs and Architects converge powerfully when recognizing how their similarities and complementary skillsets promote shared ownership.
This dynamic relationship was recently highlighted in our webinar series, Allies in Strategic Purpose: BRMs and Architects. Be sure to listen in to learn how BRMs and Architects have successfully converged within other global organizations.
It's Not How We're Different, It's How We're Alike
Have you ever taken a moment to put yourself in someone else's shoes? What insights did you gain about that individual which you previously lacked?
Similarly, when BRMs and Architects seek to understand each other's value, they witness and learn about the overlapping areas in their respective roles. This perspective shift allows each role to more effectively support one another rather than work separately based solely on their differences.
BRMs and Architects: Convergence in Action 
True convergence occurs when Architects approach their organization's technology needs based on what their business goals are. BRMs lend their skills in the ideation process of business demand shaping without being tied down by premature implementation.
Consequently, through their research, Architects determine what specific capabilities are needed to meet the business demand shaped by BRMs.
Specifically, BRMs and Architects can support each other by practicing the techniques below, pioneered by the team from the webinar.
How to Maintain Value-Driving Convergence
Facilitating constant communication to keep each other in the loop

BRMs share with Architects.

Share: What new initiatives the business has undertaken.
Ask: What type of research will help those initiatives drive value?

Architects share with BRMs.

Share: What their findings and research have determined about future IT needs.
Ask: What areas of focus exist where the business lacks knowledge and capabilities to drive value?

Increasing BRM capacity to address business needs
Defending and articulating IT practices
Identifying and responding to business unit changes
As organizations around the globe make efforts to converge the roles of BRMs and Architects, they are:
Achieving Business & IT Convergence
Becoming more Proactive and Shaping Demand
Sharing and Realizing Strategic Goals
Minimizing Unplanned Demand
Overall, as BRMs and Architects become Allies in Strategic Purpose, the movement progresses to eliminate counter-intuitive departmental silos.
This represents not only the convergence of these two roles, but the convergence of business relationships and technology across the board to create shared ownership and a unified purpose.
Leave a Reply
You must be logged in to post a comment.