The BRM Fundamentals: Empowering Professionals in Relationship Management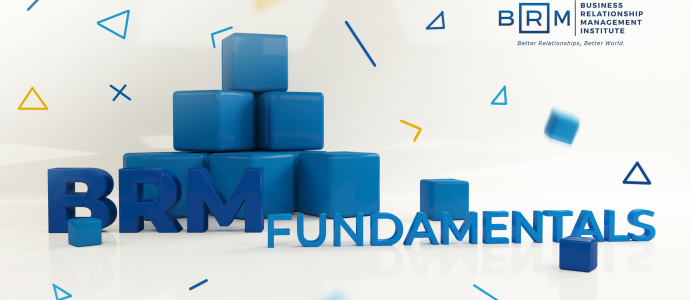 Immerse yourself in the enriched BRM Fundamentals, a dynamic course that goes beyond the surface-level understanding of Business Relationship Management (BRM) and delves deeper into what it means to be Relationship-Centered (RC).
This comprehensive course encompasses the core BRM principles and practices, equipping professionals of all levels and roles with the tools and knowledge needed to excel in building strong and collaborative relationships.
Crafted with the intention of empowering professionals, the BRM Fundamentals course offers a powerful learning experience that combines theoretical concepts with practical application. Participants are guided through various aspects of BRM, and through engaging student exercises they will gain the insights and skills needed to foster relationships that transcend mere transactions and evolve into strategic partnerships.
The blend of theory and practice in the BRM Fundamentals course ensures that students gain a well-rounded understanding of BRM principles and are equipped with the necessary skills to make a lasting difference for both themselves and their organizations. 
You're invited to attend the very first BRM Fundamentals course with enriched content happening at the 2023 World BRMConnect Conference!
Learning Objectives
Participants can expect an interactive and lively one-day session, with a high-level introduction to successfully navigate the complexity of BRM. Topics include:
Defining BRM as a capability, role, and discipline

Understanding what a BRM does and does not do

Providing the language needed to change perceptions and perspectives

Learn how the BRM discipline interacts with other disciplines (project management, architecture, Business Analysts, Business functions, strategy, etc..) inside an organization

Basic introduction to the different frameworks, processes and models to bring structure and guidance to BRM

Understanding BRM capabilities and their corresponding value potential within organizations

Acquire the latest central topics surrounding BRM in a concise, comprehensive learning approach
Course Outline
Introduction to Business Relationship Management

Capability

Role/Profession

Discipline

Evolve Culture

Build Partnerships

Drive Value

Satisfy Organizational Purpose

Navigating Common Organizational Challenges

Entry-level interaction of BRM artifacts such as

Purposeful Narrative

Relationship Mapping

Idea Documents

Value Planning
Armed with a deep understanding of core BRM principles and the ability to implement Relationship-Centered practices, professionals who complete this elevate their impact and make a lasting difference for themselves and their organization. 
Leave a Reply
You must be logged in to post a comment.