2021 Top BRMs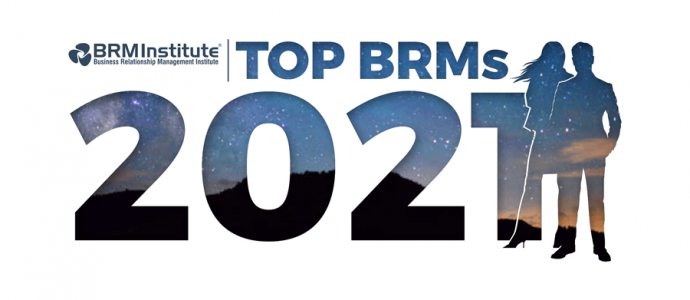 Our global BRM community recognizes the Top BRMs that have achieved success through their BRM efforts, strengthened the global BRM community and BRM discipline, enriched lives through excellence in BRM within their organizations, and/or contributed to the community on a local, national, and global level.
Our Top BRM 2021 Nomination form asked for the following information:
Overall Impact: We love a story about the impact others are having around the globe! Tell us about the outstanding accomplishments this nomination has delivered by providing a few paragraphs of detail around the individual's overall impact they've had this past year. Consider including any outstanding accomplishments this individual has delivered including notable contributions, improvements, discoveries, how they have demonstrated the BRM Code of Conduct, etc. Also, include links to appropriate websites where applicable.
Leading with Purpose: Our careers are allowing us to bring more personal purpose in the workplace. This convergence of personal and organization purpose leads to happier individuals, stronger relationships and durable communities. Explain how this individual has satisfied their personal or organizational purpose through their work.
Delivering Value: Explain the value that was delivered through this individual's efforts.
"This year's Top BRM winners are recognized as BRMs within the global community who embody the true spirit of the BRM discipline. Every year, I am blown away by the stories of leading BRM professionals' significant achievements and how their efforts have strengthened the network of relationships that is the single, global BRM community.
Your tireless passion and devotion to enhance the lives of others through excellence in BRM within your organizations, contributes to more sustainable communities on a local, national, and global level. Congratulations on being awarded a Top BRM of 2021 and thank you for doing the hard work to create positive change in the world."
– Aaron Barnes, CEO BRM Institute
Mark is an inaugural Business Relationship Manager for Purdue's Agriculture BRM program. He has been key to the program's success, as well as maturing the BRM capability and discipline. Mark excels at relationship building. He has the natural ability to connect with partners which is due to his listening skills and genuine desire to create strategic partnerships that lead to innovation. This past year, Mark was instrumental in providing key continuity for many of our partners as Purdue moved to online instruction in an accelerated timeline.  
Mark is a Community of Interest Leader for the Midwest and a member of the BRM Recognition committee. Mark also has attended, as well as presented at multiple global BRMConnect Conferences.
Peter Nichol, MBRM
CIO | CTO | Digital Strategy & Data Analytics Executive
Regeneron Pharmaceuticals, Access Health CT
Region: USA
Peter Nichol is a highly respected executive, BRM, and passionate evanelist for the BRM community. As a BRMP®, CBRM®, MBRM®, he is a change champion and has fully embrace the role, capability, discipline, and philosophy of the BRM Institute to achieve powerful results.
Peter is a positive voice among the BRM community. He is a member of the Value-Focused Organization Working Group, collaborating internationally with fellow BRM Institute leaders to amplify value. He was also elevated into the Vice-Chair role of the BRM Institute's Executive Council (BEC), an advisory team comprised of executive-level individuals from leading organizations from around the globe, with a vision to advance the BRM discipline. 
Peter has led businesses through complex changes, including the adoption of data-first approaches for portfolio management, data, analytics, lean six sigma for operational excellence, departmental transformations, process improvements, cloud migrations, maximxing team performance, designing new IT operating models, digitizing platforms, leading large-scale mission-critical technology deployments, product management, agile methodologies, and building high-performance teams. Peter is also a 4x author, MIT Sloan and Yale School of Management speaker, avid blogger with hundreds of articles on BRM value, innovation, data science, artificial intellgience and blockchain.
(Gary) Guodong Zou, CBRM
Sr. Advisor and Strategic Relationship Manager
Cisco Systems
Region: China
Gary is a business architect and international advocate of Business Relationship Management.
This year, Gary has worked and pracitced BRM in multiple facets:
As a business architect and CoE lead, Gary brought continued engagement, BRM practices and growth in Cisco's day-to-day functions.
Working as an international SME/Volunteer and publication writer to engage institutions, enterprises and individuals. 
As an approved BRMP

®

and CBRM

®

trainer, applying BRM Institute best practices to communicate value and immediate benefits of Relationship Management with companies across the world, including Jabil, Nokia and Nestle.
Integrating BRM with other practices such as ITIL, Agile, and COBIT. 
Jeremy has progressed and refined the Business Partnering approach at Loughborough University, expanding the team from the core BRM group to the other people within the IT department performing the role providing guidance and a joined up approach. They now share our findings across the IT department monthly and have everyone on board understanding and valuing the role.
Jeremy continues to push the UK Business Relationship Management adoption and maturity across all sectors, working with the BRM Institute's South Africa Chapter and throughout Europe. Jeremy delivers CBRM training and organizes online events and meet ups, providing free advice and guidance to anyone who needs it. Most recently, for the New Zealand Government Defense BRM function.
Jason Hunt, CBRM
Management Analyst
Department of Veterans Affairs
Region: USA
Jason has been instrumental in the BRM rollout through the Department of Veterans Affairs Office of Information & Technology (OIT) department. His incredible achievements in the Intake Section have significantly contributed to the Account Management Office's 20 point increase in the VA's All Employee Survey results for customer service.
His dedication made it possible to streamline the process of consolidating and automating the VA's 42 OIT points into one central portal to provide the greatest possible flexibility and ease of completion for business partners. Jason is dedicated to the completion of the MBRM® certification and has completed two Certificates of Experience this year.
Jason also volunteers with the BRM Institute's Leadership Council. 
Leanne leads Purdue Agriculture's BRM program, which brings Purdue's technology investment value directly to faculty by building partnerships and collaborations between three strategic functions of higher education, agriculture and technology. As with most organizations, this past year brought a new set of challenges, but also opportunities. Due to strong, established relationships, success was identifying potential gaps, especially in the teaching mission. Leanne's BRM team found success working to connect faculty and administrators to technical partners to resolve issues and strategize throughout the year.
Additionally, continued volunteerism with BRM Institute is important to Leanne. She is a Knowledge Team member, presenter at the 2020 BRMConnect and BRMConnect coach. Leanne is a strong advocate for BRM Institute encouraging exploring or practicing BRMs to become a part of the community.  
Suresh GP continually mentors and motivates people across the globe by his way of training, consulting, and business simulations. One of his mentees became a BRM and has provided detailed feedback on how Suresh GP made an impact in their life. He was also instrumental in hosting BRMWeek Webinars for APAC region last year along with Mid Day Mentors and on topics such as "digital transformation" and "the BRM role" in partnership with APMG.
Suresh has been a leader in making the BRM Brownbag session for APAC and now has made it global by interviewing practitioners across the globe. He is now focusing on highlighting BRMs in specific domains like Health Care, Aviation, and Banking to create more awareness and information sharing. Furthermore, Suresh has trained more than 100+ people in the last year, which includes both public and private sector organizations going beyond BRMP/CBRM to implementing BRM as a Capability. With one of the largest professional services organization, he was instrumental in getting the BRM Fundamentals, BRMP, CBRM, Strategic Partnering, Value Focused Organization courses tailored to address the needs of the business partner. The entire India firm had raving praise and applause for his efforts over the last year.
Over the last three months, Suresh has actively engaged with BRMs worldwide and shared the Relationship-Centered Organization approach with over 300+ people. He is a true ambassador who continues to work on the mission to grow and enhance the single, global BRM Community.
Sonali Mukherjee, CBRM
IT Business Relationship Leader
Deloitte US India
Region: India
Sonali is an IT Relationship Manager with over 20 years Information Technology experience. Implementing learnings, frameworks and BRM practices Sonali developed the BRM capability within her organization with fundamental training for delivery teams and all international client facing account teams. This helped provide role clarity, build a strong team foundation and are clearly aware of industry standards, best practices and why the BRM role is vital as industry continues to evolve.
Sonali has continued to develop Strategic Partnerships and through value manaugement workshops, partners with delivery teams and initiate value based conversations that focus on value delivery, management and stop any organizational value leakage.
Jeremy has been an IT Business Relationship Manager at the Cleveland Clinic for six years and is highly respected by his peers. Being one of the more seniored BRMs, Jeremy mentors new BRMs and is always willing to share his knowledge with the team. 
He is the co-leader Healthcare Community of Interest and shows a true passion for ensuring the BRM methodology is practiced by our teammates. Jeremy was selected to attend the 2019 BRMConnect Conference to represent the Cleveland Clinic BRM Team.
Sergio Zarate, CBRM
BRM Director
Constellation Brands 
Region: USA
Sergio is the Director Business Relationship Manager for the Beer Division of Constellation brands.
As a trusted partner to the business, he cares about technology needs and business problems. Sergio has helped deliver major technology programs in partnership with several different IT teams. He pursues his own leadership development by connecting the Business Relationship Management community globally, mentoring and acheiving CBRM certification.
Sergio gives back to the community by mentoring others, and taking ownership of the professional development of team members and bringing awareness of BRM in Mexico and the US.
Leave a Reply
You must be logged in to post a comment.