The 2021 BRM Benchmarking Compensation Report is Now Available!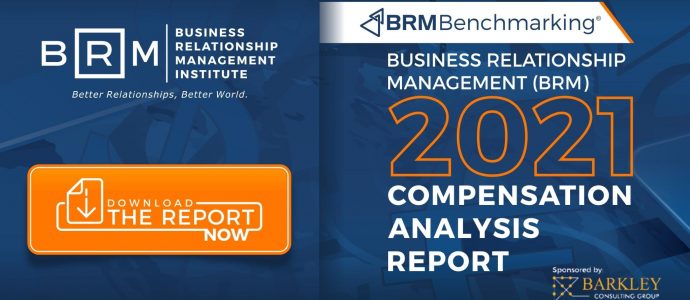 We are pleased to present to you the 
latest
 

Business Relationship Management (BRM) Benchmarking Compensation Report
!
This comprehensive report collects data from members across the global community pertaining to factors that affect compensation. This report provides an analysis of data that was collected between February 2020 to December 2021. This publication is free to those who participated in taking the survey and members with professional-level access. For all others, the report is available for purchase.

For those who prefer e-book options, the BRM Benchmarking Report is also available on Amazon!

A Few Key Findings
While many of the findings have remained constant between this report and the 2019 findings, one noticeable detail is that the median base pay increased during the 2020-2021 data collection period. As is to be expected per demographic data, respondents who had a higher level of education (traditional and continuing), more experience in their industries and non-BRM roles, and who have more direct reports, received higher compensation. There was no appreciable difference reported in compensation levels between the genders, which is a positive result, considering that this parity is traditionally an issue in many other disciplines. Another interesting fact is those respondents who reported "strategic level" duties in addition to their BRM roles, report higher total compensation levels, while respondents who reported spending time on more "operational duties" reported a lower salary.
Other Areas of Comparison
This report not only provides details about base salary and incentives, but it also compares data by location of residence and demographics, giving a detailed snapshot of compensation ranges affected by industry, job level. the number of direct reports, years of experience the respondent has in their current industry, and other duties performed in addition to their BRM role.
What Does This Data Mean in the Long Run?
Not only can this data be used to compare compensation levels across industries and experience levels, but it also indicates that BRMs who invest in continued
professional development, including the BRMP and CBRM certifications, are rewarded for it. In addition, the findings suggest that "strategic" BRMs are more highly compensated than their "operational" counterparts. This should encourage BRMs to strive towards increasing the maturity of their relationships to become strategic partners, rather than operating strictly as service providers/order takers. To learn about this particular growth opportunity, check out the resources on relationship discovery, nurturing, and maturity in the Build Partnerships area of the BRMiBOK. Must be a BRM Institute Professional Member to access the BRMiBOK. 
What's Next for the Benchmarking Report?
Look for some exciting changes in the coming year! In the spirit of continuous improvement, we're going to be refining the survey and making it even easier to share your information. If you have participated in taking the survey in the past, you can still access the current data. Look for the new survey rollout announcement at the 2022 BRMConnect Conference in October!
Thank You to the Participants!
We would like to offer our heartfelt thanks to those who contributed to the continuing understanding of BRM compensation trends. This information will not only allow BRMs across the globe to drive meaningful compensation levels, but it will also allow them to compare their personal placement against others in their industry and experience level, identify areas for growth, track their progress, and stimulate ideas and meaningful conversations. BRM Institute looks forward to the continual development and advancement of the BRM capability and the community that can be built from the accrued data. We hope you will participate in future benchmarking efforts as this important data is continuously collected and presented! 

Leave a Reply
You must be logged in to post a comment.