Business Relationship Management Institute and PeopleProductive Announce Global Strategic Alliance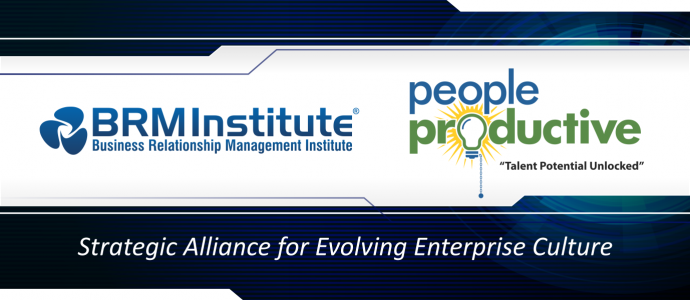 This alliance will help business partners cultivate a high-performing business culture, synchronized with strategic partnering and ensuring optimal business value ability.
The alliance will further equip business relationship managers/business leaders with the skills and means to cultivate a highly collaborative culture as organizations seek to converge in response to a complex and rapidly changing world while eliminating siloes.
BRM Institute is the world's premier membership, professional development, and official certification organization dedicated to serving the global BRM community with a mission to inspire, promote, and develop excellence in business relationship management across the globe, leading to outstanding business value for organizations and the professional fulfillment of every individual member of the BRM community. PeopleProductive provides thought leadership, frameworks, methodology, tools, and education to help organizations become experts at the human side of business, cultivating and sustaining a flourishing culture that leads to superior business outcomes.
BRM Institute defines business relationship management as a capability designed to stimulate, surface, and shape business demand across all functions (sales, marketing, technology, HR, finance, etc.) and ensure that the potential business value from that demand is captured, optimized, and recognized. A strong BRM capability converges cross-functional teams and eliminates value-depleting organizational silos. It strengthens collaboration and drives a culture of creativity, innovation, and shared ownership across the enterprise, so that holistic, innovative, and value-driven strategies are created to deliver their intended business value results.
BRM Institute is at the forefront of advancing collaborative relationships, driving strategic convergence and partnership across organizations.
"BRM Institute is at the forefront of advancing collaborative relationships, driving strategic convergence and partnership across organizations. The alliance between PeopleProductive and BRM Institute will further support BRMs in evolving culture to support strategic partnering and drive sustained value for the organization," said Aaron Barnes, CEO and co-founder of BRM Institute.
Enterprises must now increase the speeds of thought, collaboration, decision-making, innovation, and problem solving to unlock enduring competitive advantage. "Interestingly, these are all human-centric outcomes. We have entered the Relationship Era, in which human collaboration and true shared ownership will separate the winners and losers in business," states Frank Wander, founder and CEO of PeopleProductive.
"Adding the dimension of collaborative culture greatly facilitates the accomplishment of the BRM capability and role inside an organization. This alliance is a natural step forward and we are excited to bring this capability to the global BRM community," adds Steve Plante, chief strategist and education officer of PeopleProductive, LLC.
Leave a Reply
You must be logged in to post a comment.