Maintaining your CBRM® Credentials Just Became Easier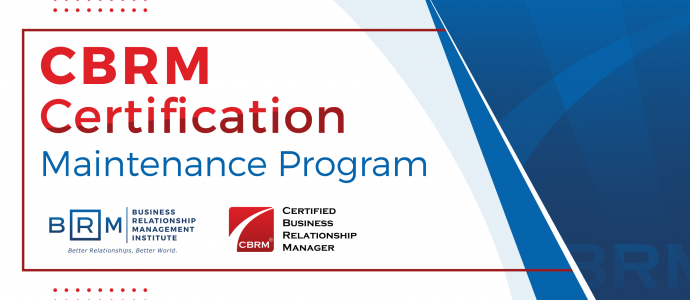 The Value of CBRM®
It is no secret that professionals who've gained their CBRM credential are highly desired. The unique combination of professional experience and robust BRM knowledge helps these individuals skillfully navigate the relationship network of their organization.
The CBRM Maintenance Program helps CBRM certified professionals stay relevant in their organization by keeping up on the latest knowledge. Thus, by receiving and maintaining your Certified Business Relationship Management status, you drive value for your organization and remain critical to all functions, both internally and externally.
The following testimonial from Edwin Rodriguez Pazo, CBRM, shows how this certification course made his BRM team a desired indispensable to their organization.
"In our experience, a successful BRM practice cannot continue to grow unless you gain the extensive knowledge offered within the CBRM course.
As the BRM orchestrator for our practice across four federal agencies, the CBRM course is critical. I assign CBRMs to the tasks that require establishing a practice in a short time, expose the BRM discipline to the highest levels of decision making, or require dealing with an inordinate amount of strategic relationship improvements plans.
In my BRM world, CBRM is not about the next certification in our practice. It is about equipping our team with advanced skills to promote and sustain an BRM practice that can clearly articulate the disciplined methods we use to transform an organization. Gaining the certification is a guaranteed seal that they will have higher level responsibilities and I will market their skills to other USDA agencies."
Your Professional Development Dashboard
The CPD tracking ability helps you measure contributions to your professional BRM status. It provides a dashboard to keep track of your CPD hours while you drive value through the BRM role. BRMs exist at the edge of innovation and discovery while staying connected to the very people who benefit from that knowledge.
This meaningful achievement for the global BRM community is worth celebrating!
What are CPDs?
Continuing Professional Development (CPD) is designed to keep the professional BRM at the top of their game. It is a continuous process to help you implement the most current business strategies in your organization. Once you reach CBRM status, you must attend 20 hours of courses or conferences and undergo 20 hours of professional experience each year to hold the certification. This helps you foster lifelong learning while progressively evolving your relationship skills.
After all, the best leaders are the ones who are willing to continuously learn.
The CBRM Maintenance Program Team
BRMs are thought leaders because they consistently hone their skills and help the people around them thrive. In addition to the BRM Institute staff efforts, let's meet some of the BRM leaders who contributed to the updated CBRM Maintenance Program.
"The overall CBRM Maintenance program is important because it supports each CBRM charting their unique course for continuous learning and development. The CPD Tracking ability, one of the tools delivered with the CBRM Maintenance program, is important to the BRM Community because it provides a dashboard view of each BRM's accomplishments towards maintaining their credential. In one view you can see when your CBRM credential was earned, what your renewal date is and your 'lifetime' CPDs. Gathering this information in the past was challenging and now it is right at your fingertips!"
"CPD Tracking is a tool every CBRM should use to remain current on CBRM maintenance requirements. The tool provides a single repository that calculates your progress, making CBRM renewal a snap. The supporting CPD Hours Guide takes all the guess work out of CBRM maintenance by describing CPDs earned for many events and activities. The CPD Tracking Ability is CBRM maintenance made easy: log your qualifying activity and upload supporting documentation. Your personal CBRM dashboard will let you know how many more CPDs are needed before your next renewal date. I am delighted to see this become a reality!"
Leave a Reply
You must be logged in to post a comment.