Workshop Simulation: Business & IT Convergence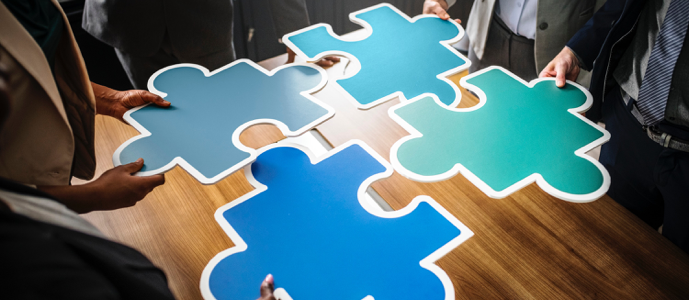 A recent workshop, hosted by GamingWorks, focused on Business & IT convergence and BRM as a capability.
In this workshop, we aimed to surprise and inspire the attendees with events throughout the day to provide a true understanding of why Business & IT convergence instead of alignment is necessary. In the workshop, we quickly realized the need to unify our mutual vocabulary and remove the "us vs. them" culture. This culture manifests when the focus is on alignment rather than convergence. At the same time, we realized it was important that both Business & IT change their mindsets and behaviors to truly optimize the value of our investments and enable Digital Transformation.
We soon noticed that organizations attending the workshop differed in terms of BRM-related capability maturity. Some participants clearly operated as order takers. They lacked the trust and credibility to be seen as a trusted advisor (fancy label for consultant), let alone a strategic partner. Others viewed business maturity, in terms of governing, as a barrier. The blatant lack of knowledge pertaining to BRM and the BRM Maturity Model led us to ask the question:
How do you create awareness for the proper level of Business & IT maturity and a shared commitment on the levels required to achieve true value optimization across the organization?
Enter: [email protected] – The Business Simulation Game.
In search of an answer, we employed the business simulation game [email protected] to explore the true meaning of Business & IT convergence. We hoped to discover the root of this continuing challenge. As well, we wondered how we to improve the Business & IT relationship.
[email protected] closely mimics the real corporation, Domino's Pizza for the simulation. In 2014, Domino's rebranded itself as a technology company that sold pizza, rather than a pizza company that used technology. An article on CNBC stated, "Domino's now employs more people in their IT department than anywhere else in the company, and over half of their sales come from digital platforms." The article continues by adding, "between 2010 and 2017, the company's stock appreciated more than 2000 percent….in that time frame outperforming the tech giants Amazon, Apple, Netflix and Alphabet, the parent company of Google."
Domino's success from merging their technological capabilities with their business knowledge clearly demonstrates the power of effective Business & IT convergence. We intended to replicate their results with [email protected] to teach our BRM associates how to achieve convergence.
"Business and IT alignment is a self-proclaimed top challenge for business leaders, CIOs and COOs. By trying to align to business, they were actually setting themselves up with a service provider/order taker status. This led to them always trailing behind business, scrabbling to align to where business had already gone. The solution is a BRM (Business Relationship Management) capability. This capability converges business and functions (such as IT, HR, Finance). It even works to engage external partners as true converged business partners/teams, leading partners/peers while sharing ownership of both business strategy and business results."
Aaron Barnes
The simulation game serves as an experiential learning instrument used to support BRM training courses such as Strategic Partnering Approach, BRMP® and CBRM®. Organizations also use the simulation to create internal buy-in for BRM, assess current BRM capabilities, and develop future roadmaps.
The team, playing Business & IT roles in the fictive organization [email protected], must work together to create and optimize value for the organization. They do this by deploying digitally-enabled strategic business initiatives while ensuring continuity of existing operations.
Participants play through several rounds. Between rounds, the team reflects on their performance and agrees on improvements for the following round.
Round 1 Results
In the first round of the simulation, Business & IT operated under a strained, service provider/order taker, relationship. Neither side fully understood the strategic goals nor how these related to IT work and resource prioritization. Players lacked both steering and control for value creation and leakage. Poor communication led to collaboration issues, choppy workflow, and a misalignment between the end-to-end processes. These issues produced an $11 million loss. This resulted in outages and downtime; and many of the delegates likened these simulated situations to their daily experiences and frustrations. Targeting their pain point, the simulation highlighted the value of well-functioning BRM capabilities which prevent these myriad issues from leading to monumental loss.
The team, under the facilitation of the BRM and the IT Business Capability Manager, conducted a continual improvement exercise to identify the top three Business & IT improvements:
Strategic: Visualization of the strategic business projects and the value proposition for each, as well as sharing the impact of outages on business goals.
Tactical: A business and IT Change advisory mechanism to map IT changes to business goals and prioritize scarce resources between value creation (new business features) and value leakage (outages, technical debt and risks).
Operational: visibility into the outages, trends in outages, and the measured impact on business goals and risk to help prioritize problem management changes.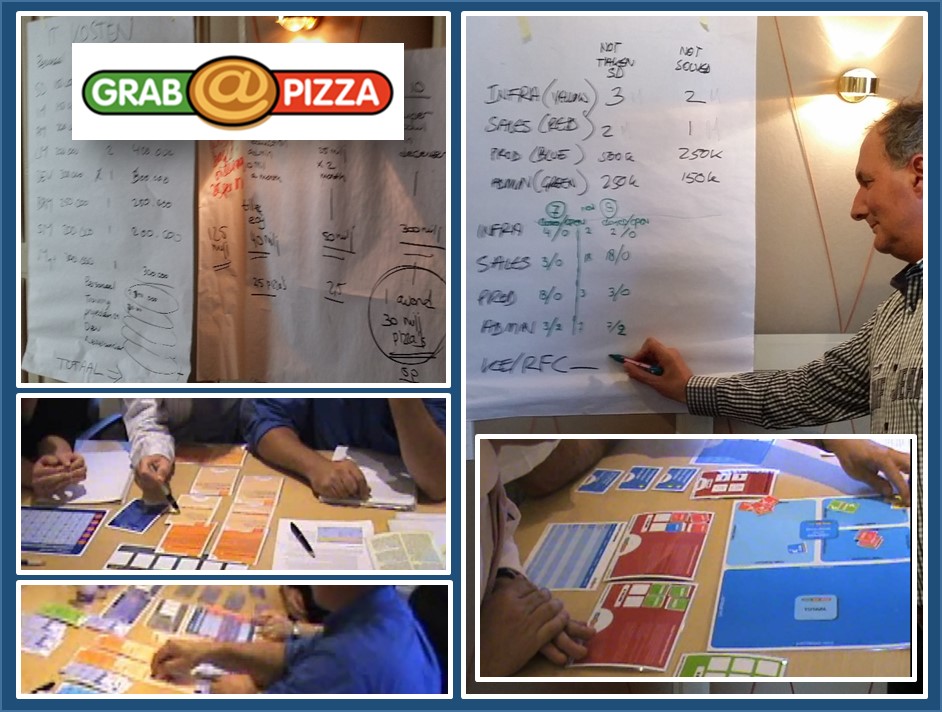 The team visualized the business portfolio, the mapping of IT resources, and the impact of outages and downtime to identify both risks and value leakage. The group planned to review the value metrics at the end of each round to further identify potential value leakage.
Round 2 Results
The team operated more smoothly in the next round. They prioritized scarce resources according to their pre-established strategic goals and limited technical debt and downtime; thus, limiting value leakage.
At the end of the day, we asked the delegates what they planned to take away from this simulation and apply to their organization. We compiled a list of the key takeaways:
Visibility into value creation, cost, risk, and leakage. Knowing which metrics to use to achieve said visibility.
Clear decision-making authority at strategic, tactical, and operational levels for prioritizing resources and mechanisms.
Clear overview of value/cost/resources per service or product line.
Break down siloes and incorporate universal end-to-end structure to support the smooth flow of work through the value stream.
Agree upon upstream and downstream information needs to make informed decisions.
Create trust. Assess and improve capabilities together, respectfully as equals without blame.
Focus on financials. Understand VOCR and the value associated with decisions.
Share common language. Focus on business value in business-friendly terms.
Integrate siloed IT processes for end-to-end capabilities.
BRM – The Solution to Value Leakage
At the end of the day, the participants were asked if they were surprised with, and/or inspired by, the game results. That question received a 100% positive response. Participants indicated that after the simulation, they understood the full impact of a simply trying to align to business rather than truly converging Business & IT. They saw that working towards convergence with their business partners by utilizing BRM, would achieve the desired real-world results.
As defined by BRM Institute, a strong BRM capability converges cross-functional teams and eliminates value-depleting organizational silos. It strengthens collaboration and drives a culture of creativity, innovation, and shared ownership across the enterprise, so that holistic, innovative, and value-driven strategies are created and deliver their intended business value results. BRM capabilities enable organizations to limit value leakage, improve communication across all levels and, most importantly, create trust amongst individuals and groups. After this realization, each participant set out to become a converged strategic partner through a BRM capability and optimize business value for themselves and for their business partners.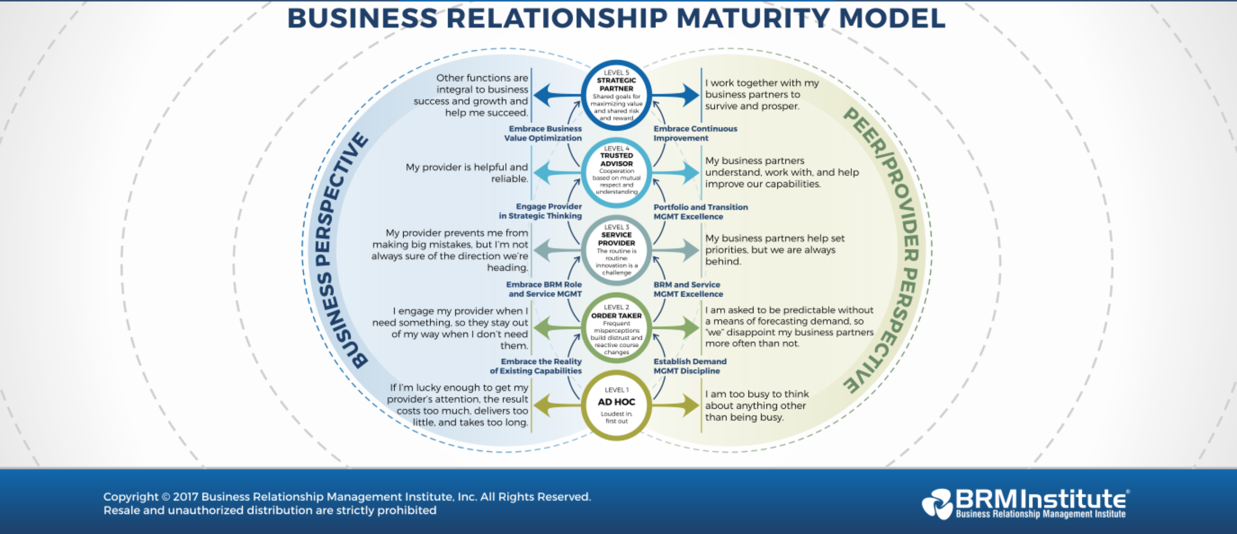 To learn more about BRM maturity models become a Professional Member: