The BRMP German Translation is Here!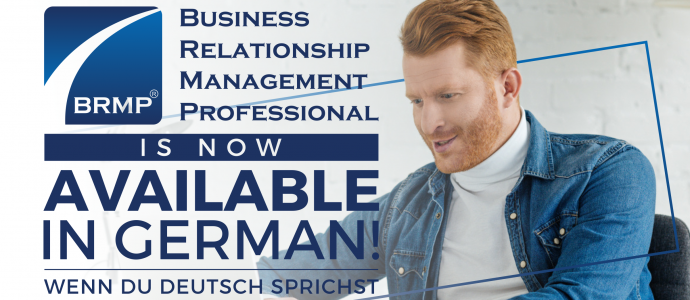 BRM Institute is thrilled to unveil the latest addition to its roster of professional development offerings. The Business Relationship Management Professional (BRMP) certification in German!
Our devoted learning and development team has worked closely with accredited trainers and German translators to develop the BRMP German translation which is now readily accessible to students.
Primary translator, Maria Rickli shares a few words about the newly released German BRMP certification
"
Es war eine spannende Herausforderung, die Schulungsunterlagen der Business Relationship Management Professional (BRMP) Zertifizierung in die deutsche Sprache zu übersetzen.
Ich bin davon überzeugt, dass die Möglichkeit die BRMP-Zertifizierung in der Muttersprache machen zu können einen großen Einfluss auf die deutsche BRM-Community haben wird.
"
Hover your cursor over the text above to see in English
Interested in additional translations of the Business Relationship Management Professional credential?
Stay tuned throughout the year as we will be sharing more exciting translation announcements in the coming months. The BRMP certification in Spanish became available earlier this year in February of 2023.
With this new addition, BRM Institute has taken yet another step toward expanding global reach and providing the highest quality of training opportunities to individuals and organizations worldwide.
Upcoming Courses
September 11-13, 2023
December 11-13, 2023
Leave a Reply
You must be logged in to post a comment.