BRM Certificate of Experience Public Listing
The Business Relationship Management Certificate of Experience is an earned certificate and recognition from BRM Institute and our global BRM community that demonstrates that the applicant has authenticity and passion for BRM and has gained above average knowledge in BRM and has also made significant contributions to:
Your personal purpose
Your company(s) purpose
Our single global BRM community
The BRM Discipline
Overall societal impact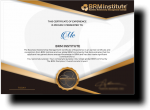 Individuals holding their BRM Certificate of Experience:
Click the + to expand the lists below!
BRM Professional
Terressa R. Campbell Oten with an area of impact in Business Analysts
Certified BRM
Maureen Jesuthasan with an area of impact in Operations
Peter Nichol with an area of impact in Change Management; Transformational Change, Strategic Resource Management, and Project Management; Portfolio Management.
Leave a Reply
You must be logged in to post a comment.