BRM Ethics Committee Launches Survey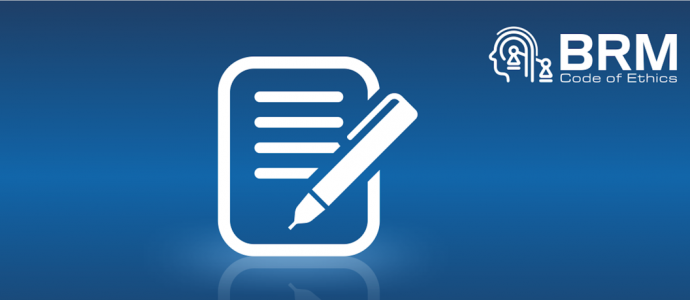 When BRM Institute was founded in 2013, a set of core values was established. Included in those values are "integrity and high ethical standards."
As BRMs, difficult decisions exist around every corner during the course of our work. Moving through these decisions with honesty and integrity should be of highest priority. Leading by example, we should challenge others in our profession to do the same. Possessing and displaying these characteristics increases trust, reduces conflict, and leads to more powerful communications, demonstrating a core BRM competency in action.
BRM Institute endeavors to maintain a culture based on:
Open and honest communication;
Mutual respect;
Integrity and high ethical standards;
Collaborative work effort above individual contribution;
Treasuring and valuing cultures, opinions and contributions, particularly in light of our global reach.
In keeping with the commitment of these core values and ensuring standards for the global BRM profession, a group of BRM Institute members formed the BRM Code of Ethics Committee. This committee is working to create and maintain a standard BRM Code of Ethics for the single global BRM community. The main objective and drive for the code's generation is to provide BRMs inspiration, conduct guidance and support on their BRM journey.
This valuable tool will aid BRMs across our single global community to satisfy their personal purpose, their business purpose, and drive overall societal impact through their professional activities. The BRM Code of Ethics is an extension of the BRM Institute's values and is a foundation for BRM's long-term success.
As they move forward building the foundational document, the BRM Code of Ethics Committee will be sending a very short survey to all BRM Council Members. The questions seek to collect data about how BRMs may use a code of ethics and professional conduct in general. At the end of the survey, they will have the opportunity to indicate interest in being a beta reader for the initial draft and any revisions going forward.
The Code of Ethics Committee includes the following BRM Institute members:
If you'd like to participate in the development of BRM as a discipline or contribute to projects like these in the future, sign up in our Online Campus!