BRM Capabilities Lead Organizations Through and Beyond the Global Pandemic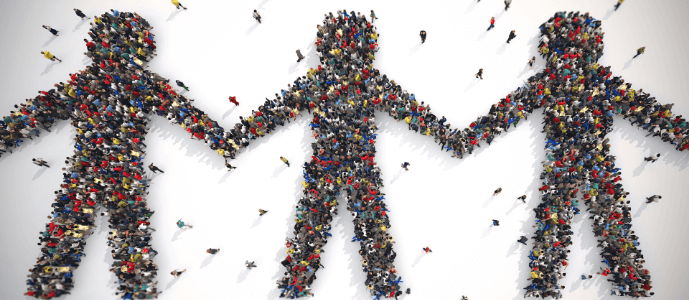 While the global BRM Communities of Interest (CoI) groups have gathered virtually to spread caremongering, BRM Regional Ambassadors (RAs) have put their heads together to discuss the present challenges the world faces.
The impact of the current global crisis varies greatly from one region to another, making it difficult to offer canned solutions BRMs can employ. For that reason, BRM RAs from all over the world offer local perspectives on how BRMs can remain adaptable, valuable and forward-thinking beyond the evolving situation.
Canada
"In Canada, since mid-March 2020, we've had to cancel all business onsite activities and meetings in less than a week. As millions of others worldwide experienced similarly abrupt shifts, those who still had their jobs began remote work, realizing our business environment will never be the same. There will be a 'new normal', but we don't really know how it will look like or when it will become a reality.
Are simple things like traveling, face to face business meetings, hand-shaking, corporate town halls and lunches likely to happen any time soon? In mid-April, we heard from our BRM network many Canadian companies will favour their workers to work from home until the COVID-19 vaccine is proven without a timeline specified. Leading industry researchers predict an increasingly large portion of the workforce will be working remotely, while around 35% never worked remotely before.
In this new context, BRMs are ensuring organizational objectives are met by bringing the best out of all the teams. On another hand, many Canadian public and private organizations were already struggling with their digital evolution before the pandemic, aggravating the situation further. Before the pandemic BRMs had the knowledge, tools and professional community support they needed to make sure to get their business partners where they want to be, and this has not change. Now, it's about adapting and focusing on restoring value-creation.
To face the challenges of digital evolution and remote work environment, Canadian BRM communities are gathering virtually to brainstorm and develop new ideas and approaches. Just this week the Ottawa BRM COI, led by Nicolas Chenier, gathered virtually to discuss ways BRMs can prioritize differently, ultimately increasing visibility of BRMs and their ability to demonstrate value in both maintaining the existing relationship and building new ones.
Follow the BRM Hangout space to connect with Canadian BRMs and be aware of what's new."
Svetlana Sidenko CBRM®
President, ITChaper
Regional Ambassador Canada, BRM Institute
France
"On March 11, 2020, France was the third European country impacted by COVID-19 (497 known cases, behind Italy's 2,313 and Spain's 582). On that day, BRM Community of Interest for France was supposed to meet in Paris. Even though we were at the very beginning of the pandemic, containment was not yet required. The first instructions from organizations were to limit travel and non-essential meetings.
While the in-person invitation for March 11 was extended to members, some responded that they were no longer allowed to travel. A week before the Paris meeting, the organizers of CoI BRM France met virtually and made the decision to switch to 100% virtual mode, taking advantage of this opportunity to innovate. This decision to go virtual and allow the majority to participate was very favorably received. Communication via Microsoft Teams went off without a hitch and everyone was able to hear and contribute.
The following topics were discussed:
How to respond to the challenges of implementing BRM principles presently
Presentation of the 2019 BRM salaries report
The BRM France community has also adopted the idea of ​​operating as a "Think Tank" by working on a theme from one meeting to another and ultimately presenting it to all BRMs in France and elsewhere, via BRM Institute.
The lesson to be learned from this situation is that pain drives change, just as the BRMBOK teaches us, in Business Transition Management! In this case, it is a "Current Problem / Immediate Discomfort" situation. This strongly motivated the community to migrate almost instantly to 100% virtual, without which, some of us would not have been able to benefit from the value brought by the community.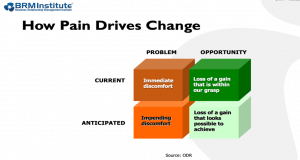 And this is also true in the companies we work for. Organizations will need to change and reinvent themselves quickly to survive through the pandemic and the inevitable economic downturn which will follow.
Building trust, keeping relationships will be even more essential, but will need to be done differently, with creativity, novelty and online.
The next CoI BRM France online gathering will take place on June 24, 2020 2-5pm (GMT+2)."
Olivier Abécassis BRMP®
Co-founder and Principal Partner, IT Chapter
Regional Ambassador France, BRM Institute
North America
"This pandemic is effecting all of us personally in many different ways: personal health, not being able to be close to other family members, working from home, losing jobs due to the economy and much more. The social aspect of being connected is more important than ever now. Anxiety and depression are key concerns for a lot of us. We will get through together as we care for each other.
I've witnessed leaders stand up, taking care of people, and building relationships. Now is as critical as ever to do so.
So, where are we going from here? In a crisis or emergency, it's important to be thinking ahead of everything and make decisions that are novel, new, or never done before. Every emergency team should have an innovation and learning team closely observing them so new ideas can be captured and used after things settle.
As a regional ambassador, I will be providing free 60-minute coaching sessions to any business relationship manager that needs help, even if is just to talk to someone.
I do have one specific recommendation for BRM teams. In this time, where the situation might seem chaotic, you may need to step into situations that might seem very operational, because that is what you are good at. It will be difficult to focus on your BRM role. That is ok – take care of the organization, take care of your colleagues, take care of your family. One of the key elements in crisis is the organization will find new ways or novel ways of working. If you see that happening, capture those ideas, ask questions every week, such as:
What have you done differently this week? What did you learn? What has gone wrong?
Capture those learnings and use those for innovation later on. We will come out of this together. The organizations that will be stronger will learn and innovate from this crisis. Stay in touch, have social contact (while keeping physical distance), and help each other to make sense of an uncertain situation."
Peter Lijnse CBRM®
Leadership Coach, Lead the Pack Consulting
Regional Ambassador North America, BRM Institute
United Kingdom
"In the UK, our BRM community has been hard at work ensuring business continuity through remote working. So far this seems to have gone well for most however there is an issue resurfacing in our organisations: silo operations. Now the corridor conversations have stopped and people are working remotely, operating in silo teams. The BRM function is trying to rebuild the collaborative and sharing culture we have previously fostered so well in person. This is being implemented through formal meetings and emails, as well as informal routes like video chat quizzes and after work virtual drinks! These are testing times, but the UK BRM spirits are still high and we are pushing forward to develop our relationships and progress our purpose."
Jeremy Byrne, CBRM®
Business Relationship Manager, Loughborough University
Regional Ambassador United Kingdom, BRM Institute
United States
"In my conversations with dozens of BRMs, I have noticed the majority of BRMs work for organizations that were not prepared from a crisis-planning, business-continuity or a disaster-recovery perspective. For example, a significant number of BRMs took on operational tasks and responsibilities to lend a helping hand with keeping their business peers productive while working from home. Installing software and fulfilling access requests are just a few examples.
Herein lies the enormous opportunity for BRMs to show value now that we are seeing the light in the tunnel. Business strategies need to be adjusted. A repeat is unacceptable and may be even more devastating. Just as 9/11 pushed information security on the radar, now is the time to emphasize and prioritize capabilities in the areas of crisis planning, business continuity and disaster recovery."
Mart Rovers CBRM®
President, INTERPROM
Regional Ambassador USA, BRM Institute
South Africa
"South Africa, like most African countries, implemented some of the strictest lockdown rules to guard against the spread of COVID-19. The risk of a 'nightmare scenario', wherein masses of people in poverty unable to easily self-isolate catches the virus, is foremost in everyone's minds. After five weeks of total confinement to our homes except to buy food and medicines, the statistics for the moment look far better than elsewhere in the world. However, the government is assuming it will get worse, and are planning on a peak sometime later in September. So, although some measures will be eased next week, we are bracing ourselves for a long period of restrictions.
Most BRMs are focused on their families, worrying about their jobs, as well as keeping safe. It can be overwhelming and stressful, especially for those working from home with the added pressure of supporting their children doing virtual lessons. Others are proving that this way of working can be very productive with less distractions. The focus for most BRMs has been supporting remote working, keeping operations running and helping the business rationalise and prioritise demand for projects with inevitable, serious cost-cutting.
In this part of the world (and probably everywhere) we cannot ignore the tragic impact the crisis is having on the wider disadvantaged population. As our President stated in his Freedom Day address recently, 'We have not all been impacted in the same way by this pandemic. Some people have been able to endure the coronavirus lockdown in a comfortable home with a fully stocked fridge, private medical care and online learning for their children. For millions of others, this has been a month of misery, of breadwinners not working, of families struggling to survive and of children going to bed and waking up hungry.'
People here are used to fighting for a better future. One of the encouraging signs is local solidarity, helping one another overcome adversity. Let us hope we come out of this crisis as better human beings, building value-adding relationships with real benefits for all not just the few."
Gary Hardy CBRM®
Owner and Managing Director, IT Winners
Regional Ambassador Sub-Saharan Africa, BRM Institute
Asia Pacific
"It has been heartening to see the measures taken by Asia Pacific countries in resolve to contain the spread of the pandemic. In this section, let's briefly talk about the role of BRMs in the Asia Pacific region and the support we have provided in the last two months.
Lockdown is a new norm, which was abrupt for most of the Asia Pacific BRMs considering they traditionally spend a lot of face time with business partners and the organization. It was evident that the month of March became very tough amidst lockdown across Asia Pacific and business partners' focus was to ensure continuity.
With my conversations with BRMs across Singapore, Malaysia, Philippines, Australia and India, the 'modus operandi' of practicing BRMs witnessed a sea of changes:
Several key initiatives and projects have been kept on hold due to lack of funding and strategic partner availability
The need for upskilling has strongly emerged to remain relevant and productive
Business partners have relied on BRMs to trigger backlogged projects able to be completed independently
Lack of clarity and direction on how to foresee the future is causing stress
Organizations have started campaigns and virtual meet-ups to ensure they listen to the voice of the workforce and provide them resources and assistance for emotional and psychological well-being
BRMs Stepping up as Action Owners:
In most of the situations, we have seen BRMs proactively taking initiatives to help business and strategic partners in the form of:
Operational support
Taking care of the loose and broken ends
Connecting with providers and partners to understand their situation better
Communicating with cross-functional teams on progress, support and the path forward
Business partners have seen the value of BRM in the form of results, feedback from various partners and going that extra mile to contribute for overall organizational success. We have planned the following to further support the global BRM community:
Virtual Meetups biweekly to discuss issues and concerns that are faced by BRMs and sharing insights of how to address it
Sharing links, resources and best practices of case studies that BRMs can leverage
Interviewing practitioners in APAC as part of BrownBag podcast to share specific experiences of how to deliver business value
Utilizing platforms such as the Online Campus and Microsoft Teams to ask questions and participate in collaboration with other Communities of Interest groups
Held an APAC BRM Week Webinar to share BRM trends and survey reports
Publish virtual training and/or certification courses for APAC on BRMP, CBRM, Strategic Partnering, Value Focused Organizations to help aid upskilling
We would like to play an active participation as a region in supporting BRM needs and assure our relentless support to get through these tough times."
Suresh GP CBRM®
Managing Director, TaUB Solutions
Regional Ambassador Asia Pacific, BRM Institute
India
"India has been in a lockdown state since March 25, 2020 due to the COVID-19 outbreak. Once the timely lockdown was declared by the Indian government, all the professionals working in different industries were advised to work from home in order to stop the exponential spread of the virus. India being the digital transformation hub, IT Nerve center and offshore hub for global organizations, this meant the vast majority of employees would now be working from home, which was prevalent in some organization before the outbreak, but more of an exception in the Indian corporate culture.
This unprecedented work-from-home phenomenon to ensure stability in organizational operations and continued emphasis on value delivery has created new rules of engagement between business partners and business functions. As a result, we've seen the emergence of novel "collaboration patterns" between business and its functions within the enterprise.
BRMs based out of the Indian subcontinent, like other BRMs worldwide, have played a very pivotal role in humanizing and digitizing the response to the pandemic while ensuring business preparedness for the 'new normal'.
The following common themes and practices emerged on how BRMs have created value to ensure business stability and employee safety.
Raising the 'work-from-home tech savviness' for partners by educating them about digital collaboration tools available
Surfacing and aggregating digital collaboration and enablement demands to ensure employee productivity and experience, critical to business value, are delivered
Shaping demands with existing business function capabilities for cost optimization
Sharing best practices for remote working through various modes of online trainings, sharing useful links, or tip-of-the-day.
Making business aware of processes such as incident management, request fulfillment, continuity management, and fluid transition management 'from old ways' of working 'to new ways' of working
The second step, is to 'respond, analyze and re-prioritize', which is focused on optimizing business value by converging digital capabilities with business capabilities.
Some of the key activities in where specifically strategic BRMs are playing a critical role are:
Analyzing Business Capability Roadmaps and reprioritizing initiatives for the 'new normal'
Portfolio balancing recommendations to leadership as per the Business Capability Roadmap reviews
Exploring new technologies for enhancing employee productivity and employee experience
Driving scenario planning initiatives for handling uncertain environment for the foreseeable future
The third step involves reimagining business and the role of various organizational functions beyond the current crisis.
Some of the key BRM activities include:
Revamping digital strategy for enhancing the pace of digital evolution
Converged strategy for all functions
Re-imagining business relationships, engagement capabilities, processes and tools
Enhancing and deepening relationships with strategic partners
The entire BRM community in India spoke in unison about the value of human connectedness in the digital world. The value that BRMs are bringing in the current pandemic is being appreciated by business partners and functions alike.
BRMs should anticipate their role in the 'new normal' will grow both in scope and depth. It involves broader strategic partnership interactions, especially with functions like business continuity management.
To conclude, BRMs can and are playing a critical role in driving deeper convergence between all organizational functions during these testing times."
Avinash Singh CBRM®
Country Manager and Principal Consultant, Fox IT
Regional Ambassador India, BRM Institute
EMEA (Europe, the Middle East, Africa)
"While the world is reeling from the sharp shift in priorities caused by the global pandemic there has been a number of different approaches from both governments and organizations. This is highly polarized around human and economic centered viewpoints.
Those who have been prudent enough to continually develop their capabilities have been able to adjust to this new reality far quicker with minimal impact to both people and cashflow by making decisions far faster and provide remote working for their people. Using their BRM capability they are driving collaboration between people despite geography and lock down situations. Never before has humanity needed such a broad appreciation of relationships, between people, functions and the wider ecosystem to keep the wheels turning.
The impact of strong relationships, capabilities and acting as a whole organization is self-evident, the main recovery models being discussed focus on have two distinct outcomes.
The slow recovery for traditional organizations focused on service management principals, which have too heavy a focus on incorrect priorities and layers of processes with very poor relationships to the rest of the organization.
The V shaped recovery for organizations with healthy understanding of Digital Capabilities, Quality Management and Relationships are set to bounce back far faster and as they develop their capabilities they will be more likely to successfully navigate the uncertainty of the new normal.
The question is which one are you? There is still time to steer in the right direction…."
Jonathan Boyd CBRM®
Senior Solutions Consultant, Prophecy International
Regional Ambassador EMEA, BRM Institute
We, as human beings first and professionals second, are all adapting to the present circumstances differently largely due to unique regional and governmental circumstances surrounding the pandemic. The future may be uncertain, but the single, global BRM community are in this together and will continue supporting one another.
Leave a Reply
You must be logged in to post a comment.