The BRMP® Guide to the BRM Body of Knowledge Is Released in Paperback
In response to the growing demand for our core Business Relationship Management Professional (BRMP®) professional development and certification course reference, Van Haren Publishing, BRM Institute's publishing partner, released a hard copy version of The BRMP® Guide to the BRM Body of Knowledge in paperback. The book is available for order directly from the publisher as well as through Amazon.com.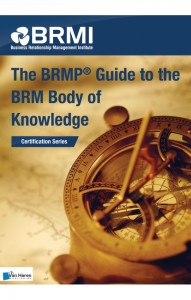 What is BRMP®?
Business Relationship Management Professional (BRMP®) training is a world-class professional development program designed to provide a solid foundation-level knowledge of Business Relationship Management. The BRMP® exam is designed to test an individual's learning through rigorous examination providing a leading verifiable benchmark of BRM professional acumen and achievement.
Who Is It For?
BRMP® professional training and certification program is intended as a comprehensive foundation for Business Relationship Managers at every experience level, with the training and certification designed to provide a solid baseline level of knowledge. BRMP® professional development and certification program provides an excellent Return on Investment (ROI) and is ideally suited for project managers, business analysts, architects, external service providers; representatives of shared services organizations including IT, HR, Finance, Sales, Strategy Planning, etc.; business partners and anyone else interested in business value maximization.
Benefits for Individuals and Organizations
Holders of the BRMP® credentials will be able to demonstrate their understanding of:
The characteristics of the BRM role.
What it means to perform as a strategic partner, contributing to business strategy formulation and shaping business demand for the service provider's services.
The use of Portfolio Management disciplines and techniques to maximize realized business value.
Business Transition Management and the conditions for successful change programs to minimize value leakage.
The BRM role in Service Management and alignment of services and service levels with business needs.
The principles of effective and persuasive communication.
About Business Relationship Management Institute (BRM Institute)

BRM Institute is the world's premier membership, professional development, and certification organization dedicated to serving the global Business Relationship Management (BRM) community. BRM Institute provides world-class quality education, training, and certification programs for both aspiring and seasoned BRMs developed by expert BRM practitioners and trainers and is the creator of the increasingly popular and respected Business Relationship Management Professional (BRMP®) training and certification program.
BRM Institute and APMG-International
BRM Institute has partnered with APMG-International, a global leader in accreditation and certification services, to promote wider adoption of world-class Business Relationship Management training and facilitate widespread availability of BRM Institute professional certifications. APMG-International, is responsible for facilitating the delivery of Business Relationship Management Professional (BRMP®) training and certification.
About Van Haren Publishing
Van Haren Publishing is one of the world's leading Publishers on Best Practices and Standards. We are the official publisher for internationally used frameworks including The Open Group, IPMA-NL, ITSqc, GamingWorks, ASL BiSL Foundation, IAOP, IACCM, CRP Henri Tudor and PMI NL. All of our publications are available worldwide, through our extended distribution network. For more information or to order a review copy, please contact Emmeline Raab via email at emmeline@vanharen.net or by calling at 31 (0)418 577 043.