BRMConnect 2015: Where Business Value Leaders Meet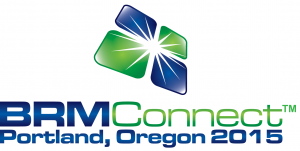 Business leaders, accomplished BRM practitioners, and industry experts from around the globe are converging in Portland, OR this week to attend BRMConnect 2015, the world's very first and highly anticipated conference for Business Relationship Managers (BRMs). The conference attendees are gathering to exchange ideas and learn how to best leverage a BRM capability to foster innovation and improve business strategy execution to maximize business value.
Organizations around the globe are implementing and expanding their BRM capabilities fostering demand for BRM professional training and certifications developed by BRM Institute, a recognized worldwide leader in BRM professional development and the proud host of BRMConnect 2015 conference.
BRMConnect 2015 has been completely sold out! To provide a convenient meeting platform for BRMs around the globe, BRM Institute tentatively plans to host four BRMConnect conferences around the globe next year. Once announced, be sure to reserve your BRMConnect 2016 passes early to guarantee attendance.
BRMConnect 2015 is made possible through sponsorship and support by: