Agenda Now Available for the Virtual World BRMConnect Conference 2020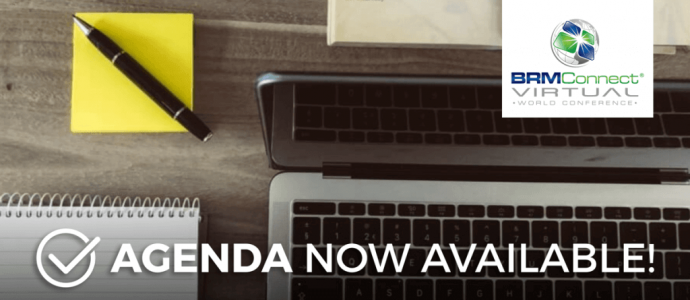 LIVE: August 24-28, 2020
ON-DEMAND: August 29-September 30, 2020
The agenda for the 2020 Virtual World BRMConnect Conference is now available! Customize your learning experience by selecting and mixing the tracks and sessions. This will create the best-realized value for your unique knowledge expansion.
AGENDA
Going virtual allows us to bring you World-Class Professional Development no matter where you are in the world! During the week of August 24 – August 28, enjoy live and on-demand sessions that you can access anytime you want through September 30, 2020.
2 Conferences running simultaneously
Conference 1 running from 3:00 AM EDT through 7:30 AM EDT daily
Conference 2 running from 12:00 PM EDT through 4:30 PM EDT daily
30 sessions per conference. Access them all on-demand
6 sessions per day
Re-watch any session
TRACKS
Tracks catered to your BRM maturity and explaining the future of BRM. Tracks have been designed to accommodate maturity and interest levels. There are 4 tracks to choose from:
Execution:
New to BRM? This track is for you and will cover BRM basics. Discover what it takes to be successful in the role, how the discipline evolves companies and engages the BRM capability.
Strategic:
Have you achieved the Trusted Advisor or Strategic Partner level in your relationships? If so, this track is for you. It's dedicated to sharing cutting edge information and ideas to keep the momentum going in an environment that has adopted BRM.
Executive:
Executives championing a BRM capability or just wanting to learn more will gain an understanding of what, why, and how a BRM capability ensures business value results.
Relationship-Centered Organization System:
[NEW CONTENT!] An organization system centered on relationships and the BRM Capability focused on achieving results to satisfy the Triple Bottom Line.

STORYTELLERS
Storytellers are comprised of experienced BRMs from all walks of life, industries, and geographies.
NETWORKING
Networking is one of the most valuable takeaways from BRMConnect – going virtual does not change that.
Attend live Q&A sessions with Storytellers
Chat with other attendees in each session
See what others are saying in each session in the Conference Timeline
Setup 1:1 on meetings with Coaches, Sponsors, and other attendees!
COACHING SESSIONS WITH THOUGHT LEADERS
Do you have your CBRM® Certification? Are you interested in mentoring, offering advice, and encouragement to a BRM or BRM team to work through some of their greatest challenges? Volunteer to be a BRMConnect Coach!
Leave a Reply
You must be logged in to post a comment.