World BRMConnect Conference Agenda 2019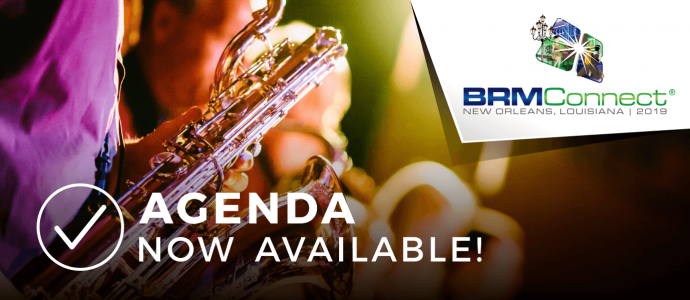 October 7-9, 2019
Sheraton New Orleans | New Orleans, Louisiana, USA
Join other BRMs from around the world for BRMConnect®, a three-day networking and learning event in New Orleans, Louisiana, October 7-9, 2019. Registration deadline is September 23, 2019.
The 2019 World BRMConnect Conference agenda is now available! Customize your learning experience by selecting and mixing the tracks and sessions. This will create the best-realized value for your unique knowledge expansion.
AGENDA
This year the conference agenda is comprised of 2 keynotes, 9 general sessions, 2 panel discussions, 16 breakout sessions. (Note: This agenda is subject to change.)
TRACKS
Tracks have been designed to accommodate different role, maturity, and interest levels. There are 5 tracks to choose from:
Executive:
Executives championing a BRM capability or just wanting to learn more will gain an understanding of what, why, and how a BRM capability ensures business value results.
Explorers:
New to BRM? This track is for you and will cover BRM basics. Discover what it takes to be successful in the role, how the discipline evolves companies and engages the BRM capability.
Leadership:
Leadership isn't limited to a role, it's a skillset. This track is comprised of sessions to enhance leadership skills to effectively support BRM teams.
Momentum:
Have you achieved the Trusted Advisor or Strategic Partner level in your relationships? If so, this track is for you. It's dedicated to sharing cutting edge information and ideas to keep the momentum going in an environment that has adopted BRM.
Power Skills/Application:
Accelerate your convergence efforts and improve your BRM skills through progressive tools, techniques, and strategies.
SESSION SCHEDULE
Create a personal conference experience that will support your purpose, role, maturity, and interest level via our new mobile app. 
COMMUNITY OF INTEREST (COI) GATHERINGS
The first day of BRMConnect is focused on bringing the industry CoIs together for an opportunity to network and discuss pertinent challenges and solutions. The geography-based CoIs will be able to interact during mealtimes throughout the Conference.
STORYTELLERS
Storytellers are comprised of experienced BRMs from all walks of life, industries, and geographies.
NETWORKING EVENTS
Networking is one of the most valuable takeaways from BRMConnect. Every day and night there are ample opportunities for networking.
The evening events listed below will be filled with food, music, and opportunities to connect with others in a fun and casual atmosphere:
Sunday: Meet-N-Greet
Monday: Happy Hour
Tuesday: Second Line Parade and Masquerade Party
BuddyRM PROGRAM
The BuddyRM Program is being revamped to ensure that every attendee has a conference buddy. Real-time connections will be made during the first session on Day 1.
SPECIAL BREAKFAST GATHERINGS
Monday, October 7
CBRM Breakfast: CBRM holders will be treated to a special, informational breakfast. Learn how BRM Institute will be supporting your continued journey on the Knowledge Path to Success.
Leadership Breakfast: Executives are invited to join the BRM Executive Council for a breakfast meeting about the importance of BRM. We will discuss how BRM as a role and discipline can make a difference in your organization.
Exploring BRM Institute Breakfast: Not a BRM Institute Professional Member? You are invited to join this informational breakfast. Come and engage with the Membership Team to learn about the benefits of becoming a Professional Member.
Tuesday, October 8
Women in BRM Breakfast: All participants are welcome to join this breakfast session focused on the women in BRM. Come for breakfast and hear from women BRMs about their successes and challenges in the world of BRM.
Wednesday, October 9
Annual Member Meeting: Professional Members are encouraged to attend an annual meeting to conduct BRM Institute business. The business may include electing a board of directors, making important decisions regarding the organization, and informing the members of previous and future activities.
COACHING SESSIONS WITH THOUGHT LEADERS
An esteemed panel of thought leaders is making themselves available for 30-minute coaching sessions on Sunday, Oct 6 (prior to the Conference).  Meeting with them can provide you with advice and encouragement to work through some of your greatest challenges.
TEAM DEBRIEF
Participants will have the opportunity directly following the closing session of Day 2 and Day 3 to come together with their team to discuss key takeaways from the day.
ACCOMMODATIONS
The room block deadline for attendees is September 2, 2019. If you register after this date, rooms and rates are subject to availability. Please use the link below and do not call the hotel. For questions and/or special arrangements, contact the BRMConnect team.
PRE-CONFERENCE WEBINAR
All attendees are invited to join our free pre-conference webinar.
SPONSOR ENGAGEMENT
Our sponsors have invested in furthering the BRM community with the best solutions for BRMs and their organizations. We have created some fun opportunities for engaging with the sponsors throughout the conference.  Be sure to engage with them and learn about their offerings.
Leave a Reply
You must be logged in to post a comment.