Top Issues Facing Remote Workers and How to Solve Them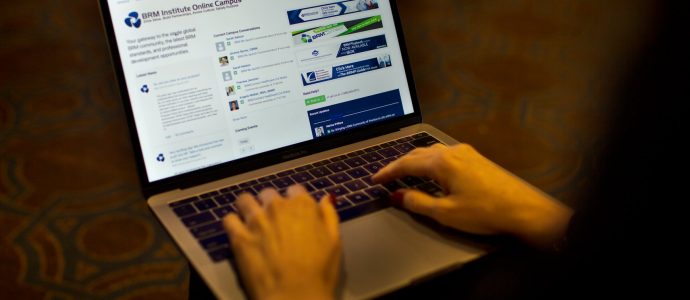 As the events of the past few weeks and months have unfolded, likely no one has been unaffected by the impact of COVID-19.
Unfortunately, many organizations exercised massive layoffs and reduction of labor as businesses split into essential and non-essential.
Moreover, able organizations have been forced to implement drastic transitions to support partially or fully remote teams.
Whether you are new to working remotely or not, the tools supporting virtual teams are not novelties. Accessible software tools such as Slack, Zoom, Microsoft Teams, Trello and so many more are already in use by remote and in-office teams alike.
However, all these powerful tools cannot fully address every human need, especially during this uniquely challenging time in world history. Creating an organizational culture conducive to remote teams, whether 100% remote or a hybrid blend, remains critical to supporting the human beings on the other end of the conference call.  
As the world continues to operate under "stay in place" orders, or the like, let's look at the most pressing issues remote teams have faced since long before this crisis began.
Top Issues Remote Workers Experience
And how to solve them
Based on a worldwide survey of over 3,500 remote workers (fully and partially remote), these were the top issues experienced:
Collaboration and communication
Twenty percent of respondents indicated their number one issue as a breakdown of communication and barriers to collaboration. Unless your team or organization already operated remotely, your regular workplace flow was likely disrupted. Gone are the hallway meetups and water-cooler chats we relied upon for spontaneous flow of information in the office. Actively seek to replace that free-flowing information with other methods (i.e. virtual "coffee breaks" where you and your team get on video calls for structured or unstructured chats).
Additionally, resist the urge to rely solely on digital communication (chat, email) where nonverbal cues cannot be perceived. The overall humanity of your intentions can become masked and misinterpreted all too easily, even when people are face-to-face. When in doubt, over communicate, especially during times of uncertainty and frequent pivoting.
Loneliness
Concurrently, remote workers are equally (20%) concerned about loneliness. This goes to show just how important human connection is, especially for those working remotely.
Scheduling daily or weekly check-ins with your leadership and/or teammates will help maintain relationships despite the distance. While these check-ins can serve to keep the flow of important operational information, do not forget to encourage and make time for non-work-related conversations as well.
Not being able to unplug
Transitioning abruptly to working partially or fully from home can be a difficult balancing act. So much so, eighteen percent of survey respondents indicated they have a hard time "unplugging" when the workday has ended.
When you work in the same place you live, it is completely normal to feel like you cannot quite "switch gears" when the workday ends. Establishing structure and boundaries become vital to create a healthy balance for you and your loved ones. Start with setting clear start and end times to your workday, as well as breaks at regular intervals. If you find yourself feeling cooped up or restless, change the scenery by getting outside and moving your body.
How BRM Teams are Adapting during Crisis
And how you can, too
As the global situation unfolds, BRM Institute has asked BRMs a few questions to see how they're responding and are coping.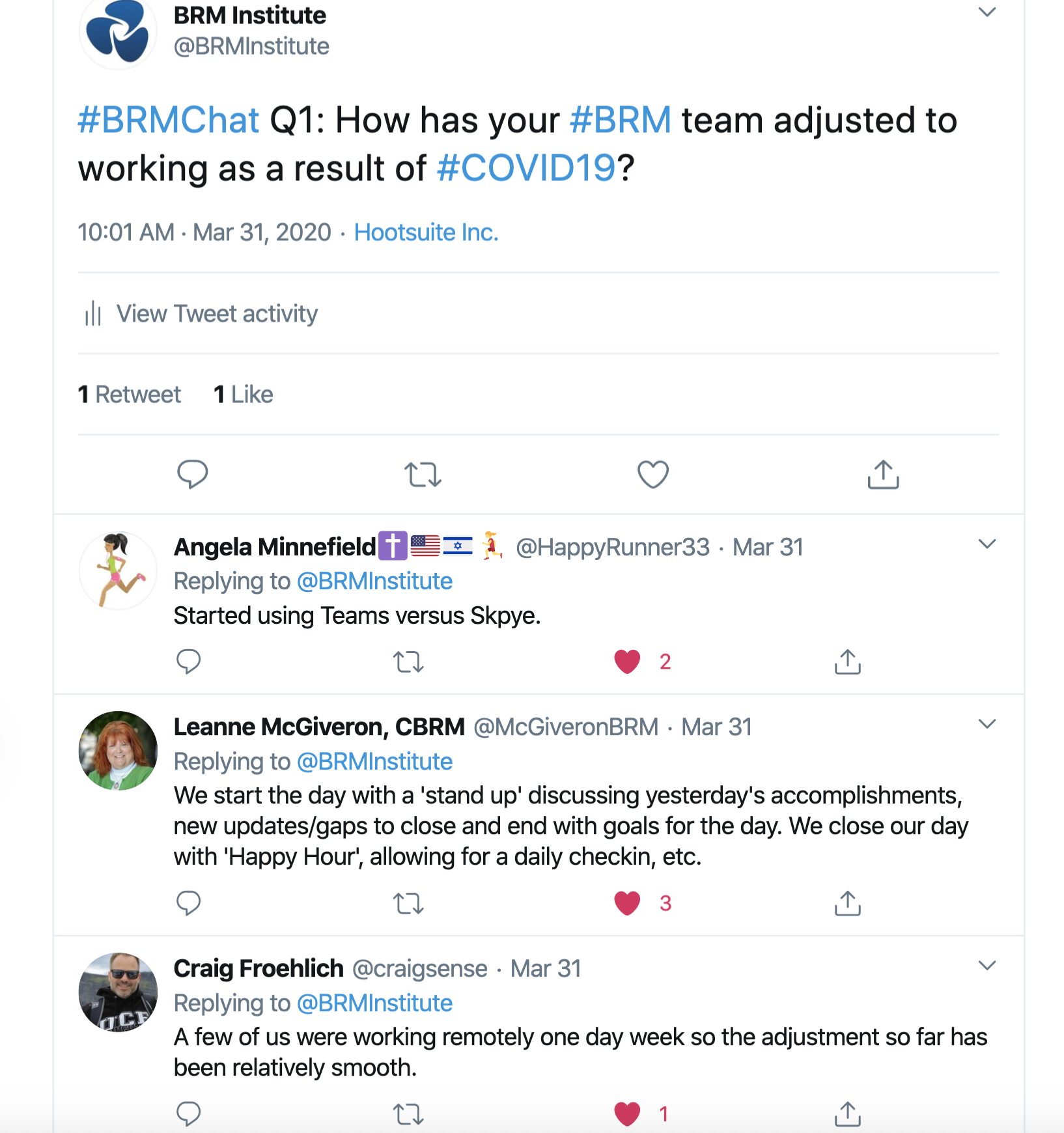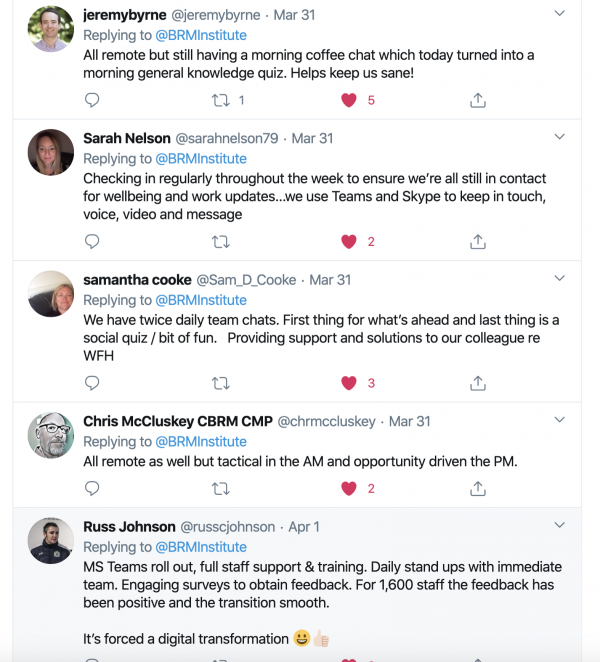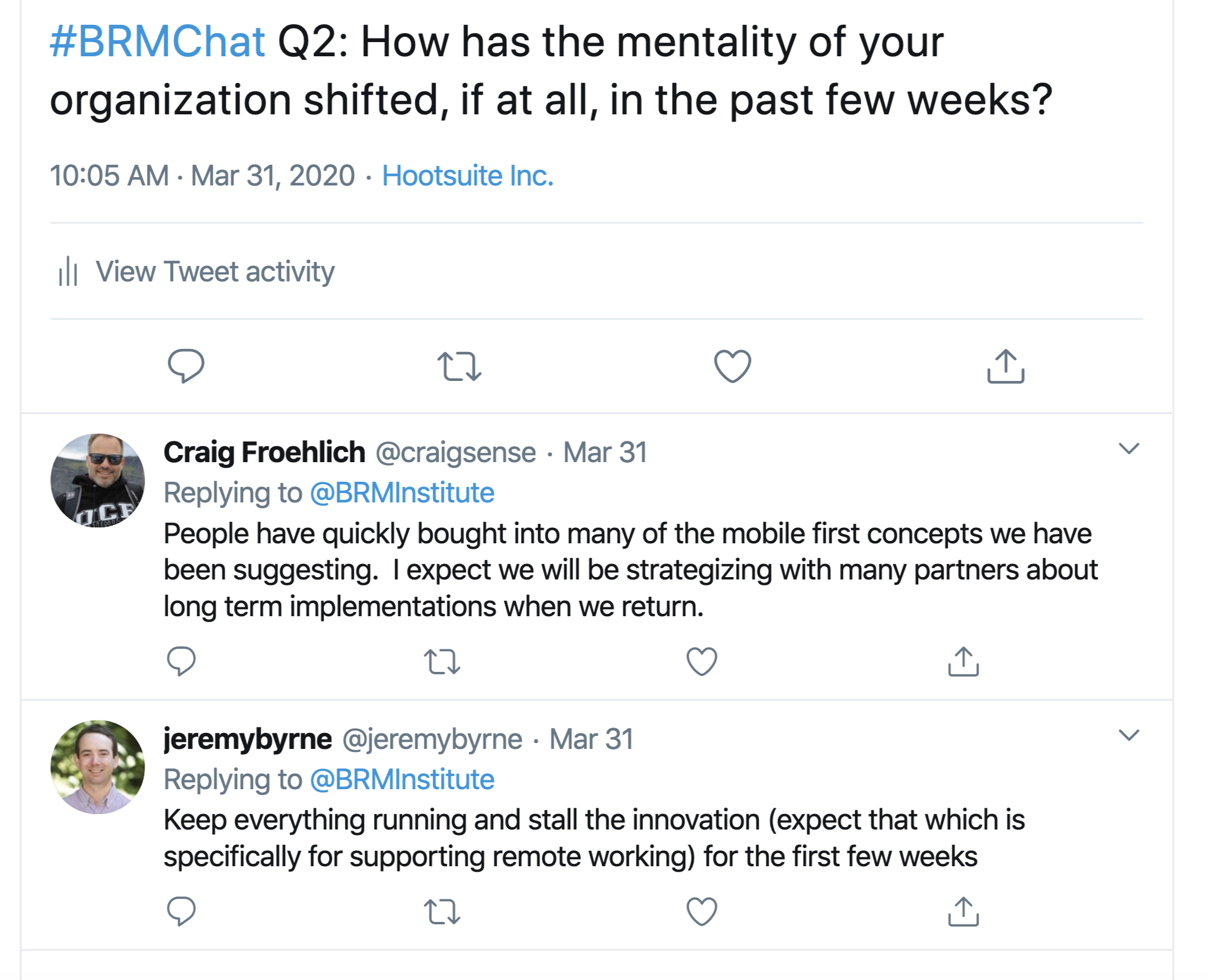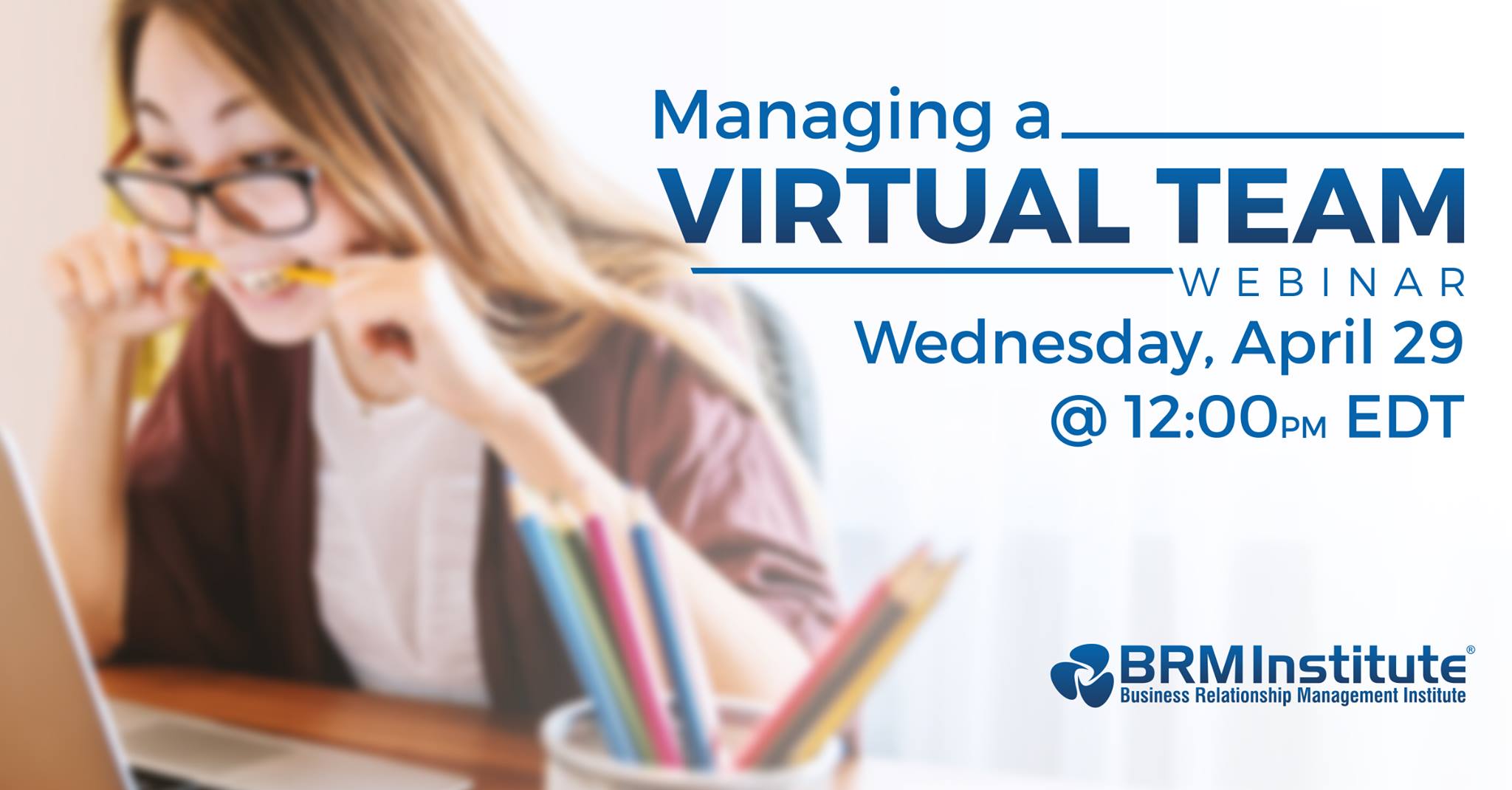 Leave a Reply
You must be logged in to post a comment.